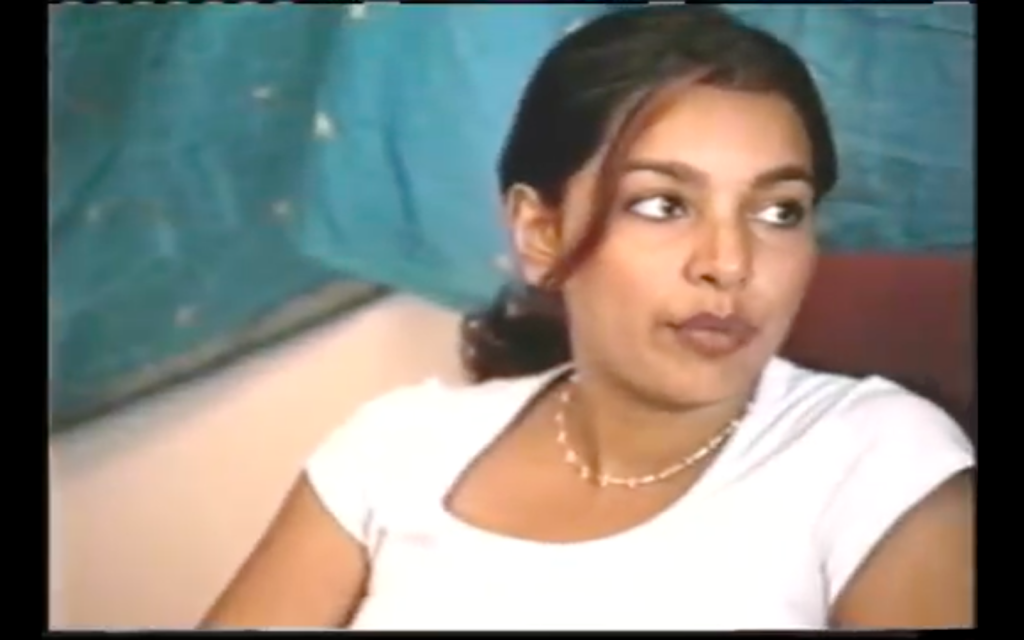 As if being anything other than White in Halifax doesn't already make you hyper-visible, the women in Rita Malik's short film On Being Brown sometimes navigate quintessential Maritime markers wearing gold-embroidered jewel-toned lehengas. Even though it's an ornate shirt-over-skirt set that South Asian women reserve for celebrations, the women in the film wear lehengas on the Halifax waterfront in interactions with a showboating busker, and in a cramped small-town convenience store. One woman's floor-length skirt reveals her combat boots while she loiters on Spring Garden Road.
Halifax-based artist Malik chose lehengas for the women in some of the ten-minute video's scenes—which she produced in 1999 as part of a Centre for Art Tapes (CFAT) program designed to train artists new to video—purely for effect. In a place like Halifax, the choice of traditional South Asian clothing amplifies the women's pre-existent otherness. It's a choice that provokes gaping and gawking from White passersby on the waterfront. An enraptured elderly White woman asks Malik about one of the lehenga-wearing women: "Is she a princess?"
Malik's inquisitive and caring lens explores identity and otherness by toggling between public space, where viewers witness firsthand how White people perceive her subjects, and private space, in which her subjects process how White people relate to them. In private, the three women sit in a living room responding to Malik's questions from behind the camera: How would you identify yourself? And how would others identify you? A faint malaise sometimes laces their responses. They permit us to eavesdrop on their candid discussions of how being Indian in Canada positions them neither here nor there. They discuss what they might pass onto their children, and how they want to carry their predecessors' lineages, from which colonialism has severed them. They discuss how they respond to exoticizing interrogations, like "no, where are you really from?" Though Malik wasn't concerned with foregrounding racism when she made the work, the women's vulnerable discussions at times reveal their experiences of quintessentially Atlantic racism—in its supposedly benevolent, feigned innocence—that felt deeply relatable for me.
The women's lived experience mirrors Malik's own, growing up in a first-generation immigrant household in Sheet Harbour, Nova Scotia. Malik was 32 years old when she made On Being Brown, and she had just returned to Halifax from a six-month trip to India—her first since she was 8 years old. "There was culture shock coming and going," Malik told me. "That played into my choice of subject matter." On Being Brown is static in time. I'd consider it to be in the same canon as Andrea Fatona or Richard Fung's documentary video works in which they interview their subjects about their lived experiences of racism in Canada. Similarly, Fatona and Fung's subjects address us with vulnerability, and their documentaries feature scenes that situate their subjects geographically (Fatona's in Hogan's Alley, Vancouver, and Fung's in Toronto). The lived experiences articulated in those works are somewhat static in time, and possibly eternally relatable, too.
Perhaps an objective for a BIPOC artist to make this kind of personal documentary work is for posterity. Divya Mehra encountered On Being Brown by accident in CFAT's archive in 2019, twenty years after Malik made it. Because Malik's work explored questions of identity and belonging with people who were similarly preoccupied with them, one of the most significant things about its resonance now is that it showed Mehra a precursor for her own early work's explorations of being a diasporic person in a predominantly White nation state. When Mehra spoke with Malik, they connected over having worked as artists in isolation in the Prairies and in the Maritimes, and feeling like no one would ever care about their work.
For the exhibition "The more things change…," marking CFAT's 40th-anniversary, the artist-run centre invited four artists to sift through its archive to make a new piece responding to an artwork they pulled from an assigned previous decade. Unlike the archives of Toronto's Vtape or Winnipeg's Video Pool, to which artists' submissions are automatically included, CFAT's archive is a product of past exhibitions, which were jury selected. This means the art works selected by a CFAT jury for an exhibition at any given moment became enshrined as the official record of it. Mehra's assigned decade was 1999–2008, but the contents of CFAT's predominantly White archive were difficult to access and relate to, let alone respond to, until she found On Being Brown. In turn, Mehra extended the invitation to exhibit Malik's work, so that her unseen work could be seen.
On Being Brown was the second video Malik had ever produced, and a chronic-fatigue diagnosis made it her last work to enter the public sphere. But beyond its marginal trace in CFAT's archive, Malik's work was written out of the record of Atlantic cultural production. This erasure brings up some questions for me: what does it take to be enshrined in art history? How do the ostensibly benign mechanisms of archivemaking and art history writing sever us from the lineages that connect us to our predecessors?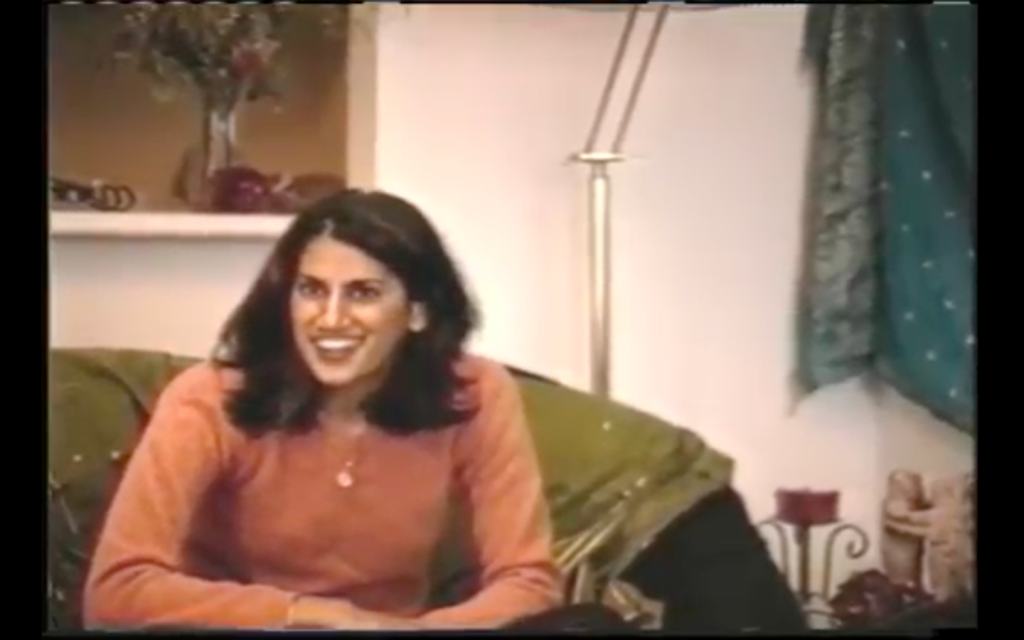 An archive reflects the sensibilities of the people who contributed to its accumulation. When I examine the typically almost all-White exhibition and publication histories of the majority of Settler cultural institutions across this country, I know we can attribute their archives' overwhelming Whiteness to their historically almost all-White curatorial or editorial teams. If an institution's decision makers were most likely all White, then how could its archive be anything but almost all White, too?
They say that the archive is designated as a repository, as a witness, as a form of documented memory. An archive is supposed to inform the future by helping us learn from the past. Some of us might take the archive as fact. Some of us might take archive-making as neutral, unbiased and apolitical. But for those of us who must insist on being written into the record, who don't take for granted that our contributions will be acknowledged and rewarded and remembered, the archive serves a different function. An archive serves to remind us of those who came before us, who asked the same questions, who survived similar violences.
The erasure of Malik's work from the record of cultural production is tragic. While Malik doesn't represent anyone but herself, and her story shouldn't be abstracted into the symbolic, I can't help but think: how many other artists have the narrative of art history erased in so-called Canada? This erasure reveals the confluence of the many mechanisms of history-making and the long-term consequences of institutional White supremacy. It reveals how something as routine as a jurying process dominated by an inner circle of White people determines who is worthy of getting archived, publicized, historicized, and remembered—and who is not.
Mehra's alienating encounter with this archive—that's exclusionary by design—reminded me of my own. During the time I worked for two major Canadian contemporary art magazines, I examined their back issues. I hardly encountered work like Malik's—to say nothing of the scores of artists whose work these magazines mostly didn't acknowledge until recent years. When I looked through decades of their mastheads, I also couldn't find much evidence of my predecessors' existence.
If I don't see that someone like me survived before me, how am I to believe that survival—let alone anything beyond—is possible for me? When the record of cultural production severs us from our predecessors, and someone like me sifts through it, I am led to believe its false tales: that no one was here before me. This is just one explanation for the current obsession with firsts; this amnesia is one of the many insidious ways that Settler cultural institutions enable and perpetuate White supremacy.
When we're alienated from traces of the people before us who survived, we have no blueprints for our own survival. When we're severed from traces of those who came before us, when we know that those we see in the record now are the ones who resisted erasure from it, we can't imagine how the record could ever acknowledge our own work. It's only fitting that Mehra's response to CFAT's invitation was to extend it to make space for Malik as one of her predecessors.