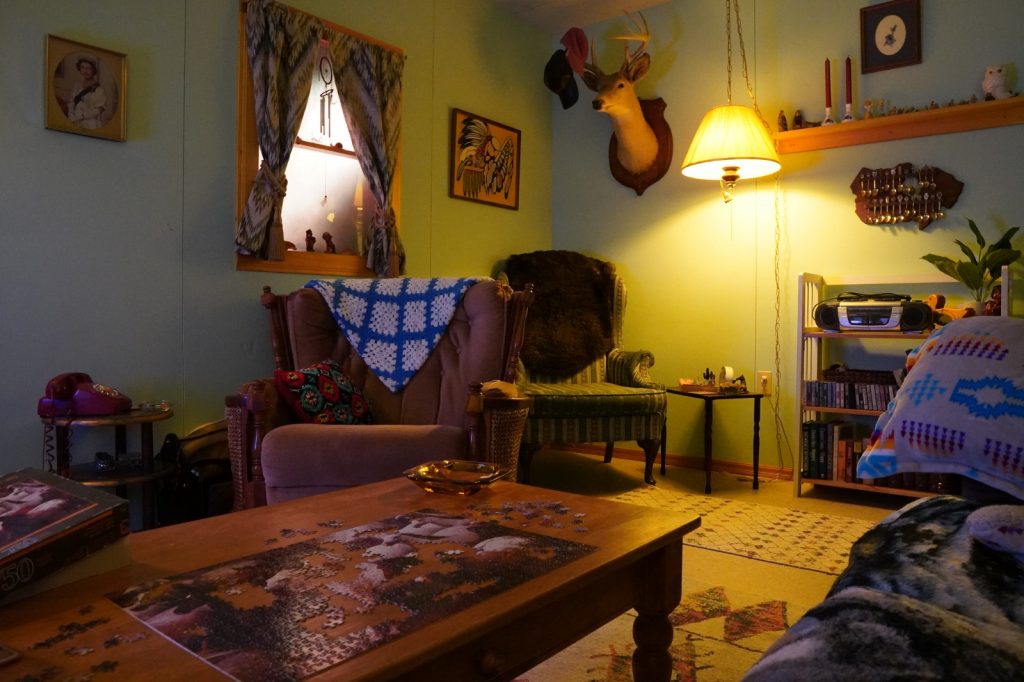 Ursula Johnson has created a safe and hospitable space to delve deeply into conversational exchanges that reveal our complex relationships with places we call home, consumption, ownership, and one another—specifically what it means to be, as we all are, treaty people.
Johnson's exhibition, ITHA: The Livingroom, was on view at the Blue Building in K'jipuktuk/Halifax from June 23 to September 4, 2021. It marks the artist's first solo exhibition in her home province since her groundbreaking 2014 Saint Mary's University Art Gallery exhibition Mi'kwite'tmn, which went on to tour extensively. Within the span of time between these two exhibitions, Johnson has become one of the most important artists working in the territory known as Canada, contributing to the fabric of the arts community in innumerable ways. In her rich arts practice, she balances critical engagement and advocacy with collaboration, humour, and, above all, a moral code of conduct centred on social responsibility and care.
The work uses commercially manufactured knickknacks featuring appropriated, misappropriated, or stereotyped Indigenous imagery to discuss the effects of capitalism on both treaty rights and cultural commodification. In a year when we have all spent plenty of time in our own interior spaces, Johnson invites us into a gallery, only to be presented with another domestic space. Although the inhabitants of the living room are absent, their story is perceptible through the evidence left in the decor and belongings. The viewer is an intruder in this scenario; and yet, Johnson's ITHA: The Livingroom is generous in its welcome.
I cannot speak about this work without positioning myself. Although I have followed Johnson's career for years, ITHA: The Livingroom is the first solo presentation of her work that I have had the privilege of experiencing in person. As a community member of White Settler ancestry living on the unsurrendered and unceded traditional territory of the Wolastoqiyik, Mi'kmaq, and Peskotomuhkati peoples, I am (like so many others) an uninvited guest. In this sense, the experience of entering into the living room becomes doubly resonant.
ITHA: The Livingroom is a richly layered interdisciplinary immersive installation with narrative undercurrents, and even a Spotify playlist. In an artist talk associated with the project, Johnson explains that the space is anchored in Nova Scotia, 1989, just four years after the Supreme Court of Canada reaffirmed the Treaty of 1752, and just three years after Grand Chief Donald Marshall Sr. invited all Mi'kmaq to observe an annual October 1st Treaty Day. Despite its specifics, ITHA: The Livingroom reflects a widely recognizable 80s interior space and a familiar story of the complex oppressive effects of colonialism.
Opportunities for learning are plentiful in this exhibition— with hints on every carefully selected book spine, VHS, and knickknack—if the viewer can get past the discomfort of their intrusion long enough to allow their eyes to adjust to the dimly lit space. In this place, the viewer becomes a visitor, a guest and participant.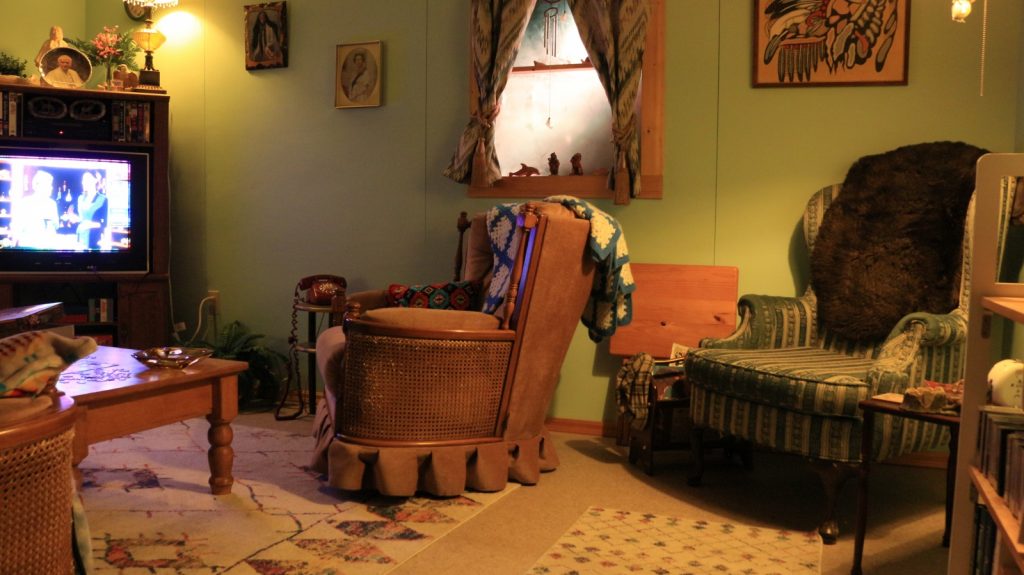 ITHA: The Livingroom uses carefully curated found objects (that signify historical circumstances and positionality) to construct an immersive space that rewards curiosity. Johnson prompts questions and revelations about our social contracts, systemic inequalities, and structures of power. She invites viewers to consider the overlapping events that make up an individual and the entangled lives that make up a community. Johnson highlights the context of our collective responsibility to one another across cultural and social divisions.
Johnson also addresses the cultural commodification of BIPOC experience and the insatiable White palate and drive for conquest and consumption. As a result, she invited BIPOC individuals to the first private showing. Solidarity is a key component of resilience, and the events of the past year and a half have been especially difficult for the BIPOC community. In a recent interview, Johnson rationalized this decision as an offering of a safe space, without witness of the White gaze, for the BIPOC community to experience the work.
Like most of Johnson's works, the ITHA series is expansive, both conceptually and materially, weaving together intricate entanglements: a weft of history, pop culture, and treaty rights pulled against a warp of politics, capitalism, and accessibility to resources. ITHA, an acronym for Indian Truckhouse of High Art, has been an integral component of Johnson's practice for the past decade and began as a public intervention performance on Nova Scotia's Treaty Day, October 1st, 2011.
From there, Johnson made the ITHA Home Shopping Network (2017), a punchy video satire of consumerist cultural appropriation set in the 80's and the ITHA: Special Edition (2018), an immersive shopping parody set in the Central Art Garage gallery. In an artist talk broadcast from The Livingroom (available to view on Johnson's Facebook page), she describes wanting a "glimpse into the lives of the people sitting at home buying these things" from the ITHA Home Shopping Network. And so ITHA: The Livingroom was born.
In conversation, Johnson refers to the inhabitants, warmly and playfully, as Judy and Al, an Indigenous couple with grandchildren. Through her work, she delicately and carefully positions their complex place in history, as Indigenous Christians who most likely went to (or had family who went to) Residential Schools, and lived through the centralization movement. In their absence, we learn about "Judy and Al" through their belongings.
Inside The Livingroom, the space is cozy, dimly lit by lamps and a TV playing the ITHA Home Shopping Network. The objects on the wall mirroring those available on the screen call attention to the wholesale commodification of culture. A stag head above an armchair nods to harvesting rights and access to resources, especially timely with ongoing hostility towards Mi'kmaq Fisheries. And the sugar cubes (the vehicle by which the world received the polio inoculation) left out for tea quietly hint at our responsibilities of collective care in this era of COVID-19.
Meanwhile, a cross-stitch emblazoned with the word "friendship" hangs above a door, while a portrait of Queen Elizabeth II presides over the room, hung just above the other wall pieces. Atop of the entertainment unit, a framed portrait of Pope John Paul II, "the people's pope," looks back at us. His image is a jarringly too-soon reminder of the pain and trauma caused by the (mostly Catholic) Residential School system. The mass murder of Indigenous children at Residential Schools, finally confirmed by the media, is something Indigenous communities have known all along.
The inclusion of his portrait speaks to Johnson's commitment to open pathways of communication. She discusses her rationale for leaving Pope John Paul II's portrait in the installation, explaining that removing it out of hurt would be to cancel the conversation completely and impede the aims of the project itself. Finally, hanging above the coats and doormat is a purely decorative plate with the word "Apology" in bold. Squinting to look closer, the verse below reads: "Apology/ Come in/ Sit down relax converse/ Our house/ Doesn't always look like this/ Sometimes/ It's even worse."
Like the other ITHA works, The Livingroom encircles the Treaties of Peace and Friendship, using the Truckhouse Clause as a starting point to consider the implications of our own consumption of commercial commodities and media, as well as our exchanges of gifts, resources, and dialogues. As Johnson explains in response to the work, it is crucial that we are "cognizant of the media that is being consumed by us right now and the social events taking place, not just within North America, but globally, and to think: well, what are our conversations that we're having? What are the conversations that Judy and Al are having in their home? And how do these two discussions relate?"
Across the breadth of her interdisciplinary practice, Johnson engages with resilience and fosters its growth with care, criticality, humour, and integrity. ITHA: The Livingroom is an important homecoming for Johnson as a relevant and thoughtful expansion of her practice, building on previous works, charged with the new energy of a changing world.
ITHA: The Livingroom is a powerful work that I am thankful to have had the opportunity not only to view, as a witness, but in which to participate actively as an engaged learner, community member, and grateful visitor. ITHA: The Livingroom is rich in social pedagogy but, justly, it requires commitment from its learners. Moreover, it warrants action.
In a powerful moment within her recent artist talk, Johnson contemplates the nature of conflict, explaining that it can be an opportunity to engage in a dialogue and to re-evaluate. It prompts the questions: who are we and where are we going? ITHA: The Livingroom is a caring reminder that it is up to us, collectively, to decide where we are going and how we plan to get there.