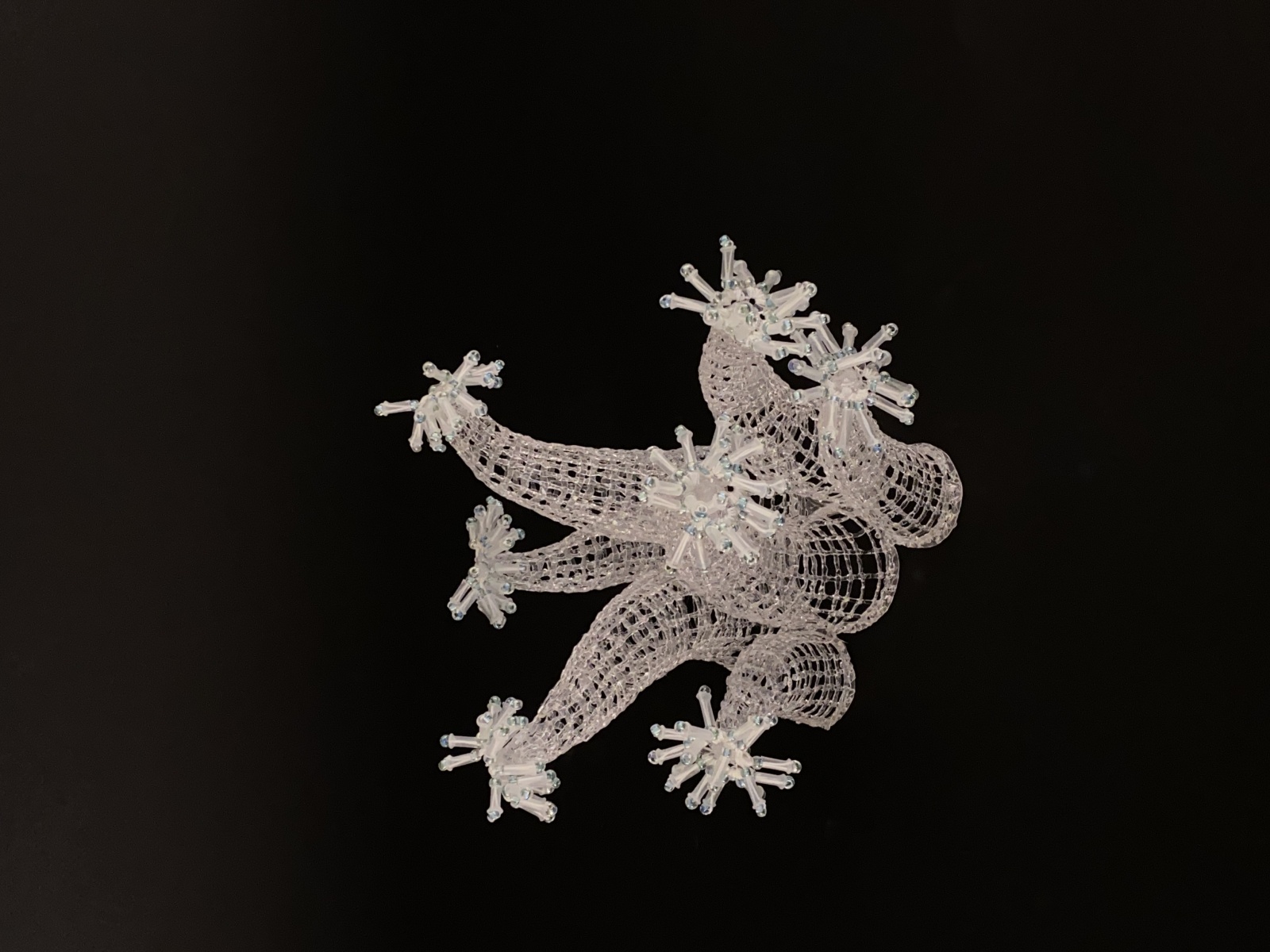 Alanna Baird's artwork infiltrates the New Brunswick vernacular, while also sparking important conversations around marine ecology in this time of climate crisis.
As a longtime inhabitant of the small coastal community of St. Andrews, NB, Baird has closely observed the changing shoreline beyond her home. She maintains a dedicated ritual of engagement with the liminal, changeable space between shore and land. With curiosity she collects intertidal debris and spends time taking note of cycles, sporadically recurring events and changes. This dedication to the coast has informed her life's work as an artist, and, more now than ever before, as an activist.
Baird is a skilled and dedicated sculptor and accomplished printmaker. With creative beginnings in ceramics, she has a natural tendency toward form, which manifests as a robust and materially varied sculptural practice. In a playful dance between micro and macro, Baird's three dimensional multi-media work calls attention to the delicate, complex, and rapidly changing sprawl of the intertidal ecosystem. Skillfully giving form to its inhabitants through varied sculptural processes, Baird encourages viewers to contemplate the significance of the area in relation to broad-scope climate activism.
In the early 90s Baird began using repurposed metals—largely tin can lids or discards from copper roofing, to create sculptures of fish. Each sculpture is biologically informed and titled according to its specific species. Exquisitely rendered and prompting questions around sustainability and environmental concern, Baird's fish have become both iconic and coveted. Inhabiting both private and public collections around the world, the artist refers to them as an "invasive species" in their own right.
More recent explorations have seen Baird's keen observation of inter-tidal ecology turn to the cyclical relations of the shoreline and tides, with an attention to what is left when the water recedes. In the process of observing the intertidal ecology, the artist honours these cycles by returning to her own early ceramic works, using the spherical forms of her ceramic vessels to create molds which yield bronze sea urchins.
Baird's most recent works are made of discarded or recycled plastic, as well as new plastics. She uses a 3D pen to create translucent plastic frameworks. Again, in some cases, she revisits her early ceramic work as a basis for form. Her hand drawn three-dimensional liner networks, which hug her earlier works like an exoskeleton, capture the smooth curves of ceramic mass. Once firm and dry, the linear framework is removed, becoming its own translucent form to interact with light and shadow.
Through this process, she translates organisms of the Atlantic intertidal zone into glimmering hyaline forms. Sublime, they reflect the natural but remain uncanny, with a hint of science fiction—simultaneously conveying familiarity and wonder. The elaborate natural structures of minute coastal creatures become monumentalized in her work. Depicted larger than life, Baird's skillfully constructed works present a level of detail akin to Ernst Haekel's biological illustrations. Also, like Haekel, Baird's work thoughtfully animates the synergetic estuary where art and science thrive.
Baird is rare in her ability to embrace the material curiosity of working with found plastics and metals while maintaining the highest level of craftsmanship in all the creative work she does. Through these experimental means, she has developed a delicate expression of structural bio-mimicry.
Playfulness and dedication are balanced in the way she pushes material boundaries while also making an effort to practice sustainability. This is particularly evident in very recent sculptures, wherein Baird makes use of the discarded plastic casing from acupuncture needles. This new work began during a residency onboard the Polar Prince, a former icebreaker now owned and operated by Miawpukek First Nation chartered by the Students on Ice Foundation for their Ocean Conservation Expedition in 2022.
In many ways, Baird subverts the relatability of her work. She uses familiar forms and polished craftsmanship as access points for more complex conversations around human impositions on ecology.
During a recent residency at The Tides Institute in Eastport, Maine, Baird contemplated the dotted line mapped through the liquescent area between Eastport and her home of St. Andrews. Although they are in separate countries, these communities are neighbours. And, as Baird explains, "When you are on the water (or in the water for sea creatures) there is no dotted line, just a similar shoreline". The neighbouring shorelines share complex ecosystems of marine life forms despite their cartographical borders.
Baird's work bridges thresholds, as recognizable forms welcome viewers into a conversation about climate care, multi-species ecology, and the rapidly changing intertidal zone. Moreover, her work functions to remind us that we are all deeply and inextricably connected; and that we will need to recognize this solidarity to do better by both land and sea, as well as their respective inhabitants.