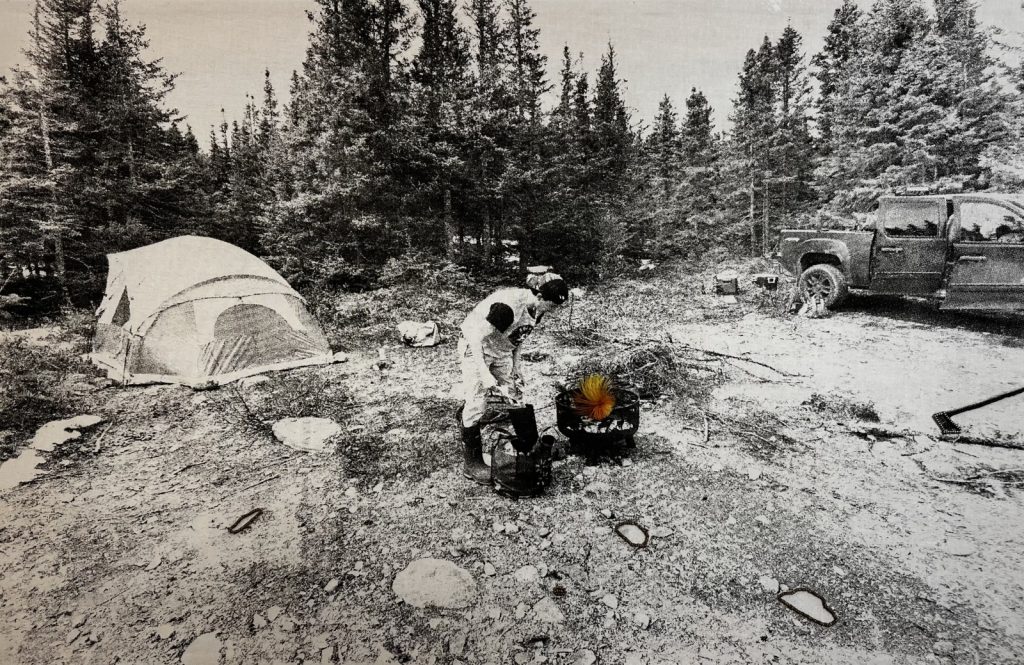 Embedded within a matrix of dark stone on the second-floor landing gallery at The Rooms is the vivid and materially diverse exhibition Njikam (My Younger Brother) by emerging L'nu artist Alex Antle. Originally from Qapskuk (Grand Falls-Windsor), Antle is currently based in Elmastukwek (Bay of Islands) where her maternal Mi'kmaw ancestors are from, and where she has been nourishing her artistic practice since 2017.
Antle primarily utilizes slow stitching practices like beadwork and caribou tufting, and in the last several yearshas expanded her practice to incorporate print media and photography. The last four years have been significant for her, particularly when she received her first professional project grant from Arts NL, in 2021, to begin this body of work. That same year she was also the recipient of the VANL-CARFAC Emerging Artist of the Year Award. Njikam (My Younger Brother) is Antle's first solo exhibition and has been previously exhibited in the ROGUE Gallery at Eastern Edge, the Tina Dolter Gallery, and Union House Arts. Now with her fourth iteration, Antle offers newly created appliqué beaded pieces to accompany her caribou tufted prints, and digital images emphasizing the passage of time, her process, and materiality.
Njikam (My Younger Brother), on display at The Rooms until August 14, 2023, was inspired by Antle's brother Matthew and his relationship to the land and Mi'kmaw culture in Ktaqmkuk. Antle shares that he is somebody who has always been immersed in a land-based lifestyle engaging in L'nu practices like harvesting medicines, foraging, hunting, and fishing.
"His lack of participation in the ceremonial side of culture deters him from viewing his lifestyle as cultural," says Antle.
Rather than emphasizing Matthew's perceived disconnect from Mi'kmaw culture, Antle renders tangible both her and Matthew's nuanced experiences and mediates these tensions and vulnerabilities through several artistic processes.
Anchored in the middle of the space is Sple'tk, an appliqué beaded moose hide that imparts a topographical view of the watershed. Sple'tk is the Mi'kmaq name for the Exploits River that runs through central Ktaqmkuk. It is the longest river on the island and it is a source of life and transportation that has supported Mi'kmaq and Settler peoples alike for hundreds of years. The tributaries sprawling like veins across the beaded moose hide are made visible with ultramarine blue beads of varying sizes which on closer inspection adds a sculptural element to the work.
During each of the four seasons, Antle has taken photos of Matthew and of their adventures together, documenting him engaging in some traditional practices that are specifically relevant to him. Each snapshot is further mediated into stretched screen prints where Antle activates her body in the production of image making. As a printmaker myself, I reflect on the importance of photography and repetition in image creation, and making visible our stories as Indigenous people from what is currently known as Newfoundland and Labrador.
In her essay "Interventions in Digital Territories: Narrative in New Media," curator Candice Hopkins, who is a citizen of Carcross/Tagish First Nation, discusses the importance of repetition in Indigenous storytelling. She argues: "In art since mechanical reproduction, the copy is understood as subversive: its very presence (particularly if there is potential for infinite replication) challenges the authority of the original. Replication in storytelling, by contrast, is positive and necessary: it is through change that the stories, and in turn, traditions are kept alive and remain relevant." With each of these prints embellished with qalipu (caribou) tufting and beadwork, Antle shares a new way to give insight into her and Matthew's experiences as L'nu'k from Ktaqmkuk.
The latest artwork additions to this expanded version of Njikam are the impressive pieces of beadwork and harvested materials that are placed in the bottom row of the vitrines. Like when harvesting labrador tea and foraging for berries, viewers must bend and crouch down to take in each detail of the work. Viewers are greeted with bakeapples and blueberries in the late summer on the cusp of fall. For the winter prints, Antle utilizes the loom to replicate the plaid red pattern on Matthew's hunting jacket. For spring, she has edged a piece of home-tanned trout skin with silver seed beads that complements the pink underbelly and rich tones present in the skin. For an exhibition that relies so much on photography, this piece of leather as an abstract representation of this precious resource speaks to Antle's creativity and her ability to play with form, illustrating her growth as an artist.
The visual progression through the seasons concludes with a picture taken of the two siblings hugging each other at Antle's wedding in the summer of 2020 on Gros Morne Mountain. A tiam (moose) medallion, beaded with hunting orange beads, is located beneath this image. This is actually a gift for Matthew when the show closes. The creation of this exhibition gives space for a nuanced experience that many Mi'kmaw Newfoundlanders can relate to. Njikam (My Younger Brother) shares that the relationship to ceremonial teachings are just one of the many components that make up a Mi'kmaw worldview. What is evident is the joy in the process, spending time with one another on the land, and the importance of sibling kinship.