Ji Hyang Ryu has a warm and excitable personality that is reflected in her studio space in Riverview, New Brunswick. She welcomes me into a room resplendent with plants, books, and used canvases. She makes us coffee and begins sharing her story of what brought her from South Korea to Canada.
Ryu has been interested in art since she was young; she began drawing with the support of her mother, but family circumstances kept her from pursuing art as a potential career. Then, by complete chance, while attending university in Korea, her English professor invited her to return with her to Salisbury, NB, Canada. When Ryu mentioned that she couldn't afford the trip, her professor, in traditional Maritime kindness, offered her a place to stay. That one gesture allowed Ryu to travel to Canada and ultimately meet her now husband, leading her to settle in New Brunswick.
Perhaps Ryu's life could seem like a series of perfect chances, but it takes courage and perseverance to build a new life and become an artist. With an established career as a phlebotomist, Ryu became a professional artist later in life. The decision to quit her job and pursue a professional art practice full-time was daunting. However, when the coronavirus hit in 2020, a series of racist interactions at her workplace began to make her re-evaluate her future.
While Ryu had previously encountered racism in the hospital at which she worked, the coronavirus amplified its frequency. She tells me stories of patients asking if she was from Wuhan or outright refusing to be treated by her due to her race. Ryu was told "to go back to her country" and that "immigrants were taking all their jobs." Her work life became stifling. Ryu says she felt like she always had to be perfect, to work harder to get the same acknowledgement as her White coworkers, or else she would be further judged. It was during this time that Ryu decided to take a leave of absence to pursue art as a career.
Ryu didn't graduate from art school nor did she have the social or professional connections that many artists benefit from by living and making art from an early age in the same place. But she's making her way as an artist in rural New Brunswick. She credits her success from showing her work on social media, which has helped people reach out. She also found that participating in programs like Artslink NB's Catapult Arts Accelerator has helped give her the tools she needed to turn her art practice into a viable living.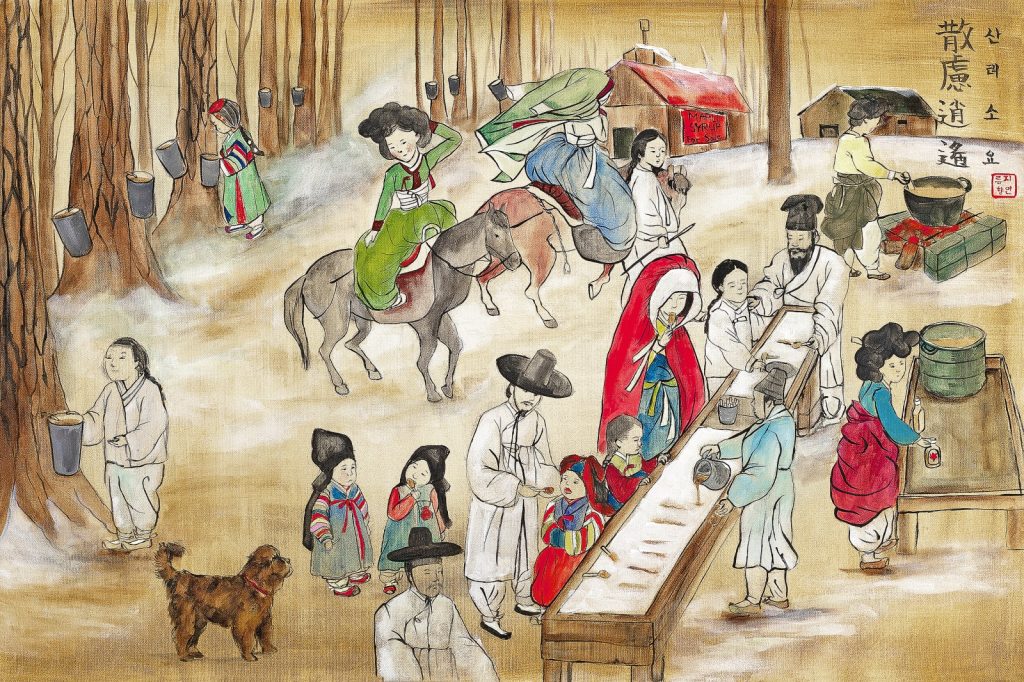 Ryu's latest body of work can be seen in her touring exhibition, Culture Bridge. The exhibition fuses elements of Ryu's identity as a Korean Canadian by combining symbols from the different worlds she inhabits. As a Korean, Ryu felt like an outsider, as she resisted many of the traditional elements that being Korean entailed. Coming to Canada helped her reconcile the discomfort of her own culture and combine it with her new culture as a Canadian. Functioning as both an outsider and insider to her own origins and embracing that difference has allowed Ryu to create work that represents the globalized society that we've become.
In Sugar Camp Ryu adopts the visual style from ancient Korean ink paintings to depict a Canadian scene. Koreans in traditional clothing are gathered in a forest while tapping maple trees and making maple syrup. Children are eating from the syrup poured onto a raised snow bed while a dog that resembles a Newfoundland dog watches from a short distance away.
This mixed imagery of recognizable Korean and Canadian symbols continues to pop up throughout Ryu's work. She also includes significant figures from her life in her artwork, such as her family. In other instances, Ryu explores her own identity and the feeling of un-belonging. In Dragon Lady Ryu's visage is surrounded by a blue dragon painted in the style reminiscent of Asian tapestries. The dragon's scales slowly drop, falling like flecks through Ryu's long hair before disappearing completely, signifying the loss of something. Behind them both is the moon, glowing red and yellow. The painting is not entirely pessimistic though, as the fallen scales could reveal something better, more hopeful, underneath. It is refreshing to see Ryu paint an experience that differs from New Brunswick's predominantly White community. Her work isn't pretentious; ultimately, she wants to share the beautiful aspects of both Korean and Canadian culture with everyone. Even though New Brunswick's immigrant population is small, the stories which brought us here still hold importance, and being able to see them represented in art is a significant way of resisting the White-colonial aesthetic while building meaningful relationships between different cultures.