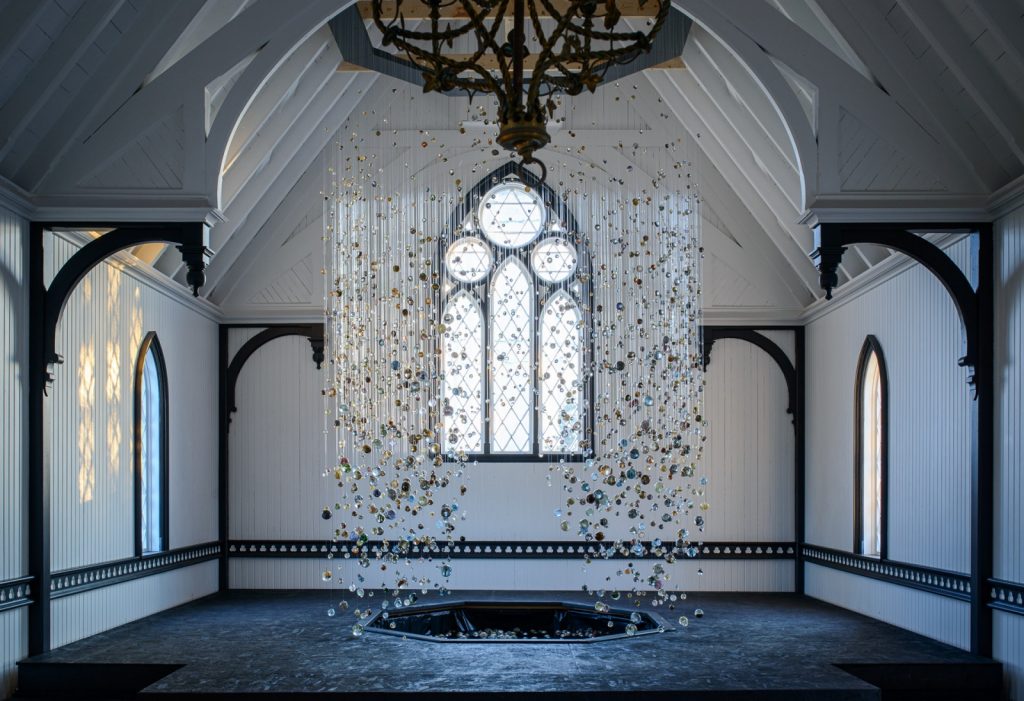 Driving my car down the winding Bonavista highway, I remember how many times I've done this route – to watch whales, to go for a good slice of pizza, and, since 2017, to see contemporary art.
Growing up in Clarenville, a town an hour and a half away from the Bonavista peninsula, I thought I had to go away to see and make work that excited me. This belief led me to the mainland for art school at the University of Guelph, and then to St. John's, which was as close to away as I felt I could be while still living in my home province. My practice of painting, collage, and installation explores how our homes and communities contribute to our identities. Shortly after moving from Guelph to St. John's, I heard of the first Bonavista Biennale and realized it was being held near my hometown on a peninsula I've been visiting since childhood.
The excitement was palpable that first year. I felt transported to somewhere large and significant (two ingredients that felt necessary to build an art career at the time), and my misguided belief about the lack of potential in rural Newfoundland and Labrador was shattered. To cement this revelation, I sat on a cliff and watched Will Gill's unforgettable Green Chair be endlessly pummelled by waves.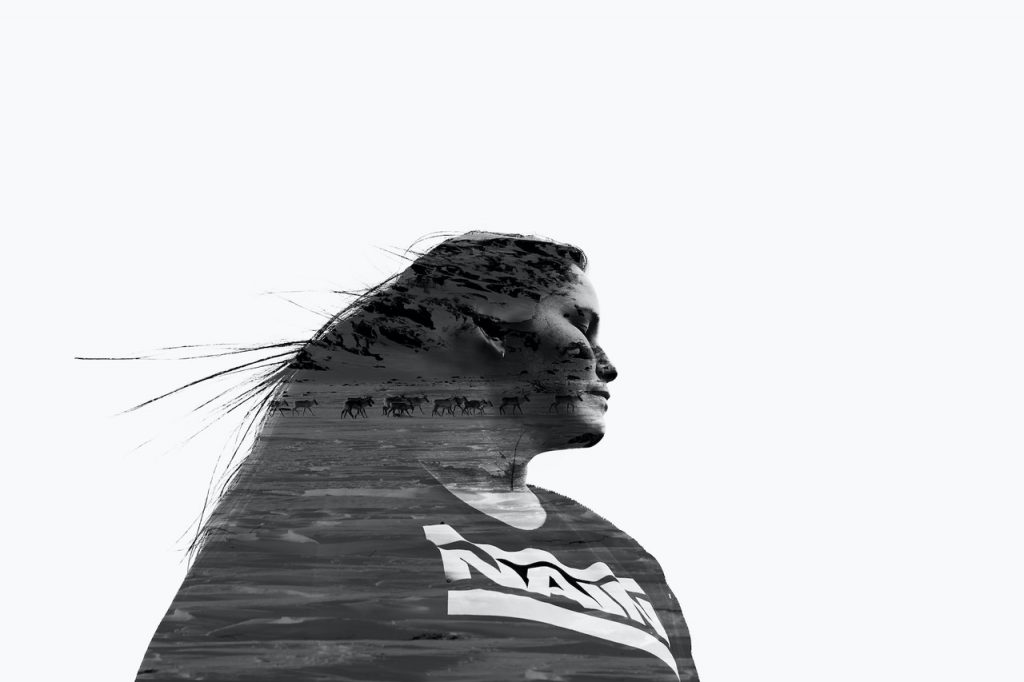 This success created anticipation for the Biennale's second run in 2019. In the middle of my road trip, I stood in a quiet room to face the work of Camille Turner, The Afronautic Research Lab, which untangled the involvement of our province in the Atlantic slave trade. This Biennale asked me, as a settler of this land, to turn inward, with curiosities and questions about this place I call home. Turner's work invited us to critique our believed history with a critical lens and ask: what other stories haven't been told?
This past year, with the pandemic transforming the global experience, staying home has been our new reality. With restrictions lifting, the 2021 edition of the Bonavista Biennale took place from August 14 – September 12, which is a large achievement after months of unpredictability. Curators Patricia Grattan and Matthew Hills write about this year's theme, The Tonic of Wildness, as "healing re-engagement with the world beyond digital screens," which is something we all benefit from as our lives have been thwarted by devices.
The Bonavista Biennale's most historically significant exhibition is REGENERATION | Piguttaugiallavalliajuk | USSANITAUTEN, which features a group of seven photographers—Eldred Allen, Jennie Williams, Holly Anderson, Samantha Pilgrim Jacque, Wayne Broomfield, Melissa Tremblett and Gary Anderson—all from Northern Labrador, who are exploring their connection to the natural world.
Curator Jessica Winters underscores the importance of including artists who don't often see themselves in these spaces and how this can change the perception of Inuit art. Winters explains, "Inuit art is usually in a medium that's really traditional and stereotypical, so this show is a take on seeing our life and culture through a new form. The work documents how relationships to our environment can change, and how we still use the land and animals." This project is a new addition to the Biennale from previous years and offers a strong start to the festival's lineup at the very first site.
In addition to this exhibition, artists are installed at different locations across the peninsula. Artist Philippa Jones has created a space of secular wonder within the renovated Alexander Mortuary Chapel of All Souls in Bonavista. Orbs of cast resin float on a string and in a glittering pool that we are invited to dip our feet into. When examined, each sphere contains plants and organic matter, preserved in plastic and removed from the cycle of life, death, and decay. There is a simultaneous sense of playful joy in the pool and quiet contemplation in the accompanying drawing across the room, which changes from death to life in front of our eyes.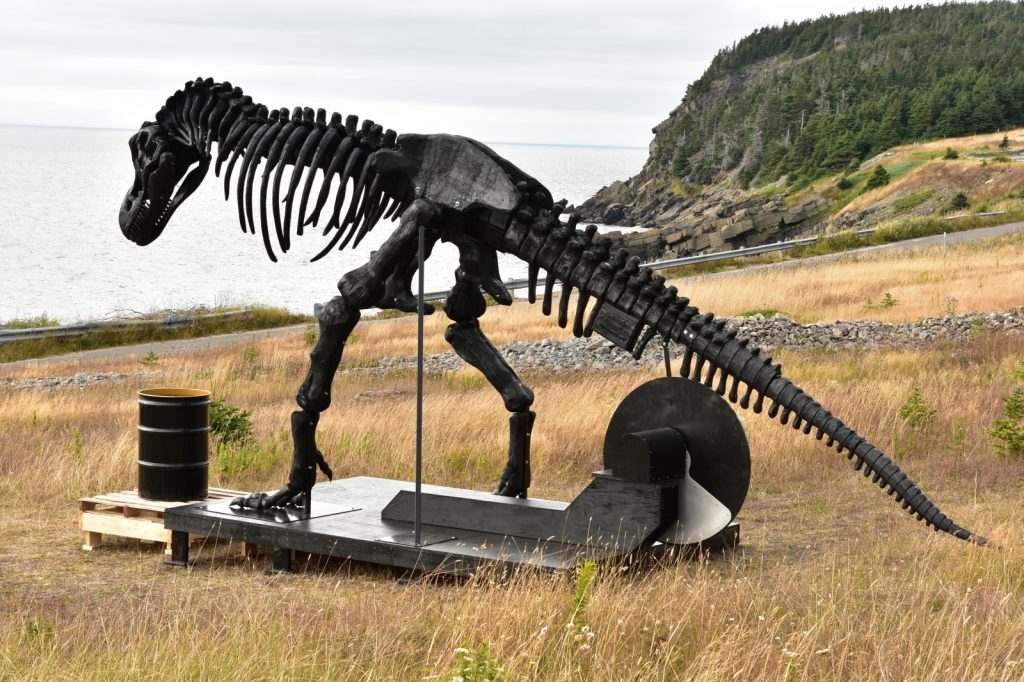 In Upper Amherst Cove, Gerald Beaulieu offers a glimpse into the prehistoric past with his work Extinction. His life-size replica of an Albertosaurus skeleton is impossible to drive by without stopping to take it in. Each hand-carved bone glistens with tar, and the black liquid drips from its giant jaws, reminding us that oil is a slow and unsustainable poison for us and the environment around us.
Behind the aquarium in Champney's West sits Melanie Colosimo's work Sync or Swim. Stuffed life preservers are submerged in an industrial fish tub, with their reflective strips glowing through windows that allow us to peer into the water. By drowning the life savers, whose typical function is to keep us afloat, Colosimo strips them of their purpose, and makes viewers reflect on the ironic way Atlantic provinces rely on the trade of goods in industries that often cause them to be left without. The preservers are linked together as we are as a region, in an attempt to keep our communities alive.
Unhistoric Acts, an installation by Robyn Love, uses the permanent structure of the fish flakes near the Mockbeggar Plantation as its site, but instead of fish we find carefully embroidered names supporting the fishing stage. Each fish flake represents a woman who worked, unpaid and unacknowledged, for the fishery economy. The black fabric of one stage basks in the summer sun, as the fish once did, while the sheer blue fabric covering the other stage erases it into the sky, almost unnoticed. This work acts as a tribute to forgotten labour. Also, with each woman named Mary—after Mary March/ Demasduit, a Beothuk woman born in 1796 and died in 1820 in Botwood—being stitched in red, it invites the remembrance of the erased history of Indigenous women who were renamed to be assimilated into Settler culture. Each thread in Love's work symbolizes care for and reconnection with those who have been left out of history.
The work of Logan MacDonald further explores the erasure of communities, and how symbols of colonialism are protected while Indigenous and queer histories are untold and overwritten. MacDonald's land-based installation was intended to engage with Bonavista's bronze statue of John Cabot by covering it in mulch to temporarily erase it from the landscape, and then inviting the community to repurpose the mulch in their own gardens and trails.
After five months of planning, the permission to use the statue was revoked by the town of Bonavista and MacDonald was forced to create a new installation for Long Beach, his new site location. Ultimately, no matter the final iteration of the work, MacDonald is asking critical questions, like "what histories are we protecting that are connected to our landscapes, and why are we not making space for other histories or culturally significant moments?"
If you see a sign on the beach asking you to enter at your own risk, it might not be about the water. Sites around the peninsula also include work by 18 participating artists from across the province and country, including Will Gill, Vessela Brakalova, Michael Jonathon Pittman, Graeme Patterson, Leslie Reid, Jonathan S. Green, Marlene Creates, Christina Battle, asinnajaq, and many more. Curator Matthew Hills highlights the importance of collaboration between the work and the peninsula, explaining in a phone interview how "the Biennale is an incredible event, unique in the country and internationally significant to my mind in terms of the way it responds [to] and embeds contemporary art, and that is partially about how special the peninsula is." The 2021 Bonavista Biennale urged viewers to go out and ask questions, experience wonder, and explore the natural environment. It was the perfect wild tonic after months of being trapped indoors.