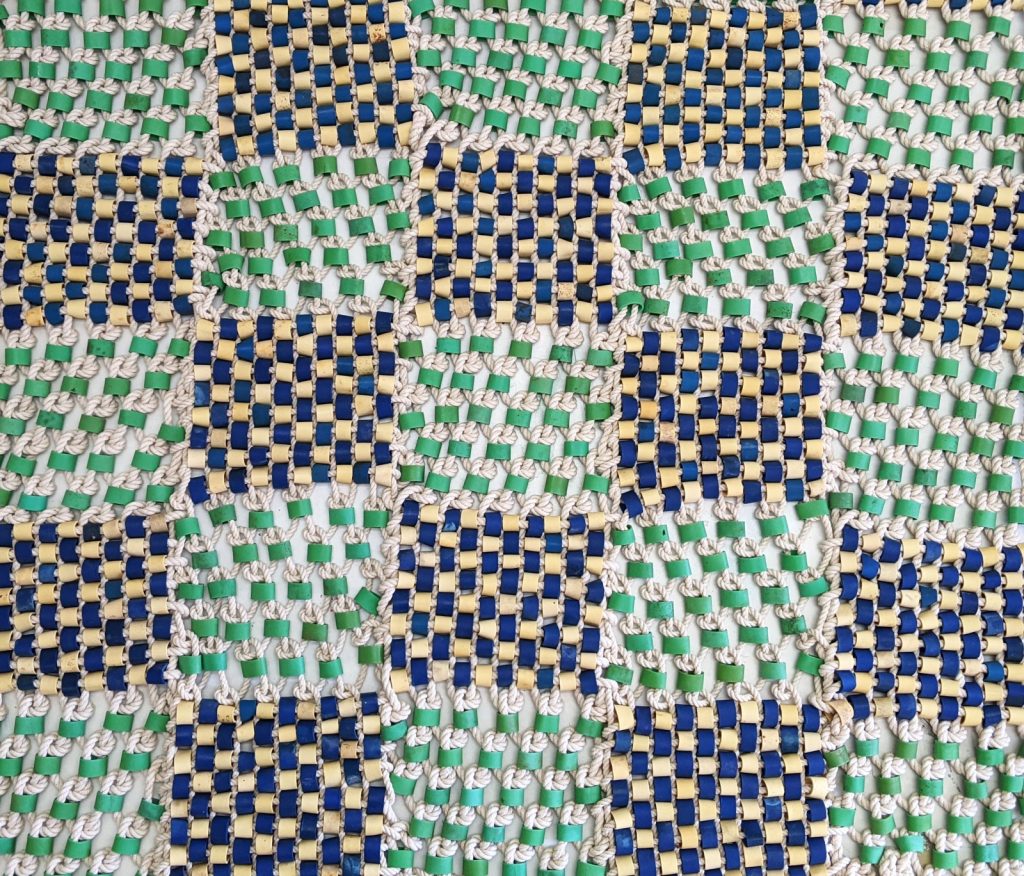 Stemming from generations of near-forgotten knowledge, Carley Mullally's work transfigures discarded marine detritus into thoughtful contemporary artworks by employing traditional maritime rope making and net repair methods.
Originating from New Glasgow, Nova Scotia, Mullally discovered sewing at a very young age. This led her to diligently pursue fashion and garment making during her adolescent years. Unsatisfied with the limited selection and availability of local fabric, Mullally was excited to discover the art of textile creation during her studies at NSCAD University in Halifax. It was during her time at art school—and while studying under celebrated textile artist Toshiko MacAdam—she discovered a passion for the structure of fabrics made both on and off the loom, such as knitting, crocheting, and knotting.
After completing her BFA in 2015, Mullally moved to London, England to pursue grad school at the Royal College of Art. Mullally's time away from home inspired her to study rope making and braiding, a tradition that reminded her of her birthplace. These techniques grew to become integral to her practice.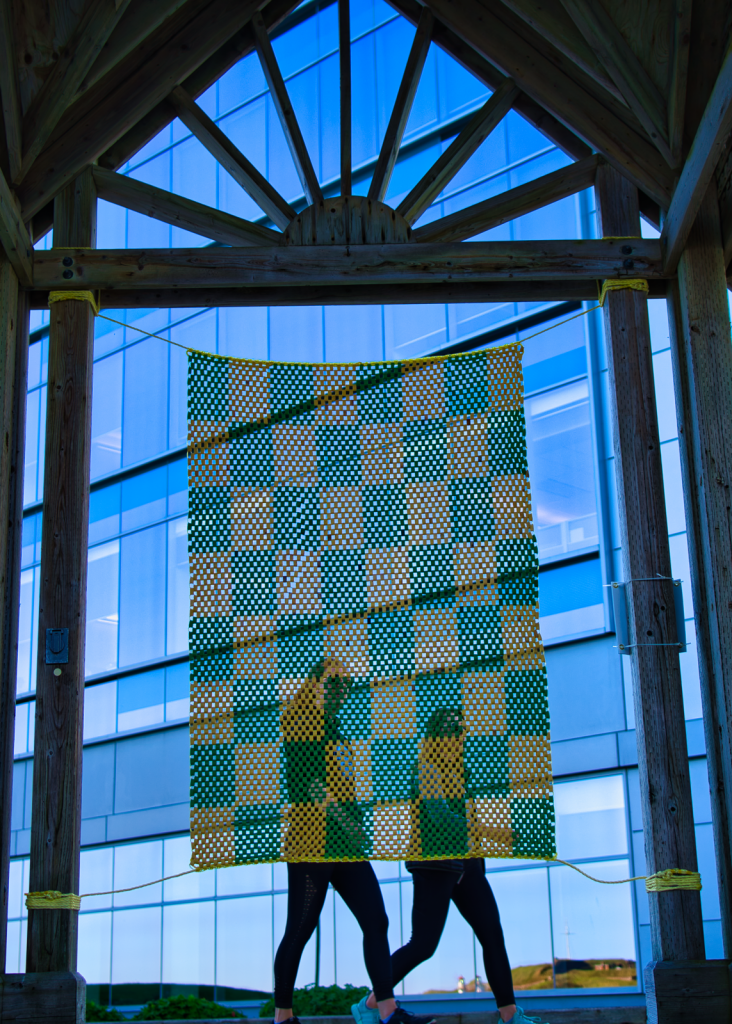 In 2018, Mullally returned to Halifax to teach off-loom structures at NSCAD, replacing her retired mentor, MacAdam. Due to COVID-19, she had to immediately adapt her plans as the pandemic struck and lockdowns went into effect.
Mullally completed the Craft LAIR residency at the Centre for Craft Nova Scotia, the Visual Arts Nova Scotia Summer Artist in Residence program in New Glasgow, and an Artist Residency at the Chester Art Centre. These activities involved public engagement and required the use of lockdown-driven digital communication strategies that have become a meaningful part of Mullally's practice. Her work has been installed in public spaces like Halifax's waterfront to spark conversation around environmental issues.
Mullally believes that maritime material culture can be instrumental in connecting with her community. She now regularly receives donations of old fishing equipment from the public. This collaborative process is integral to her work in the upcoming Symbiosis group exhibition at the Mary E. Black Gallery in Fall 2021.
Mullally's art process began as a frugal strategy by combing beaches and the local seascape for debris. She scavenged and gathered discarded objects like damaged fishing nets and stray lobster claw bands to use as source materials. This practice led her to discover the magnitude of marine pollution and propelled her practice to consider environmental issues, which has led her to work with the Ecology Action Centre on a public art project.
In this industrial age, where damaged objects are replaced rather than mended, Mullally's work focuses on repair. She carefully reconstructs damaged nets using all-butforgotten techniques. This process of repair is a metaphor of personal battles with mental health and healing, and the work results in striking artworks depicting interventions of renewal. In many ways, Mullally's pieces speak to the resilience in her personal life through the action of patching, darning, and mending. However, her work also refers to the resilience of fading knowledge, practices, methods, and techniques that are no longer valued in a global market of consumerism. Mullally's work also addresses the durability and power of the elements in nature. Mullally is a curious tinkerer and creates most of her own tools and machines. She is deeply interested in seeing the revival of these traditional craft practices in contemporary contexts. In her NSCAD classes, she is delighted when students use ancient techniques such as macramé to create sculptural structures and forms.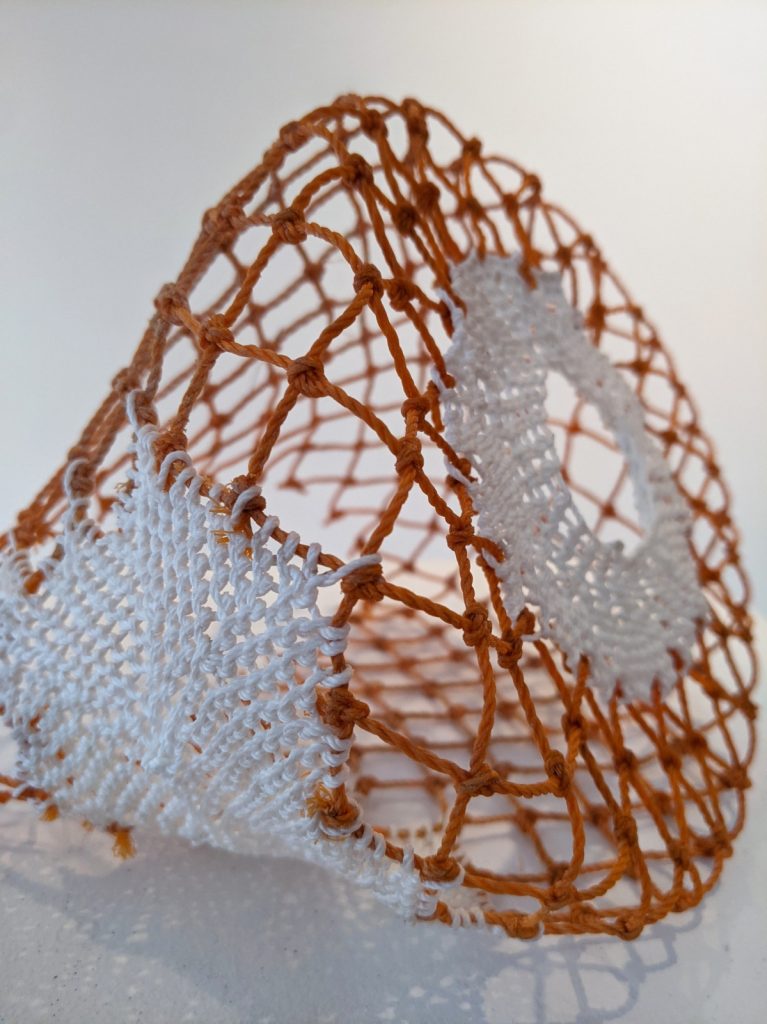 Mullally is devoted to the teaching of all ages and abilities and believes in the healing power of craft, much like the distinguished occupational therapist Mary E. Black, who taught soldiers to weave as a means of alleviating symptoms of post-traumatic stress.
In Mullally's work, I see cycles: the cyclical repetitious motion of knot making and stitching, the life cycle of objects, the tidal cycle that washes a wreckage ashore, and the cycles of everyday suffering and healing. Her pieces give the viewer a glimpse into Nova Scotian marine history and culture whilst also revealing personal vulnerability and strength.