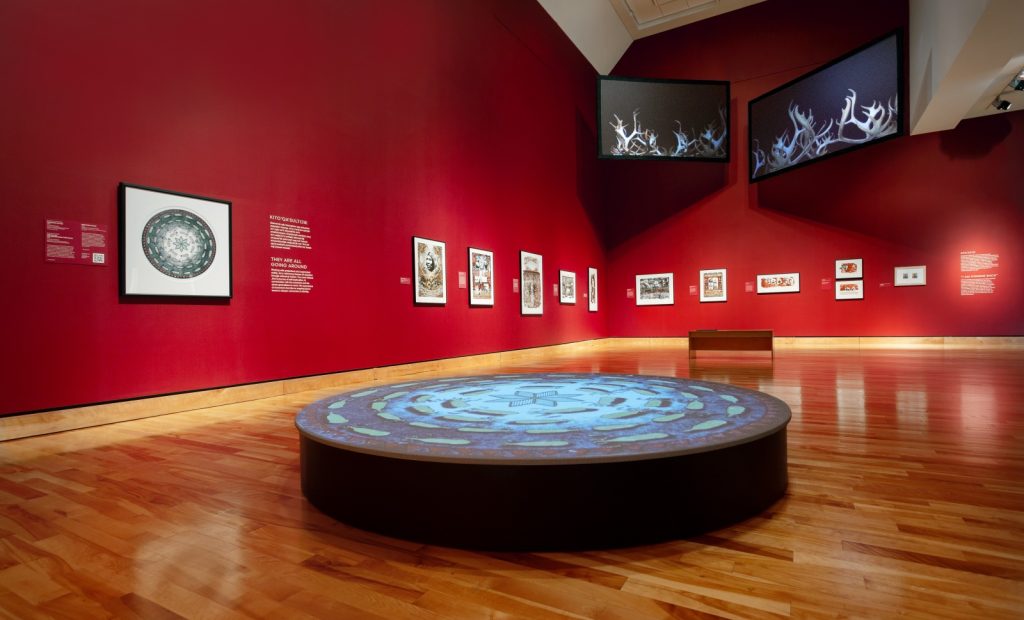 Since October 2022, The Rooms Provincial Art Gallery has consecutively presented solo exhibitions in their gallery spaces by Mi'kmaq artists from Ktaqmkuk, specifically highlighting the artistic practices of Kelsey Street, Nelson White, and Alex Antle. Weljesi, the most recent exhibition to unfold in the fourth level art gallery, celebrates Mi'kmaw and settler artist Jerry Evans enduring and significant cultural contributions to Ktaqmkuk's art history through a retrospective curated by Jenelle Duval.
Evans is a visual artist who was born and raised in central Ktaqmkuk. His career as a visual artist spans over 30 years, and he is primarily recognized for his work in printmaking and painting. He also works with film, new media, participates in powwow dancing and regalia making, and is a cultural tattoo practitioner. Evans is known for his generosity, and his commitment to learning and sharing with communities in Mi'kma'ki and beyond.
Accompanying this milestone retrospective is a gorgeous hardcover exhibition catalogue of images of Evans's artwork, and thoughtful essays by longtime friends and colleagues Duval, Dr. Pam Hall, and Mi'kmaw visual artist Jordan Bennett. Evans and Hall are co-authors of Chapter 3: Miawpukek – The Middle River which is part of Hall's ongoing collaborative art-and-knowledge project, Towards an Encyclopedia of Local Knowledge. Where the past two chapters focused on the Northern Peninsula, Bonne Bay, Fogo and the Change Islands, Chapter 3 focused on the cultural knowledge of the community members in Miawpukek First Nation. Bennett is a longtime friend and collaborator who has been inspired by Evans's work in his own artistic practice. Weljesi will be on exhibit at The Rooms Provincial Art Gallery until January 2, 2024, and will be touring throughout Mi'kma'ki in the future.
At the opening reception, the love in the room for Evans was palpable. I couldn't help but feel as I sat in the immensely crowded atrium that we were witnessing a powerful historical event. Evans received this public recognition for a lifetime of commitment to reconnecting to his L'nu culture, and over 30 years of artistic practice that has shaped Mi'kmaq art, and the landscape of Indigenous art, from what is colonially known Newfoundland and Labrador. The evening celebration began with an opening prayer from Elder Marjorie Muise, heartfelt acknowledgements from the artist and curator, songs from Eastern Owl and Aaron Prosper, and dancing by Philip Muise. Towards the end of Muise's dance, Evans got up and started dancing, too.
The title for the exhibition, Weljesi, is a Mi'kmaw term for which there is no comparative word or translation in English. Duval shares in her curatorial essay "Qataqamu'k vs.. The Retrospective" that Weljesi is: "the term that describes the feeling we get when we are happy… It is the feeling that comes when we are laughing together from our bellies and in total connection with joy. It is contentment."
In contrast to a typical retrospective that calls attention to particular eras and milestones in an artist's career in a linear fashion, Weljesi is conceptually organized into five different thematics that are Mi'kmaw terms, concepts, and ideas that resonate throughout Evans's life and artwork. As a guest curator, Duval had many thoughtful considerations and questions undertaking the curation of Evan's work for a major retrospective. She shares that her "task was to reconcile Jerry's art with the institutional space and the history of settler colonialism, and, most importantly, to reconcile the institution with the art." Throughout his art practice Evans follows guidance from Etuaptmumk (Two-Eyed Seeing, meaning to use both Indigenous and settler perspectives), which also informed Duval's curatorial choices—positioning the exhibition using the term Qataqamu'k, an old L'nu word meaning "a place of honour."
The right side of the gallery wall is accented with caribou hoof prints, featuring the first thematic constellation of artworks titled TA'N WETAPEKSLTIEK | Where Our Roots Are. This establishes the significance of the lands, waters, and ancestor artists of Ktaqmkuk in Evans's life and artistic practices. His research encompasses colonial histories, records, and his lived experience. His work considers themes related to social amnesia, the interruptions and survivance of Indigenous histories. Evans prints Quill Medicine Wheel, Spirit Tree, and Keeping the Way, are paired with Beothuk caribou pendants, acknowledging the influence and interterritorial relationships between the Beothuk and the Mi'kmaq.
I pause to reflect after reading the wall didactic for APAJA'SI | 'I Am Coming Back.' This component of the exhibition features brightly coloured image-based assemblages with historic photographs of L'nu from Ktaqmkuk. Duval writes: "Historic photos and symbols are often viewed through the lens of colonizers, but Jerry imagines how they can be reclaimed and made L'nu/Beautiful." I sit in that for a bit, thinking about the inherent beauty and power that comes from our nation, our home territory, and witnessing these portraits in the gallery.
We are L'nu/Beautiful.
No'kmaq, My Relations articulates the amalgamation of Evans's L'nu and Welsh heritage by sharing in his artwork photographs from his family's personal archive. In lithograph prints like We Were Not the Savages (which references the late Elder Daniel Paul's seminal text We Were Not the Savages that went into its 4th edition) and Mi'kmaq Women of the French Shore, Evans incorporates photographs from the archives taken by Paul-Émile Miot and Frank Speck. In addressing why Evans utilizes these images in his artwork, he shares in one of the many rich didactic panels accompanying and contextualizing the artwork: "I think it's important that these ancestors be seen. It's important to give them place, to give them homage. They're our people. The images are taken from colonialist history books, but I'm giving them a home."
Most recently, Evans has been expanding his existing filmmaking practice by utilizing animation and augmented reality to create new media artworks. The concepts of life cycles, movement, migration are echoed in KITO'QA'SULTIJIK | They Are All Going Around. APAJA'LUJIK (WE ARE BRINGING THEM BACK) is an installation that consists of two large screens asymmetrically hung with looping video of moving antlers indicating the migration of the caribou herd. MIGRATION CYCLES is a looping video projected onto the floor plinth, and immerses the viewer in a visual continuum of caribou and activates the ground surface of the gallery. Duval references Evans dancing in a circle and his feet leaving impressions in the earth in the exhibition text. This is L'nu mark making and image creation that comes from Evans's embodied experiences and are found throughout his vast body of work.
The small gallery to the left of the main entrance contains three portraits that embody the concept ANKAMI | 'Look At Me.' The artist depicts L'nu people in living portraits that reference Renaissance and Baroque periods in Western art history. The images oscillate between the individuals wearing historical articles of clothing and their contemporary garments. After appearing to be still images, these portraits move ever so subtly, and gaze directly at the viewer. Instead of presenting these individuals as passive subjects, their eye contact subverts the Western gaze often present in historical artworks and cultural institutions. Evans gives agency to those whose histories have been maligned by colonial systems of oppression.
As an emerging Mi'kmaw printmaker, I've had the privilege to see Evans' work continue to evolve over the last several years in St. Michael's Printshop in St. John's, where he created the prints for PEMAPTOQ | Making/Leaving Tracks. Every time I looked at the drying rack I would watch each layer appear like magic. Each of these artworks carry their own stories and motifs that articulate our relationship to life cycles, animals as life givers that have sustained us for generations, and migrations through visual language as L'nu. When I see each of these prints, I remember Evans's generosity and the stories that he shares with me.
Weljesi is a celebration of Evans's importance to the art history of Ktaqmkuk, Mi'kma'ki, and more broadly in the context of Indigenous arts. He has been a mentor and friend to many, and his work will become a significant guide for the next seven generations.