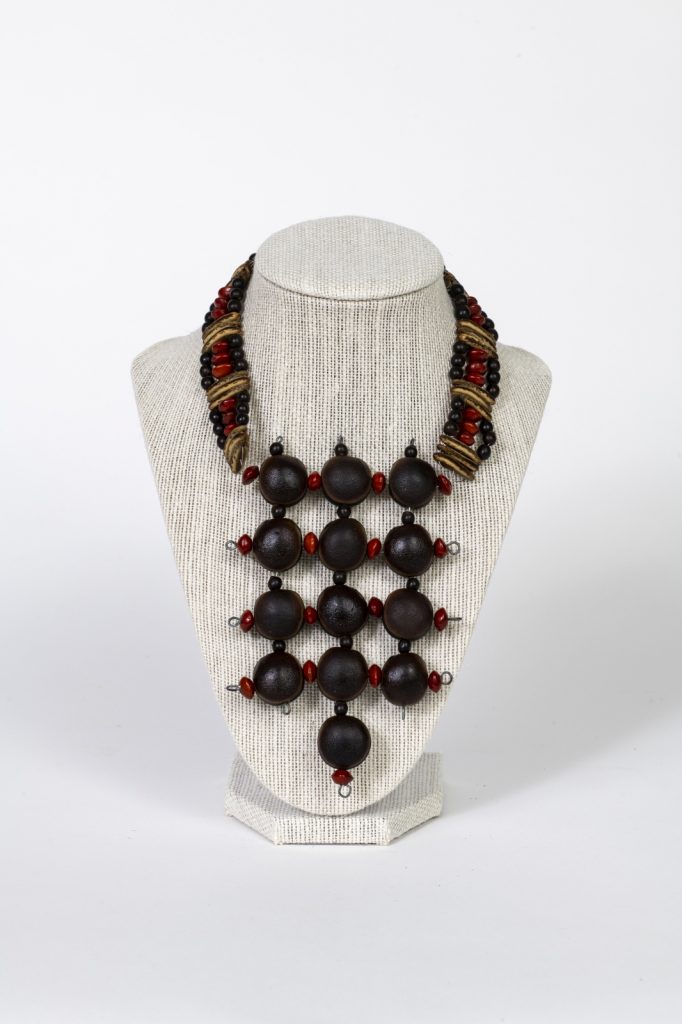 Originally from the historic Maroon Town of Accompong in St. Elizabeth, Jamaica, artist Tyshan Wright now lives and works in Halifax. He is a traditional maker of Jamaican Maroon ceremonial objects, which are mixed media and created primarily with wood and natural forest products.
Wright recently collaborated with his wife—beloved Halifax poet and writer Shauntay Grant—on Bench Drum for the Atlantic Vernacular Digital Exhibition, which is presented by Craft NB and curated by Gillian Dykeman. Wright's Bench Drum, is a contemporary Maroon bench made from Canadian wood and traditional Maroon beads. In Maroon folklore, bench drums originated among the enslaved Africans who later fled to the hills of Jamaica, and the shape was designed to conceal their instrumental and spiritual purpose (as Maroons were forbidden to practice their spirituality). Grant writes in her poem, "Bench Drum," "of flight and freed/ of bush and bead/ of blood and weeping," which is also translated into French. Just as the drum carries stories, Grant uses words to paint pictures of the long journey both her and her husband's ancestors have walked.
Wright has presented exhibition and artist talks at Canadian galleries and museums, including the Art Gallery of Ontario and the Canadian Museum of Immigration at Pier 21. His work has been acquired by the Nova Scotia Art Bank, and he's currently a 2021–2022 Artist-in-Residence Fellow at NSCAD University's Institute for the Study of Canadian Slavery.
I had the distinct pleasure and privilege of interviewing Wright about Maroon art, collaboration, and more. Here is our conversation:
Shannon Webb-Campbell: What other collaborations have you and Shauntay Grant embarked upon? Why is collaboration important to your practice?
Tyshan Wright: When I first moved to Canada, we created a multidisciplinary work called Abeng for Canada: Day 1, a group exhibition presented by the Canadian Museum of Immigration at Pier 21. More recently, we collaborated on a multidisciplinary work called A Calling that was exhibited at the Black Cultural Centre for Nova Scotia in 2021 as part of the Ecology Action Centre's anniversary project 50 Things: An Interactive Art Adventure, curated by Zuppa Theatre.
Webb-Campbell: How does your hometown, the historic Maroon Town of Accompong in St. Elizabeth, Jamaica, inform your art practice?
Wright: My ancestors' struggles towards freedom and their stories of strength and resilience—passed down through their descendants—greatly inspires my work.
Webb-Campbell: How does your work explore the intersections between traditional and contemporary craft in terms of the Canadian African diasporic narratives?
Wright: By exploring an alternate future for the exiled Maroons, in terms of what would it look like if the Maroons had not left Halifax for Freetown (Sierra Leone), and what are some of the materials they might have used to recreate these traditional instruments, since most of the materials used in creation of these instruments are not here. So, I try to source materials that I believe they might have used from here to create these instruments.
Webb-Campbell: What is the relationship between mixed-media representations of Jamaican Maroon instruments and ceremonial objects?
Wright: The past informs the future. And so even though for the most part my works are not made entirely from traditional materials from my homeland, the relationship between the countries and communities that inform my work—places where Jamaican Maroons have lived and where their descendants now reside—is inseparable.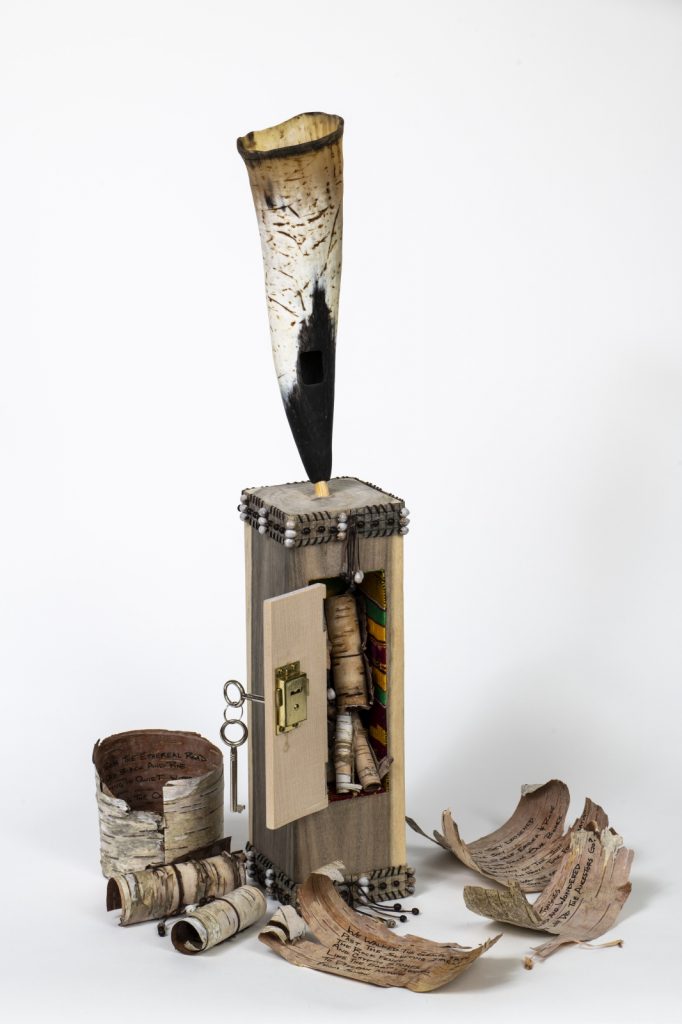 Webb-Campbell: In your artist bio, you write that 'the Maroons' most sacred objects include a series of traditional drums, and a carved cow's horn called an abeng.' These sacred objects are used for celebration and ceremony, and are significant to Maroon culture and spirituality. These ceremonial and sacred objects were denied Jamaican Maroons exiled to Halifax in 1796. Why? And what's changed?
Wright: Through these instruments, the Maroons are able to access another dimension of life and their ancestors, which in the past aided them in the war against the colonial authorities. The instruments are how the Maroons connect spiritually to their ancestors, from whom they draw wisdom and strength. And so, in that sense the instruments are sacred and hold a lot of power and influence. Knowing this, the colonial authorities would never have allowed these instruments to journey with the exiled Maroons. And so, with my artwork I am trying to imagine an alternate history where the exiled Maroons—who are known to have continued their spiritual practice while in Nova Scotia—found a way to create their spiritual instruments using wood and natural forest products from this region.
Webb-Campbell: Here we are in 2022, and you are creating artwork based on these powerful and important sacred objects. What does that feel like for you as an artist, and how does this honour your ancestors?
Wright: With time comes change. I believe we are living in a period of transformation where we are realizing that however painful and unpleasant the past is, there is the possibility to create something beautiful, magical, and healing out of that pain. It's a very humbling feeling. I'm just watching life unfold in so many different ways and forms. I honor my ancestors by weaving them into every fibre of my life and work.
Webb-Campbell: While Jamaican Maroons are descendants of Africans who resisted slavery and evaded capture, they created community in the island's mountains in the 1600s. The Jamaican Maroons' rich history originates in the Akan region of Ghana, spanning migration, war, independence, exile, art, and culture" What is Cudjoe Day and what does it celebrate?
Wright: It is a time when we come together to celebrate the Maroons' victory over British colonial authorities and the resulting 1738 peace treaty. The celebration happens every year on January 6, which is when we celebrate Cudjoe's birthday. During this time, we pay homage to our ancestors for all they sacrificed for us as a people, and for their continued guidance.
Webb-Campbell: What is the driving force behind your practice?
Wright: The romancing of life in its totality.
Webb-Campbell: What does your art practice look like? What is your research process like?
Wright: Because our ancestors did not have the tools to read and write in colonial times, the history was passed down to us orally from one generation to the next. So, in terms of my research process, while I do read books and archival materials, where our history is passed down orally, I tend to focus on listening to the voices of my ancestors, and my own lived experiences and understanding of what it is to be a Maroon.
Webb-Campbell: What has been your experience of being a 2021–2022 Artist-in-Residence Fellow for NSCAD University's Institute for the Study of Slavery so far? How's it going now, and what do you hope to accomplish during your tenure?
Wright: It is a lovely experience so far, especially to be one of the first fellows in residence at the institute and to interact with the rest of the fellows while learning from their creative practice. Two months into the residency things are unfolding beautifully. The research is going well, as is the physical artwork that I am creating—a ceremonial instrument that I hope will speak to the struggles of my ancestors in colonial Nova Scotia and how they were able maintain a sense of sovereignty.
Webb-Campbell: Can you tell me a little more about your project, The Trelawny Town Maroons: Between Sovereignty and Slavery?
Wright: My research/project examines the behaviors and cultural practices of Trelawny Town Maroons exiled to Halifax in 1796, and the effects of colonialism and transatlantic slavery on the Maroons' sovereignty.
Webb-Campbell: What are you currently working on? What does the future hold for your creative practice?
Wright: I'm working on a series of contemporary Maroon bass drums. To date I have only made these instruments in the traditional way, but I am exploring new processes for their creation using local and repurposed materials.
The MYAL collection is viewable online at tyshanwright.com/myal. Four works from this collection will be exhibited April 2–June 30, 2022, at Montreal's Place Des Arts as part of Festival Art Souterrain. As for the future, I hope that the seeds that I sow today will create a brighter tomorrow.