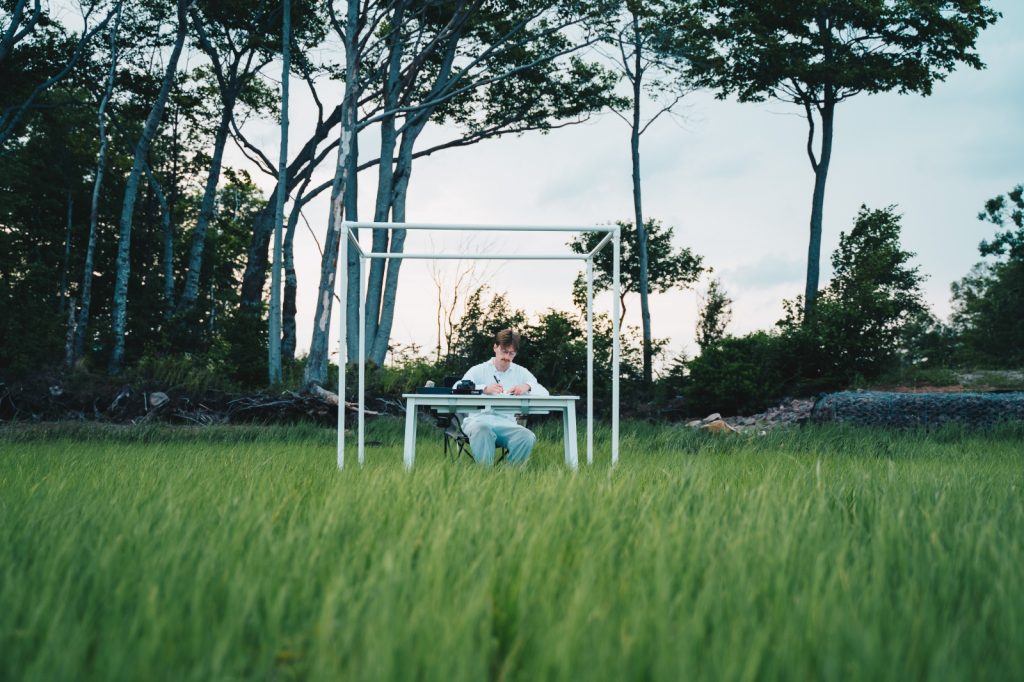 Just beyond the Queen Elizabeth Hospital on Prince Edward Island, the late September sunset washes the sky with a lilac glaze that tints the Hillsborough River below. With only one day remaining until the Harvest Moon, the celestial body is nearly at its peak brightness, but an unlikely structure along the grassy shore—a white cubic frame constructed of PVC tubing—reflects most of the moonlight. Wandering about is Charlottetown-based artist Doug Dumais, donning matching white coveralls. He is starting to pack up his tools after his fullday performance of Shoreline Palimpsest (2021), and this is where we meet.
Evidently, Dumais has not always worked in a studio. As a former Montréal resident, he recalled the challenges of finding an adequate space, revealing his resolution: Why not move the studio outside? Although Dumais assumed this role in Shoreline Palimpsest, the artist-photographer has long been attracted to outdoor spaces—rural, urban, or somewhere in between.
From 2018 through 2020, Dumais visited some of Montréal's infamous construction sites in the photo series, Construction Holiday. Photographed during Montréal's annual two-week building pause, Dumais highlighted moments of tranquility in otherwise cacophonic city corners. A leaning sheet of plywood stretches a plastic tarp that drapes like a fine silk. Afternoon sunlight casts shadows onto concrete foundations sprinkled with gravel and debris from a nearby tree. These images consider the ephemerality of construction sites, and the unexpected stillness that is found in the midst of urban change.
                In the summer of 2020, Dumais participated in Artch, a professional development initiative for emerging artists that culminates with an outdoor group exhibition. Though Artch beginning of a career as a Montréal artist, he relocated to PEI shortly after the exhibition closed, a change of scenery that would ultimately shift his work's focus over the years to come. While PEI may not be considered a major destination for artists in Canada, the strength of its relatively small community empowers artists to engage in exciting approaches. Like many cities across Atlantic Canada, Charlottetown's art scene has been rapidly expanding in recent years, with festivals such as Art in the Open attracting local and nationwide audiences and a string of recent public art initiatives engaging local artists.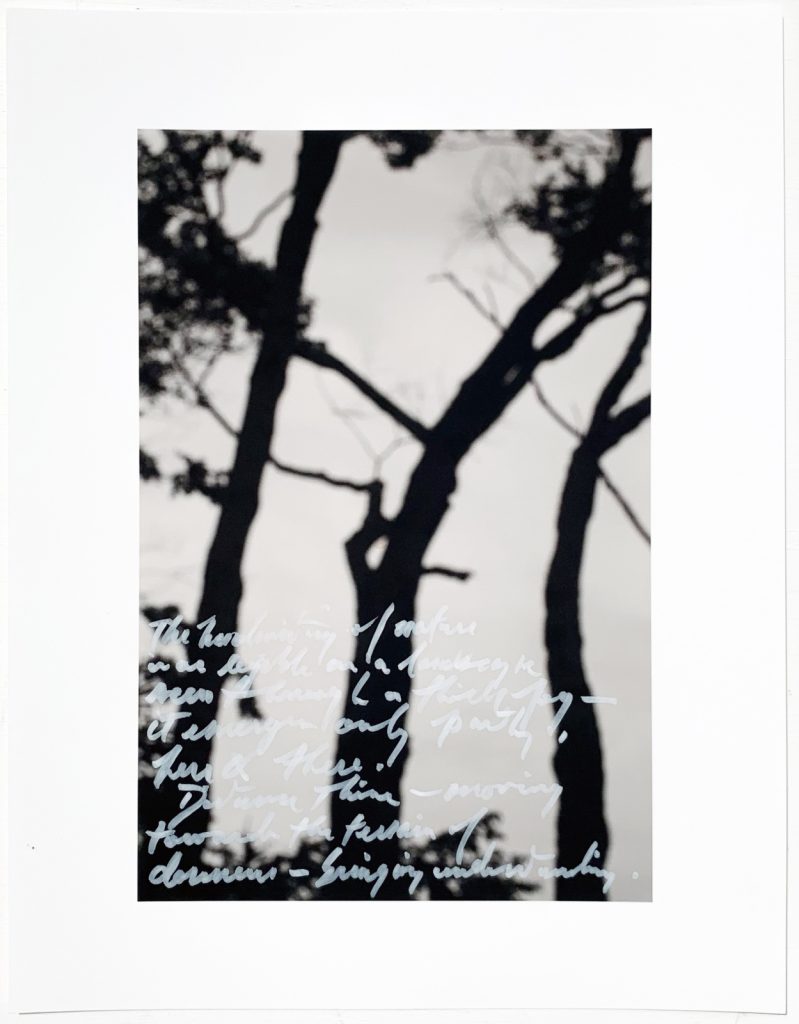 Presented in five performances over the summer of 2021 (three in July, two in September), Dumais' Shoreline Palimpsest is one of three public art projects supported by Creative PEI and The River Clyde Pageant. In alignment with the project's initiative, Shoreline Palimpsest highlights the importance of living shorelines, referring to how natural protective processes such as root growth can aid in the fortification of PEI's fragile sandstone coasts. Shoreline Palimpsest reveals a very real problem that Islanders have been experiencing due to climate change.
Over the course of a restless twelve-hour period along a narrow slice of shore behind Charlottetown's Queen Elizabeth Hospital, Dumais photographed the tides as they went in and out. Then, he printed black and white images from a portable printer housed within his makeshift cubic studio, combining each print with handwritten poetry or prose. Beyond its aesthetic merit, the performance reflects the immediacy of people's relationships to the Island's terrain. In a province where agriculture is a leading industry, land availability plays a crucial role towards the livelihoods of many.
"Islanders are proud of being Islanders, and they have a much more immediate connection with the landscape that isn't like anywhere else in Canada," says Dumais.
Another key component to the successes of Shoreline Palimpsest is the public's involvement in the work, simply by stopping through the area where Dumais set up his studio. Some would come only once and share stories of how the Island's diminishing perimeter washed away their family's property, while others—hospital staff on their daily lunch breaks—visited multiple times and did not interact with Dumais, but rather observed from a distance.
Over the course of its five performances, approximately 120 people came to interact with Dumais; as a result, Dumais cultivated connections to Islanders new and old. Many visitors were agents in the meaning-making of the work, even taking a print home for free.
"It all quickly went from producing art to producing conversations," he says.
Through the guise of an artwork, Shoreline Palimpsest communicates a scientific concern by provoking small-scale community awareness of the ecological issue. Dumais recalls a quote from the late science fiction author Ursula K. Le Guin: "Science explicates and poetry implicates." Shoreline Palimpsest resulted in emotional responses, both realizations by the artist and his visitors.
In recalling his work in Montréal and PEI, respectively, Dumais acknowledges that his practice contains methodological undercurrents to the literary figure of the flâneur, the male urban dweller, and the movement of Romanticism, where man is usually at the centre of the sublime and often-feminized natural world.
"I like to think that the temporary aspects of my practice are my 'escape hatch' to problematize my indirect correspondence to these movements," says Dumais.
On the print that I got to take with me after my visit to Shoreline Palimpsest, an image of beach grass is overlaid with cursive text: "A small monument to my passing through this place." Dumais is more than just passing through. He is leaving a tangible and communally engaged impression through the careful art of quiet observation and listening.