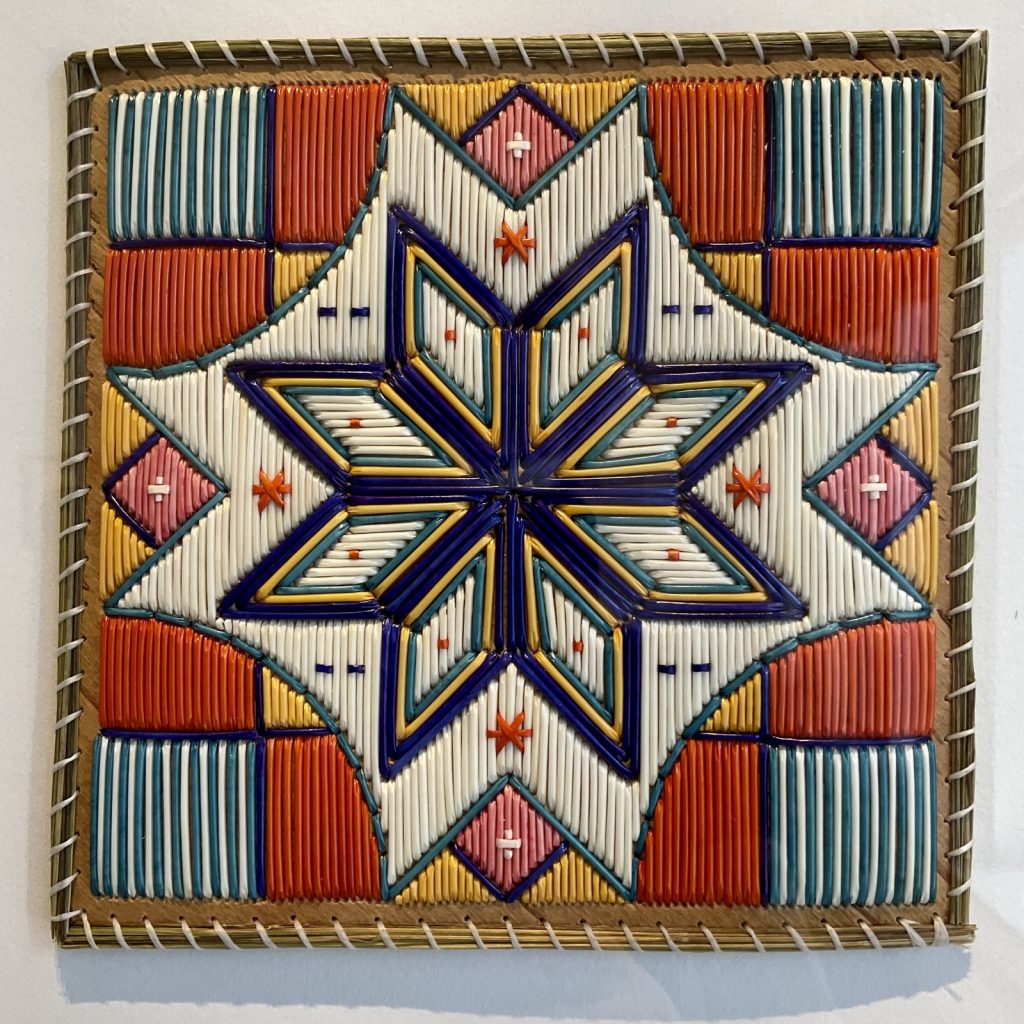 My first time seeing porcupine quillwork was watching my Aunt Connie create pieces at her kitchen table when I was 16 years old. It was mesmerizing to watch her take tiny quills and insert each one meticulously into place. I still remember the rhythm she created. When I began my own exploration into Indigenous Arts as a student at the New Brunswick College of Craft and Design in 1999, I was led by the late Elder Gwen Bear, and Carola Knockwood, who was the porcupine quillwork instructor at the time. From there, I enrolled in the Surface Design program, and graduated from the college in 2002. It wasn't until 2004 that I decided to take up quillwork again, as I wanted to make a basket from the birch bark that had been gathered by my grandfather, the late Chief Anthony Francis, and gifted to me after he passed.

As a Mi'kmaw artist, I am committed to the preservation of our traditional art practices and the use of natural materials gathered from the land of our ancestors, known to us as Mi'kma'ki. I have carried these traditional teachings forward into my contemporary work, which addresses Indigenous issues and reacts to important events taking place that affect our people. My porcupine quillwork incorporates sacred and ceremonial teachings and the Mi'kmaw language, and I continue to teach the traditional craft throughout the Maritime provinces and into Maine. Though I believe it is our responsibility as traditional knowledge holders and artists to pass the knowledge on to the next generation, for many years I felt alone on my porcupine quill journey, as I only knew a handful of people who still practiced the craft. The Quill Sisters have changed all this.

The Quill Sisters is composed of contemporary porcupine quillwork artists Melissa Peter-Paul, of Abegweit First Nation; Cheryl Simon, originally from Abegweit and now living in Halifax; and Kay Sark, from Lennox Island. They are a joint force, working together to revitalize traditional birch bark insertion quillwork in their home communities and throughout Mi'kma'ki. Their united goal is to educate and preserve the traditional practices and ornate patterns of our ancestral work, while building their personal styles and expanding the boundaries of the tradition in step with modern times.
I first encountered Peter-Paul's work when we exhibited together at the Petapan Indigenous Artist Symposium in Dieppe in 2016. Through Peter-Paul, I was introduced to Simon's work, and I came across Sark's quillwork through social media. Not long after discovering Simon and Sark's podcast Epekwitk Quill Sisters, I was invited by Simon to be a guest on the episode "Chatting with a Pro," which aired on September 6, 2021. In this episode, we discussed how my institutional background affects my practice, and other issues relating to quillwork and craft. It was the first time I connected with other artists who shared such a passion for porcupine quillwork, as well as knowledge about how we gather our natural materials, and what tools and techniques we use. Epekwitk Quill Sisters is an ongoing podcast that spans conversations around traditional knowledge and interviews with Elders, quillwork artists, and curators. It touches on cultural appropriation, understanding the value of quillwork, and so much more.
The Quill Sisters' most recent endeavour, Matues Revisited, was a powerful exhibit at the Mary E. Black Gallery at the Centre for Craft Nova Scotia, curated by Aiden Gillis and Jordan Bennett and on display from January 21–March 13, 2022. The exhibition included framed quillwork pieces from all three artists, as well as installations, three-dimensional forms, and a learning room where visitors could experience various displays and write-ups touching on the history of quillwork, the raw materials, and sustainable harvest.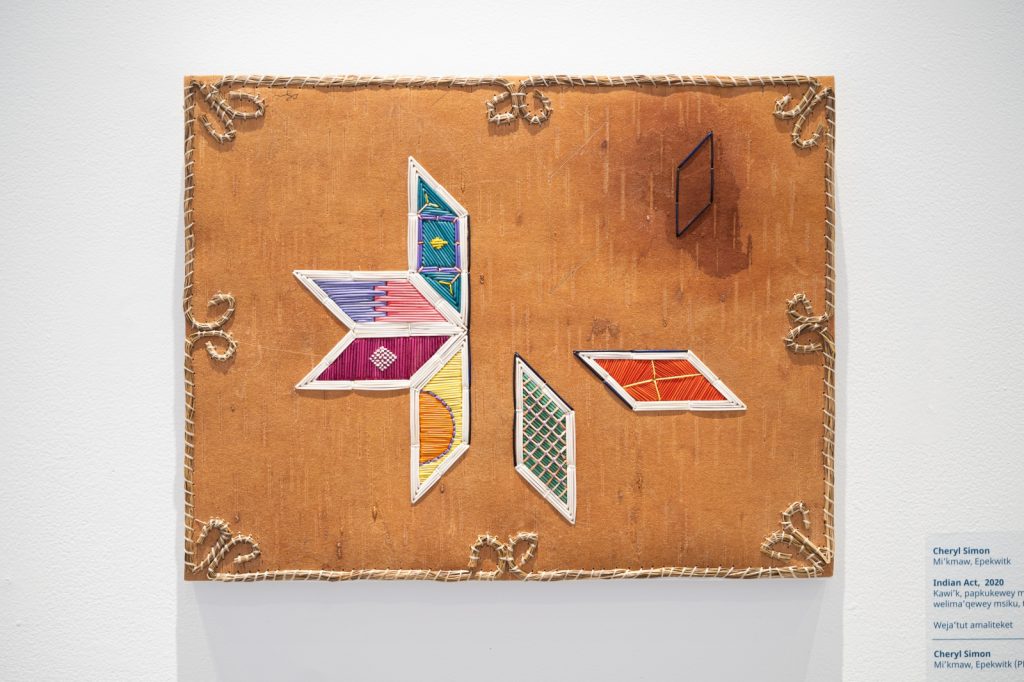 I had the pleasure of watching the Quill Sisters in a virtual artist talk on March 10, 2022. It was hosted by curator Gillis, an Indigenous Arts Programmer at the Art Gallery of Nova Scotia, and delivered through Craft Nova Scotia. As part of the conversation, the artists addressed the issue of "consuming culture," and how having an Indigenous curator allowed the artists to have a more hands-on approach than a museum's colonial curatorial one. The artists collaborated on how the work was displayed, the inclusion of multi-sensory exhibits, and the information available to help visitors gain an understanding of and respect for the culture of quillwork. They also worked together on educational aspects of the exhibition to encourage Indigenous youth groups to participate and learn more of the history and process of quillwork.
Like myself, each sister has their own histories and inspirations behind the reason they took up quillwork. Simon and Peter-Paul recall being young and seeing their mothers' collections of quill baskets, and wondering how they were made; however, it wasn't until adulthood that they saw actual Mi'kmaq quillwork made by Mi'kmaw artists. Simon recalls the reverence in her mother's voice when she would speak of the work. The first time Sark saw quillwork was when Simon's pieces were on display at her band office. From there, she ended up taking a workshop with Simon, who ignited her passion for the craft. Peter-Paul also cites Simon as leading her to the craft—she apprenticed under her before taking an in-depth study of quillwork, the traditional materials, and the techniques required. She has now taken it on as her full-time career.
Peter-Paul believes Simon's drive and passion for the work continues to inspire her. Simon is inspired by the historical works of our Mi'kmaq ancestors, reinterpreting their designs and styles, and often using a section of an ancestral pattern to communicate her larger intent. "I have noticed that when I am around a lot of Mi'kmaq people, I get a lot of designs coming to me, which is reflective of the energy and connection we have collectively," says Simon. Sark finds inspiration in her day-to-day life, be it the flowers she sees growing in her garden, or what she happens to be watching on TV.
When it comes to the gathering of natural materials, the Quill Sisters and I are all on the same page about the importance of sustainability and the protection of our ancestral practices. Having grown up in a family of traditional ash basket makers, Peter-Paul follows the protocols handed down from her kin in her approach to gathering sacred sweetgrass. She shares this knowledge with the sisters and others who she knows will respect the land and resources. Simon speaks of gathering her natural materials in how she marks her year, as there are small windows of times that are best for harvesting. Sark embraces the importance of family in her harvesting practices—they all do it together—and enjoys sharing the practice with her children knowing that she has passed it onto the next generation.
"It's amazing that it's just so normal to them now, and including them in this is very important to me. I want to teach them things about their culture. I want them to feel the connections that were not given to their father and I growing up," says Sark. "I want them to have access to all the knowledge that we didn't [have]. I want them to know the history that goes along with quilling."

Each quill sister mentioned the overwhelming feelings they encounter when they hear the sound of the birch bark snapping as it is harvested from the tree. Peter-Paul and Sark live on Prince Edward Island, and they must travel to New Brunswick to find their porcupines, which are collected from the highway. The gathering of materials has been even more challenging over the past couple of years due to pandemic restrictions.
As contemporary Indigenous artists, the importance of passing on the tradition is a big responsibility to us knowledge carriers, and the sisters have seen a large increase in quillers. Simon mentions how she has noticed that a lot of family members are now engaged in active harvesting and are attempting the craft for the first time. Simon spent a lot of time at the Matues Revisited exhibition, and she had the opportunity to connect with many visitors in person and online. Peter-Paul and Sark were able to travel to the gallery and join Simon for the final day of the exhibition, and they were very pleased with how the exhibit came together under the respectful care of Gillis and Bennett.
After a well-deserved break, all the sisters plan to continue doing their quillwork. Simon has plans to work with more 3D pieces, Peter-Paul is preparing for workshops in Ottawa over the summer solstice as part of the nation's capital Indigenous People's Day celebrations, and Sark is prepared to go wherever her quillwork takes her next.

Personally, I believe the Quill Sisters and I are strongly committed to the journey of being porcupine quill artists, and I deeply relate to Peter-Paul when she says she draws her "strength from the work, as it is empowering, and our deep connection to who we are as Mi'kmaq people." Quillwork is our connection to the land, to our ancestors, and to our families, and, like Sark says, "we just know it is what we are meant to do."