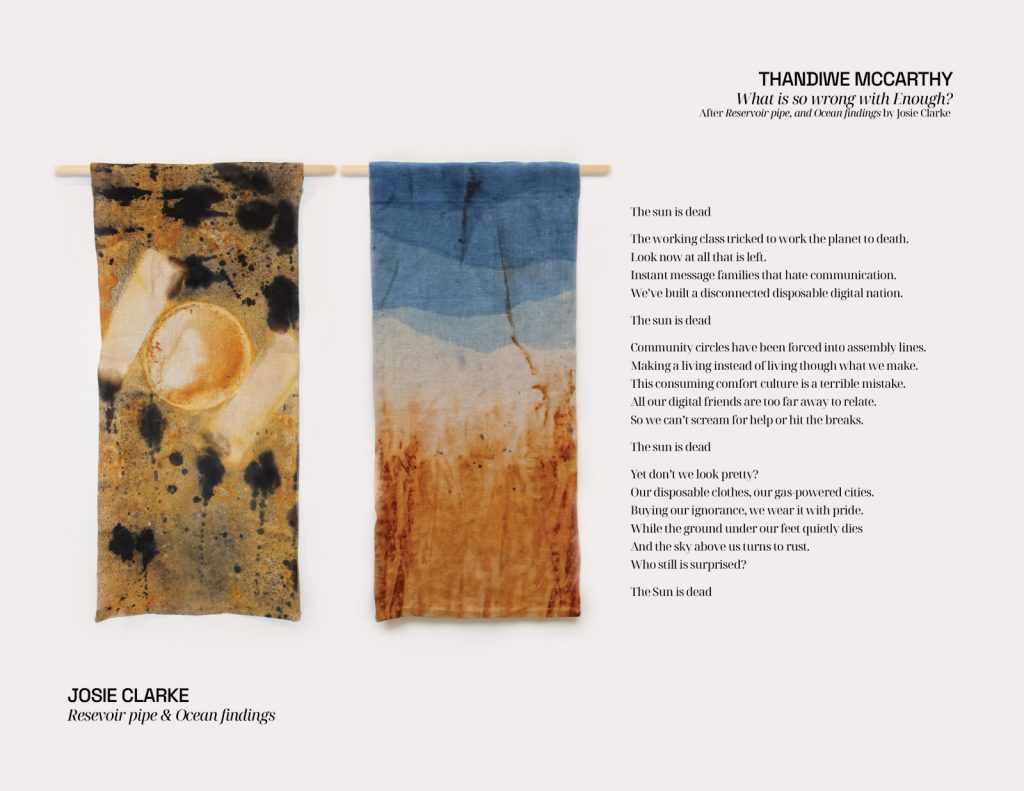 In 2009, the preeminent Canadian craft historian Dr. Sandra Alfoldy wrote, "perhaps the fact we do not possess an instantly identifiable "Canadian" craft aesthetic is our aesthetic." Beauty and truth are found in and among our differences, and authentic realizations come to fruition when we connect both because of and despite these differences.
It is this type of connection that fuels the Atlantic Vernacular project, spearheaded by the tenacious team at Craft NB. Driven by Fatema Pagdiwala, the exhibition coordinator; Alison Murphy, the executive director of Craft NB; and curator Gillian Dykeman, this virtual exhibition paired together 30 artists and 29 poets to undertake acts of pointed collaboration, resulting in a series of compelling visual and literary interpretations on the theme of the Atlantic Vernacular. The results are a multi-lingual, multi-disciplinary collage of material art, poetry, and prose—a feast of Atlantic perspectives.
The works flow between tales of belonging, struggle, and perseverance. Many of the poems dance between literal descriptions of materiality and technique, such as poet Ian LeTourneau's homage "Sea Urchin" after metal artist Alanna Baird's "Bronze Sea Urchin #23," and Kathy Mac's poetic musings "Sunk in Thought'' on Tammy McClennan's found object mixed media-based sculptures "Float Devices." Other works delve into the artists' connection with these materials, eloquently put in Triny Finlay's poem "We Cannot Be Contained,'' a villanelle based on Maja Padrov's interlocking ceramics. Finlay writes, "we want to see ourselves in everything: put/ birth marks on fruit bowls, pour our own blood in the vase."
Some of the most intriguing works step into the arena of social and environmental commentary, questioning the failed promises of industry in a broken system that leaves the planet and the population at odds. The disgust for this degeneration is clear in Thandiwe McCarthy's cutting poetic critique, "What is so Wrong with Enough?," inspired by textile artist Josie Clarke's wall hangings made from industrial waste of decommissioned and abandoned worksites. McCarthy writes, "The working class tricked to work the planet to death. / Look now at all that is left. / Instant message families that hate communication. / We've built a disconnected disposable digital nation."
Many of the poems also include audio recordings by the poets themselves, which bring the individual voices together to form a contemporary Atlantic Vernacular. Poet Jordan Trethewey's poem "Darker Shades Often Lurk," inspired by the rug hooker Laura Kenny's series "Maud," honours the artist's struggle and questions the exploitation of those living in poverty. Kenny reinterprets Maud Lewis imagery with second-hand clothing from Frenchy's and yarn from Briggs and Little. Trethewey writes, "My grandmother watched the world pass by her window while hooking rugs. / Meagre supplement to disability pension earned by Pearl's husband, Harry. / What was discarded, now elevated—too precious to tread upon. / Darker shades often lurk beneath palettes of primary colours." Throughout the digital exhibition, many voices from across the Atlantic region rise to the surface, with poems written and performed in English, French, Spanish and Indigenous languages. Poets who write in English are translated into French, and Visual Arts News magazine's editor Shannon Webb-Campbell's "Pink Up Parched Earth," inspired by ceramicist Darren Emeanu's work, was translated into Mi'kmaw by Joan Milliea.
One of Atlantic Vernacular's most powerful collaborations is Michelle Sylliboy's L'nuk hieroglyphic poetry in response to Oakley Wysote Gray's incredibly moving work "Mei Eimotieg – We are still here," which is made of red pig suede and beadwork. Gray drew inspiration from Mi'kmaq artifacts from local museum archives, and describes the work as an "interpretation of Mi'kmaq double curve designs," as the black ink spills "represent the ink used to write the Indian act." The artist captures the meaning of the ink as a "weapon to contain us and minimize the connection with our ancestors. But today we are still here. Standing strong, even through the effect of the Indian act. Our will is stronger than the ink."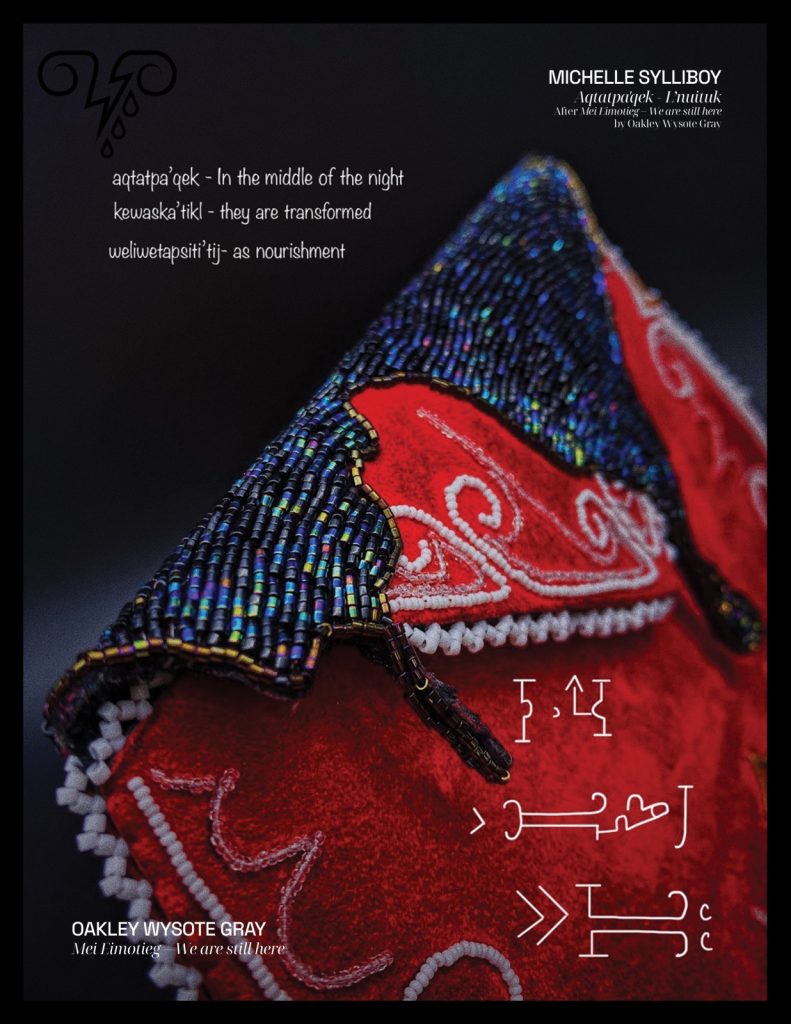 Discussions of place, land, and the idea of home are tied together in Meagan Musseau's "Elmastukwek," interpreted by poet Mihku Paul. In the poem, "Her Signal Skin," Paul writes: "Home is not a printed label, flattened symbols pressed to paper. / Here, there is no false notion of ownership, only those who belong. / Elmastukwek is/ a voice that speaks river and forest, / a windy hand that strokes grassland and meadow, / a sky that sings to the sea."
If all had gone as planned, the Atlantic Vernacular exhibition, which started in 2020, would have been showcased live, but the project moved online due to the pandemic. This shift in presentation reflects our larger Atlantic experience—it creates a sense of intimacy and camaraderie despite distance, laying bare the disconnects between us, paired with a hope that, despite all odds, we can make it work.
While it's easy to imagine these works hung together in the warmth of a well-lit gallery, the virtual presentation lends itself to another form of intimacy—an independent and emotional one that can be reached by anyone, anywhere, at their own pace. Here, the three-dimensional white cube gallery is swapped out for a two-dimensional white cube layout on a website, trading steps for clicks and leaving only the barriers of digital accessibility to overcome.
In a self-directed tour of the exhibition, one can speed through, or slowly digest each piece and soundbite. Binding words to forms, audio recordings of the poets add a human voice to the static nature of this platform. In this digital exhibition space, the viewer makes their own connections. We cannot touch the works, but they can touch us. The Atlantic Vernacular can be found at atlanticvernacular.ca.