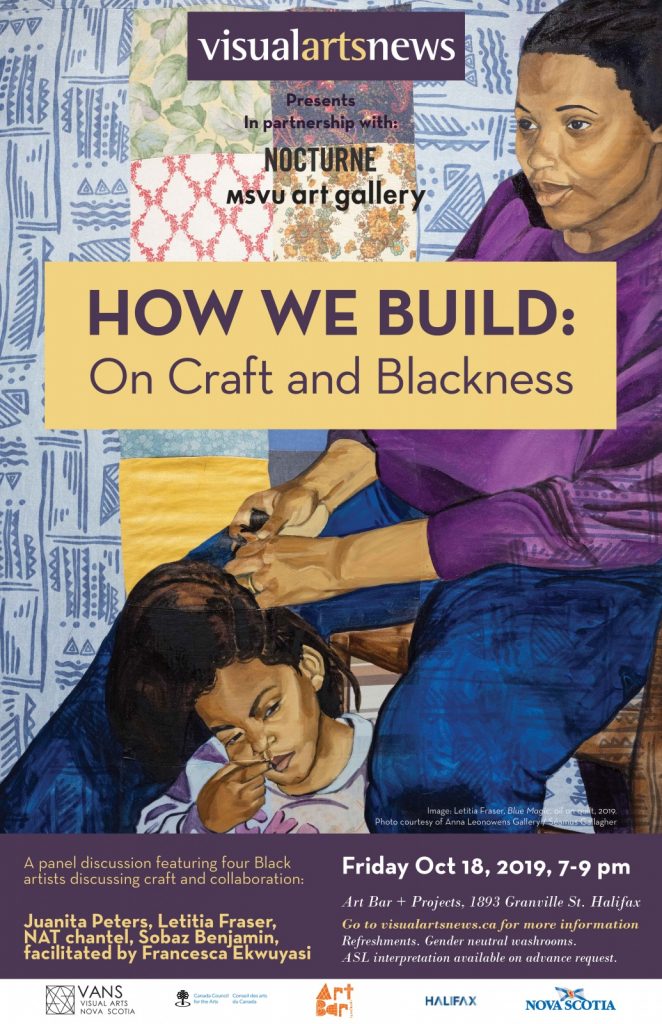 How we Build: On Craft and Blackness
A panel discussion featuring four Black artists discussing craft and collaboration.
Juanita Peters, Letitia Fraser, NAT chantel, and Sobaz Benjamin
Facilitated by Francesca Ekwuyasi
Friday, October 18, 2019, 7 – 9pm
Art Bar + Projects, 1893 Granville Street, Halifax

(K'jipuktuk/Halifax) Visual Arts News, in partnership with Nocturne: Art at Night and MSVU Art Gallery, presents the panel discussion How We Build: On Craft and Blackness. Based on curator Pamela Edmond's quote "I am no longer interested in a seat at the table. I now want to build my own table" this panel will focus on the concept of Black artists creating work for a Black audience.

With the purpose of illuminating ideas on intergenerational knowledge and craft sharing as a means of fostering solidarity and resistance within and between the various Black communities in Nova Scotia, this panel will engage in ideas on locating pleasure, joy, and celebration as a survival tool while navigating structural oppression.

Join panelists Juanita Peters, Letitia Fraser, NAT chantel, and Sobaz Benjamin in a discussion facilitated by Francesca Ekwuyasi on Friday, October 18, 7 – 9pm at the Art Bar + Projects when we will also be launching the Fall 2019 issue of Visual Arts News magazine.
Refreshments will be served and all are welcome. Gender neutral washrooms on site. ASL interpretation available upon request, please contact us in advance to book. Code of Conduct available here.
Meet the panelists:
Sobaz Benjamin, first and foremost a storyteller, is the Founder and Executive Director of an innovative, arts-based, youth and adult engagement, empowerment and reintegration not-for-profit in Halifax, called In My Own Voice (iMOVe) Arts Association, (2007). Sobaz is a documentary film-maker, as well as a community developer, advocate, youth mentor, program director, facilitator and public speaker. His work has been screened across Canada and in venues and Festivals in New Zealand, Bermuda and New York. He has completed documentaries for the National Film Board of Canada (NFB) and the Canadian Broadcasting Corporation (CBC). Sobaz uses his experience as an independent filmmaker in his community- based work with marginalized youth, adults and community.
NAT chantel is a primarily self-taught interdisciplinary artist who engages subtle movement and repetitive processes to revisit memory and personal history as way to reclaim the body and voice. Language, lineal disruption and displacement from land and home claim permanence in her art. She has participated in Canadian Art Festivals Ignite the Night, Afterglow, and was chosen as a beacon artist for Nocturne (2019) and the first Indigenous curated Nocturne festival (2018.) She has voiced in Annie Wong's A Choir on Desires and Demand on Repeat (2019), performed with Black Rabbit (2019), and released sound through a nature-based installation during her White Rabbit Residency (2019). NAT was selected into the 2017-2018 VANS Mentorship Program, the Summer Professional Development Residency with NSCCD (2018) and the Centre For Art Tapes Media Scholarship Program (2018-2019.) Her poem Beauty was published in the first print-edition of Understorey Magazine: African Women Writers (2018.) She was a Nova Scotia Talent Trust scholarship recipient (2017 & 2018) and is a member of Visual Arts Nova Scotia, Nova Scotia Basketry Guild, and Black Artists Network of Nova Scotia. NAT has a Bachelor of Arts Degree in English Literature and is a Certified Yoga Instructor.
Letitia Fraser is an Interdisciplinary artist, recently graduating with a BFA from NSCAD University. Fraser's work centers around her experience as an African Nova Scotian woman growing up in the province's black communities. As a painter, Letitia draws inspiration from her family and community's history of quilting. Fraser has participated in several group shows and has recently shown her work in a solo exhibition at the Anna Leonowens Gallery, titled Mommay's Patches: Traditions & Superstitions, and currently has a solo show at MSVU Art Gallery. She has also received numerous awards for her work including the Nova Scotia Talent Trust RBC Emerging Artist Award. Most recently, Fraser participated in the residency Ground Rules at the Cape Breton Centre for Crafts and Design, NS. Fraser continues her practice in Halifax, NS.
Juanita Peters is a playwright, actor and film director. Peters has over 35 years of media experience. Her early career included radio and television host/reporter for various networks including CBC NB and AVR. A member of ACTRA, Writers Guild of Canada (WGC), Actors Equity (CAEA), Playwrights Atlantic Resource Centre (PARC) and a founding member of Women In Film & Television Atlantic (WIFT-AT), Peters is the Executive Director at The Africville Museum and teaches Playwrighting in the Theatre at Dalhousie University.
Panel facilitator:
francesca omolara ekwuyasi is a writer, filmmaker, and visual artist from Lagos, Nigeria. Her work explores themes of faith, family, queerness, consumption, loneliness and belonging. You may find her writing in Winter Tangerine Review, Brittle Paper, Transition Magazine, the Malahat Review, Visual Art News and GUTS Magazine. Her short documentary Black + Belonging screened at the Halifax Black Film Festival and Festival International du Film Black de Montréal this year. During her upcoming residency at the Khyber Centre for the Arts, she will be producing work which interrogates the intersections of queerness and faith.
For more information, contact:

Becky Welter-Nolan
Publisher
Visual Arts News
publisher@visualartsnews.ca
t: 902-423-4694, 1-866-225-8267