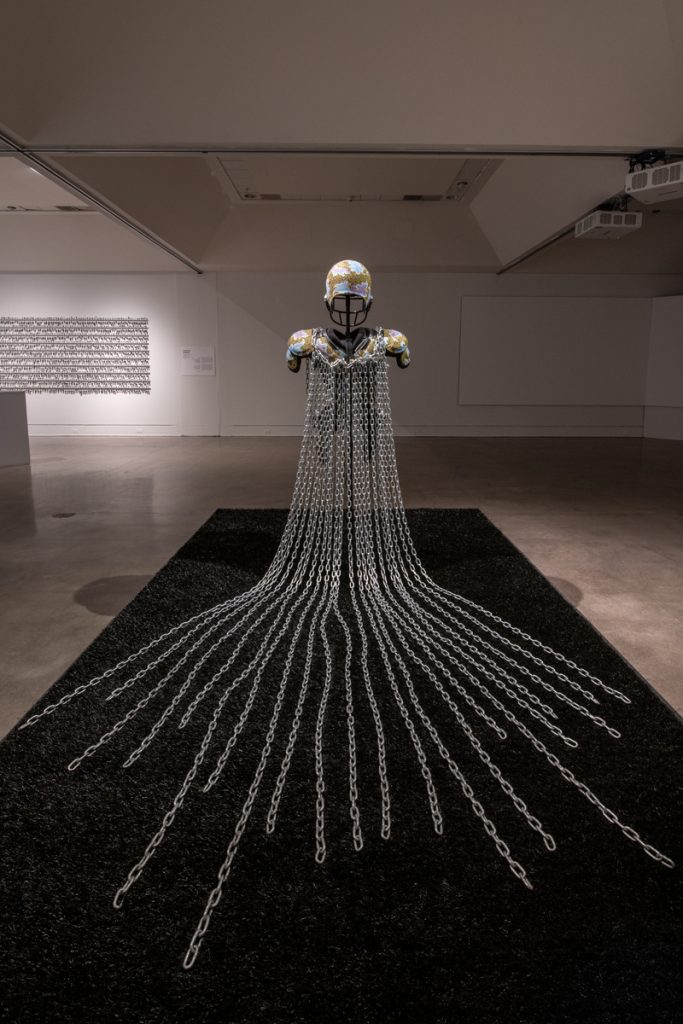 Poet and artist Sylvia D. Hamilton's multimedia installation of images, objects, and sound is heard and carried throughout the powerful exhibition Here We Are Here: Black Canadian Contemporary Art at the Art Gallery of Nova Scotia in Halifax, which inspired the title of the group show.
The creation of this exhibit occurred within a specific socio-cultural context that involved the Royal Ontario Museum and the Black communities of Toronto in the wake of some controversy. The exhibit's three curators Dr. Julie Crooks, assistant curator at the Art Gallery of Ontario, Montreal-based independent curator, Dominique Fontaine, and Dr. Silvia Forni, Curator of African Arts and Culture at the ROM, came together in 2015 to develop a three year project with the aim of repairing the relationship between the ROM and Toronto's Black communities. Their goal was to carve out space for Blackness in a historically colonial and anti-Black museum. Here We Are Here: Black Contemporary Art is the provocative and moving culmination and closing exhibition of the years-long project.
I am moved not only by the subject matter—Hamilton's installation examines the histories of African Canadians from both a personal and collective lens, from the Transatlantic slave trade to Canadian slavery, to the imposed otherness and anti-Blackness African Canadians experience contemporarily—but also by the visceral experience that it provides.
On three massive swaths of fabric suspended from a wall titled "Naming Names," is a list of three thousand African descended people, some of whom were enslaved and others free. The effect of this massive list of names is chilling. Hamilton's voice echoes on a loop, soft with emotion as she reads the names and ages, which evokes both a sense of calm and deep sadness in me.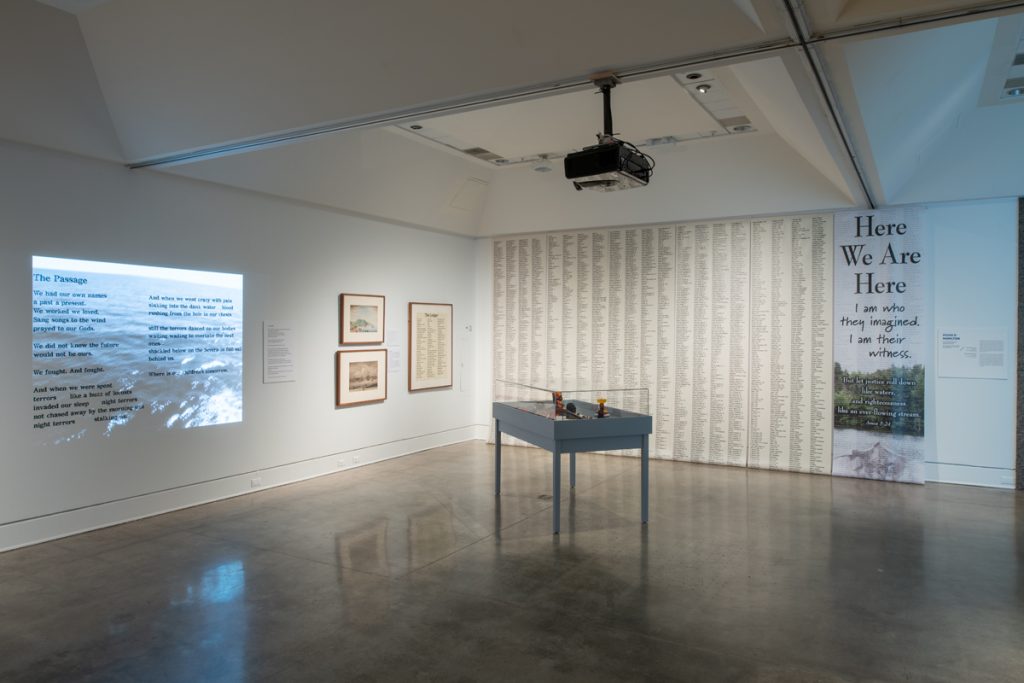 Saddening, as well as enraging, is the display of racist iconography, "How They See Us," curated in the nearby display case. 'Tar Baby' dolls, The Story of Little Black Sambo, and a bunch of locks tied in a red ribbon which sits beside a pair of small hammered metal child shackles are disturbing. The image of the child shackles stays with me even as I write this. I don't know that I can ever be desensitized to objects and images that speak to the plight of enslaved people, particularly children. With forthrightness and some tenderness, Hamilton's work demands that we face this truth of history, that we sit with it.
"In The Passage" shows a poem projected against a video of the ocean, we hear Hamilton's voice speaking to how the experience of being enslaved and taken away from home and going through the Middle Passage might have felt. As a whole, Hamilton's piece is graceful and deeply touching. In spite of the harsh subject matter, there is an undeniable and compelling sense of pride and dignity in the manner in which she handles each aspect of this work.
Charmaine Lurch's large-scale charcoal drawings "Cartography of Being, Belonging, and Grace," are paper maps of a Black femme figure (her daughter), both familiar and warm. As a Black woman living in the diaspora, themes of belonging are of particular interest to me. These drawings strike an internal chord. The charcoal lines are bold and heavy-handed, and the model depicted moves between fluid and casual. In an excerpt from Katherine McKitrick's "Dear Science and Other Stories and Demonic Grounds" she writes: "a young girl can legitimately take possession of a street, or an entire city, albeit on different terms than we may be familiar with." Her poetics embody the bold and casual tones of the drawings and speak to the preciousness and precarity of Black girlhood.
Across from Lurch's work, taking up the entire length of the wall, is Sandra Brewster's "Hiking Black Creek," who describes the larger than life photograph of the artist's parents on a hike as a "poetic meditation on the emotional labour of belonging." As a recent immigrant, I am intimately familiar with the emotional labour of belonging and am taken by the intimacy and simplicity of this work. Treading along familial lines, much like Lurch, Brewster subtly, yet sharply conveys a profound idea with this old photograph taken during the couple's first year in Canada together. The large-scale image is spread over large panels and washed in warm sepia and grey tones. The colours red and yellow across their long-sleeved shirts have been added to the black and white image. The two figures in the photograph smile for the camera. Further ruminating on the theme of belonging, the work shirks ideas of Blackness and Black culture as homogenous, and the sheer size of the image (as well as the smiling faces), give me a sense of being watched over with care.
The sounds of Michèle Pearson Clarke's video installation, "Suck Teeth Compilation" meets me before I see it, offering a sense of utter glee. The video compilation depicts Black people of varying ages, genders, sizes, and sexes, staring into the camera head-on and sucking their teeth. The familiar hiss indicates disgust, annoyance, anger, and frustration, as their faces are filled with contempt and the void left by patience long lost.
The people in the video are also incredibly beautiful—some are relentlessly cool, and others have an idiosyncratic aesthetic. The hissing sound of teeth sucking and their accompanying sighs create a chorus of dismissive waves, disinterested glares, and bored eye rolls that create a choreographed expression of disdain at the state of anti-Blackness in Canada. These are gestures that I know well—gestures that I and millions of brown people across the globe employ as modest tools of resistance. In the final scene, instead of teeth sucking, a woman kisses the toddler she holds in her arms, as well as the little girl sitting on a stool beside her. She kisses the children and they all smile.
From a distance, Chantal Gibson's "Souvenir," which features two walls of spray-painted collector spoons, looks like massive swaths of black eyelet lace, which are elegant and intricately detailed. "Souvenir" illustrates the erasure of the distinct histories and identities of Black people in Canada. At a closer look, it is clear that each spoon is shaped differently and varies in size, yet the artist's choice to spray paint them all black and arrange them uniformly provides a striking visual representation of forced sameness.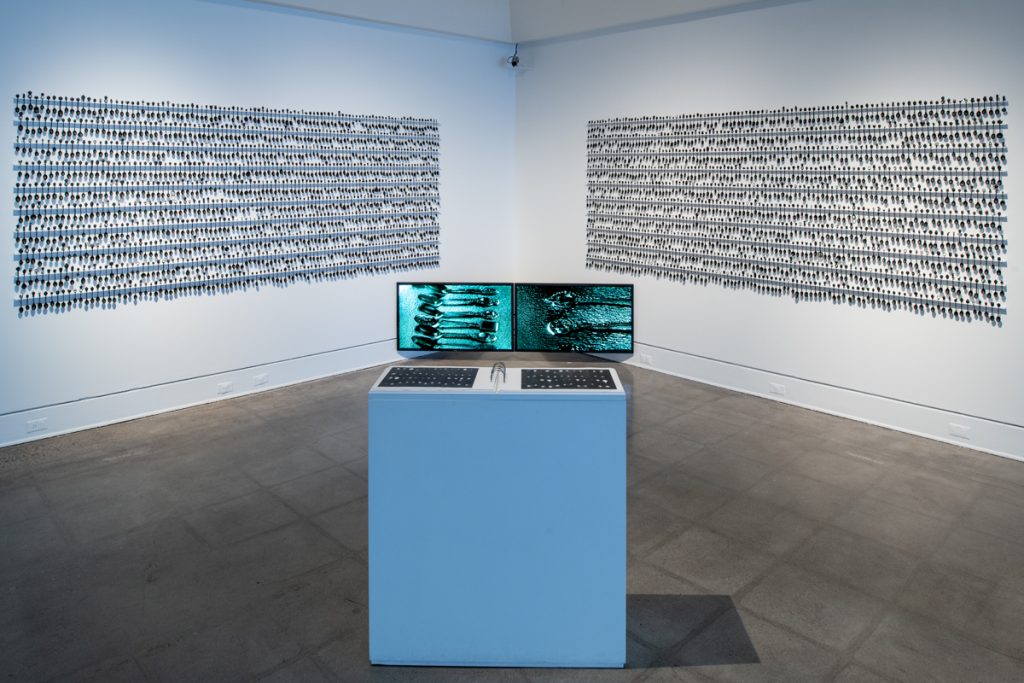 Accompanying Gibson's "Souvenir" is a video and photobook portraying ghost-like impressions leftover from spray painting 2,000 souvenir spoons. This work provides a sharp juxtaposition between "Souvenir," and the diversity of Blackness displayed in Michèle Pearson Clarke's video "Suck Teeth Compilation."
Bushra Junaid's "Sweet Childhood" creates a stunning and sophisticated portrait of Black children by overlaying period ads for sugar and molasses on a stereoview of children in a Caribbean sugarcane field from 1903, which draws attention to the trade between Newfoundland and the Caribbean, a history that I only learned of through this piece. Junaid deftly weaves together layers of history that point to the dynamic of producer and consumer—producer being the Global South/historically marginalized peoples, and consumer being the Global North/historically colonizer—that still exists today.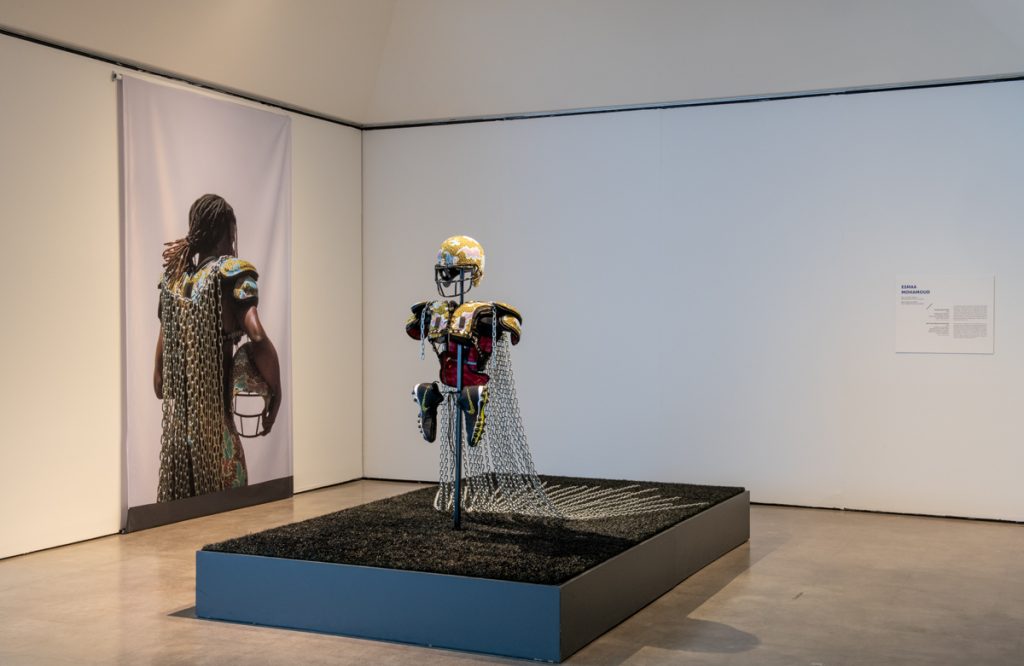 From Gordon Shadrach's life-size painting depicting the multiple facets and identities of a contemporary Black Canadian woman, to Esmaa Mohamoud's sculpture titled "Untitled (No Fields)," examining the commodification of Black male bodies in North American sports culture, this exhibit touches on a multitude of aspects of Blackness. It speaks from the history of enslaved people, to slavery's afterlife of anti-blackness, immigration narratives, and the desire for belonging.
Here We Are Here: Black Canadian Contemporary Art's scope is far-reaching, ranging from deep sadness to lighthearted. Many pieces share themes of commodification, a longing for belonging, shedding light on history, and resistance against erasure.
This is merely the beginning.
There needs to be more room for Black narratives in the art world. Yes, it's a great step for the Art Gallery of Nova Scotia to have an entire exhibit dedicated to Black contemporary art, yet this as an exception needs to change. It is imperative that showing the work of BIPOC artists, historic and contemporary, becomes the norm, particularly in a city like Halifax, with its history of Black resilience.