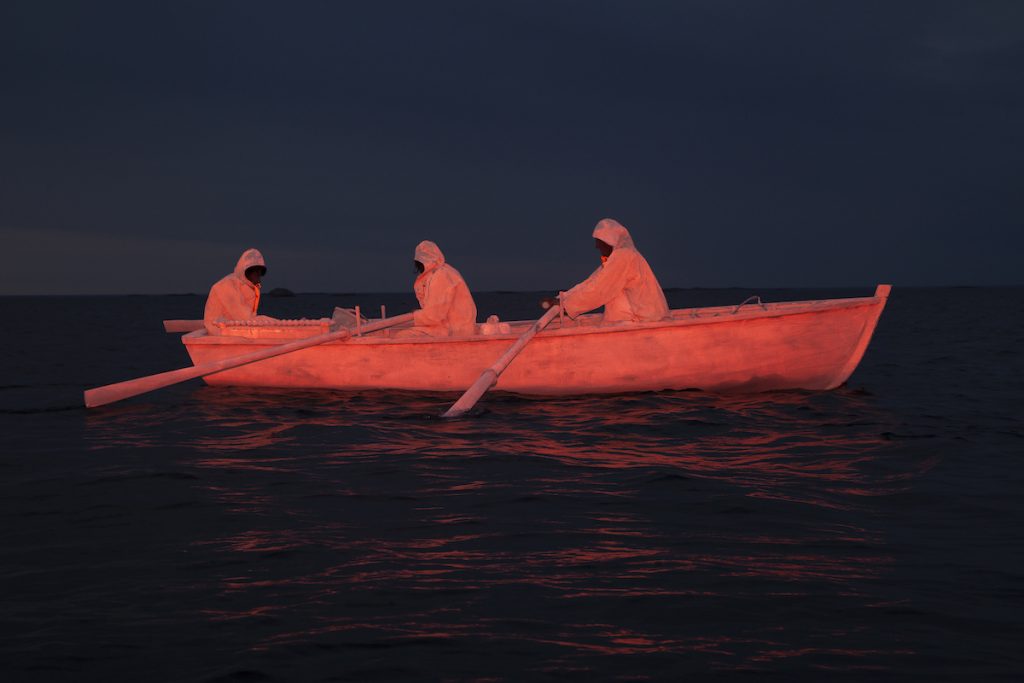 Apart from a year in grad school and some travelling here and there, I have lived in Newfoundland my entire life. From kindergarten to my BFA at Grenfell Campus, Memorial University, my art education is grounded here. I never applied anywhere else – the thought of applying to an art school in mainland Canada made me feel embarrassed of my Newfoundlandness. I had rejected myself before any school had the chance to. In some ways, I still carry that feeling.
Fresh out of art school, I took a job serving tables at the Fogo Island Inn – a prestigious hotel in Joe Batt's Arm, Newfoundland. It was exciting to go somewhere in Newfoundland outside of St. John's that was actively making space for contemporary art through the Fogo Island Arts program. My imagination of Fogo Island was a place of exchange, site-specific art education through accessible dialogue and experience – an island of opportunity, right here in my home province.
Very few Newfoundland artists have participated in the Fogo Island Arts residency program. In fact, my understanding of the program was that it was simply not accessible to Newfoundland artists. Artists-in-Residence from everywhere-but-here were granted permission to work with aesthetic of Newfoundlandia, privileged to make work in and about this place without fear of being irrelevant, non-contemporary, or inaccessible to a Canadian or international audience. The capital lies in the international names that show up for the experience and leave their stamp behind – in the gallery or studios, lecture theatre, shop, the Fogo Island Inn guestbook (even if only rumoured). This strategy will keep people coming, but as an emerging Newfoundland artist, what I hear is: good art comes from away.
Will Gill came from away 22 years ago and never left. He came for an opportunity and built more opportunities in order to stay. His practice has become rooted here, and his sensitivity to this place is ever-present. For those reasons, I consider him a Newfoundland artist. The first time I learned about Gill's practice was at my elementary school, where he occasionally facilitated projects through ArtsSmarts program [1]. 15 years later when I heard he had been selected for a Fogo Island Arts residency, I felt a burst of pride. The same dramatic excitement that my teenage self felt when Newfoundlanders made it to the Canadian Idol stage: pride of representation. Pride of I know him and I trust him. I wanted to see work emerging from the Fogo Island Arts platform that was contributing to a Newfoundland art history that had grown here. With Gill as an artist-in-residence, I knew that would happen.
In June, From The Lion's Den, an exhibition of Gill's work from his residency on Fogo Island, opened at Christina Parker Gallery in St. John's. A catalogue of the same name accompanies the exhibition in collaboration with the gallery and Nothing New Projects, with essays by Alexandra McIntosh (Fogo Island Arts) and the artist.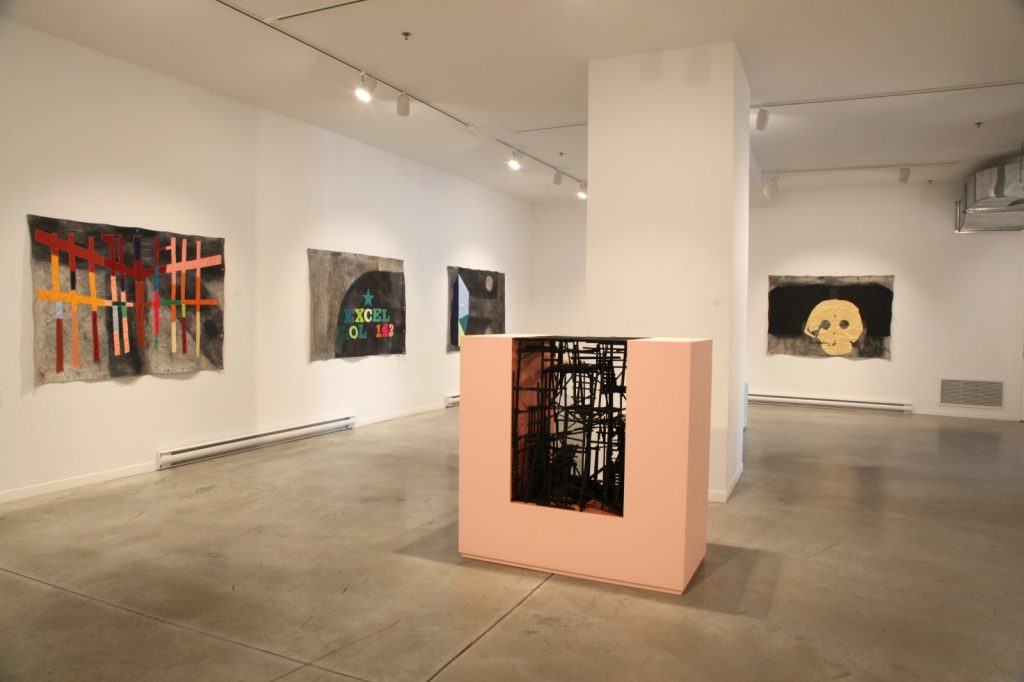 The exhibition pulls together Gill's diverse practice through sculpture; textiles; photography; drawing, consisting of six large tarps with charcoal (made by Gill on the island) drawings overlaid with sewed silk shapes; two sculptures; and seven narrative photographs. The body of work is a reminder of how people and place adapt in the face of change. Working in direct response to the land, sea, built environment, and people of Fogo Island, it is a commentary on the nature of preservation and finding balance between progress, community agency, and holding tradition close. Having a relationship with Fogo Island, the imagery resonated with me. I recognized the silk 'EXCEL LOL 143,' the old Orangemen's Lodge, later (but no longer) home to Winds and Waves Artisans' Guild, where I learned to hook rugs; a local code that would only be known to islanders and observant visitors. When I see the tower studio rendered in silk, I think of Shoal Bay. I think of the tide and the colour of the rocks. I think of spaceships and of arrivals.
In a series of seven high-contrast photographs, Gill tells the story of an arrival. An unidentified group of three rows to the shore of the Lion's Den [2]. They arrive at night and set up camp. They hang their clothes to dry as the calm and the sun returns. The series is a portrait of migration, arriving to the unknown, and cycles of place. The final image communicates a feeling of ease and of permanence; the trio has hung their hats in the cove. We wonder where they might have come from, but know they have found safety in this place.
Gill's interpretation of a traditional Fogo Island fishing stage, Fantastic Stage, sits haphazardly intricate yet sturdy. The clean lines of the U-shaped pale pink plinth starkly frame the inner workings of delicate wooden sculpture. It reminds me of the Shorefast Foundation and its relationship to traditional life on Fogo Island. I wonder whether the stage could support itself without the plinth. Preservers – a series of plaster cast buckets and mason jars – sits on a nearby low plinth and I think about what is really being preserved within this exhibition.
Fogo Island is a place of contrast: a traditional culture sitting in the palm of an international market. Cycles of place are inevitable, but who dictates the progress? How do we measure its success? From the Lion's Den illustrates this moment of in-betweeness on Fogo Island, a progress shot of sorts. Gill pulls together his diverse and sometimes disparate practices in a way that emulates islandness and the ways in which we respond to place towards liveability.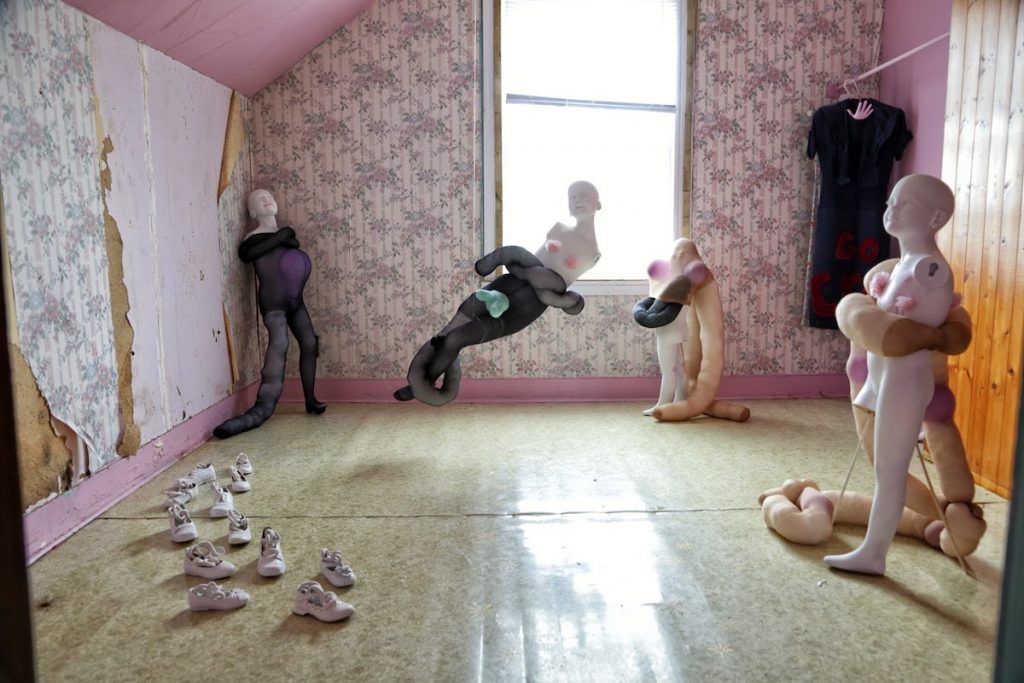 Ten years ago, Argentinian-Canadian artist Pepa Chan arrived in St. John's after hitchhiking across Canada. She has been practicing art in the province ever since. For a month during the summer of 2017, Chan spent five days a week at an abandoned house in Port Union, NL. Chan, along with artists Kailey Bryan and Mimi Stockland, installed a surreal site-specific exhibition in the house filling it with plush toys, textile work, sculpture, and video installations. Fringe to the inaugural Bonavista Biennale, the collaborative installation Grass in the Sky saw traffic from peninsula-wide art tourism and local residents alike. The installation responded to themes of home and abandonment, physically and emotionally.
Chan opened the house to the public, speaking with visitors intrigued by what became locally known as "The Teddybear House." Chan's presence in the house amongst the art was integral to the success of the project. Her occupancy established the house as a gathering space, embedding a new narrative in the house. She welcomed people passing through and local residents, with regular visits from a child who lives nearby. The abandoned house was alive again, even if just for a month.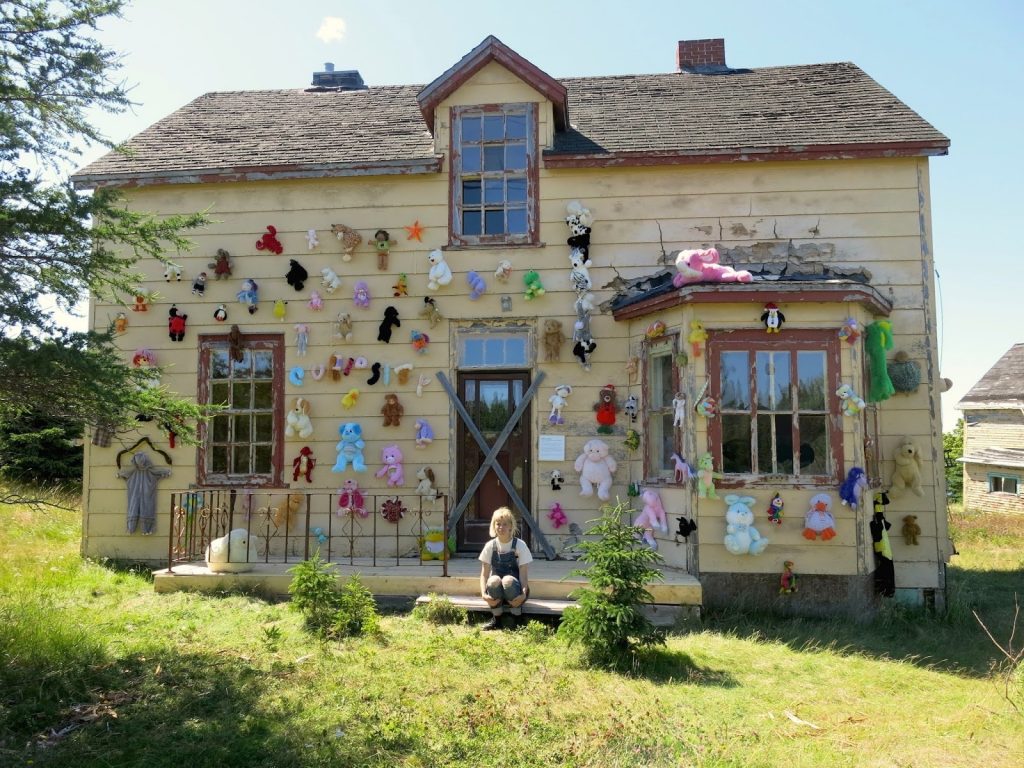 Chan's grassroots methods and playfully dark themes relate to place and community through individual moments. She confronts familiar spaces with situations of unexpected intimacy: moving to Port Union for a month or brushing and collecting visitors' hair during her recent Elbow Room residency at The Rooms. By building relationships with Newfoundland through art interventions, and in turn through people, Chan's practice is a long-term gesture to know this place in new ways. Chan's work reminds me of a funhouse – she shifts our perspective of ourselves, of our place, and in doing so a critical mirror becomes visible. Much like Gill, Chan's sensitivity to place and continued practice on the island is a notable contribution to a larger Newfoundland art history discourse.
Last year I gave a guest lecture to visual arts students at Grenfell Campus. I spoke about my research, my practice, and why I choose to stay in Newfoundland. Towards the end, I asked for a show of hands, "Who wants to leave Newfoundland after graduation?" All hands went up, every student in the room. This left me feeling sad until I reminded myself that I left, that I too felt that I needed to leave. My professors told me that I should leave. And actually, leaving was good for me. I probed the class with another question, "Why do you want to leave?"
There's no opportunity here.
My work isn't about Newfoundland.
I don't want to be categorized as a 'Newfoundland artist'
I think to myself: good art goes away.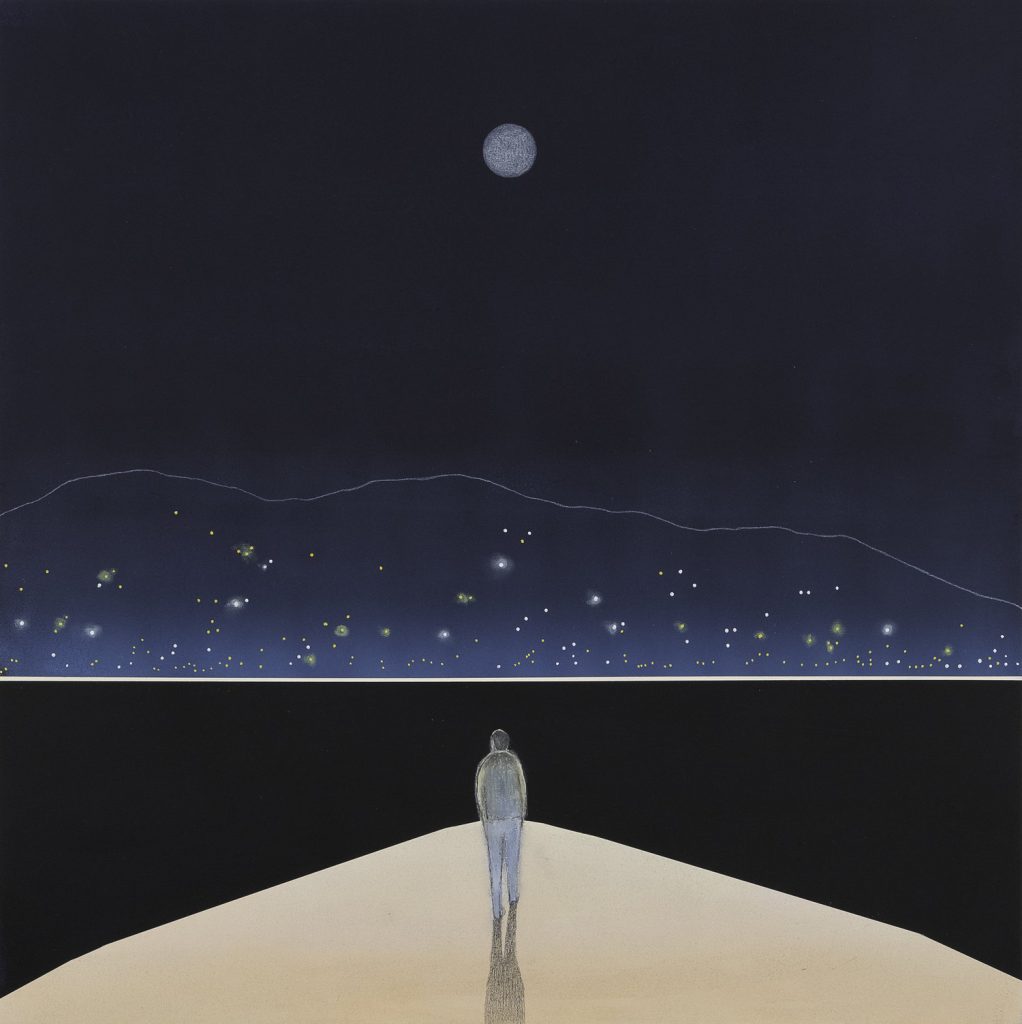 In April, Newfoundland artist Mike Gough – currently based in Ottawa – presented a new body of work at Jones' Gallery in Saint John, NB. Certainty of Tides responds to the impermanence of memories and narratives of "love, distance, and adaptation to change." Gough's work expands on themes present in Gill and Chan's work relating to impermanence, cycles of place, and feelings of home. In addition to 15 large landscape paintings, 16 smaller paintings illustrate the Four Quartets, a set of four poems written by T. S. Eliot. Where you are is where you are not, Gough illustrates a wintery exterior that feels all too distant – a yearning for Newfoundland that is obvious and sentimentally idealized. I think again of this place – another one longs. The paintings contrast his typical open landscapes, confining them to window views. Gough's signature style lacks detail – a blur of moments that may be remembered.

I think about how I felt when I left for grad school, desperate to graduate from Newfoundland artist to Canadian or "International" artist. In Glasgow, I felt permission to make work about Newfoundland, to write about it, to critically consider my place within it. Removing myself from preconceived ideas of The Newfoundlander helped me develop my voice and confidence in my place identity. I think about Gough making new work in Ottawa, imagining Newfoundland landscapes and moments that have passed. While he has left, he is still here – I know that feeling. In contrast to longing for a former life, Gill and Chan are forging ongoing connections and narratives in Newfoundland.

As part of the research for some new work, I facilitated a conversation with the junior high students at St. Mark's School in King's Cove, about a 35-minute drive from my home in Bonavista. The school is K-12, with 34 students total – about 165 fewer than there was ten years ago. We talked about art, opportunity, and the big question: should we stay? Towards the end of the class, I asked them: How do we balance our feelings of loss and hope in our small communities: what makes us notice hope and what makes us notice loss? One student spoke about the way she feels in the summer when the usually-empty homes are lit up with families home for the summer, and how she feels when the houses fall quiet and dark again in the fall.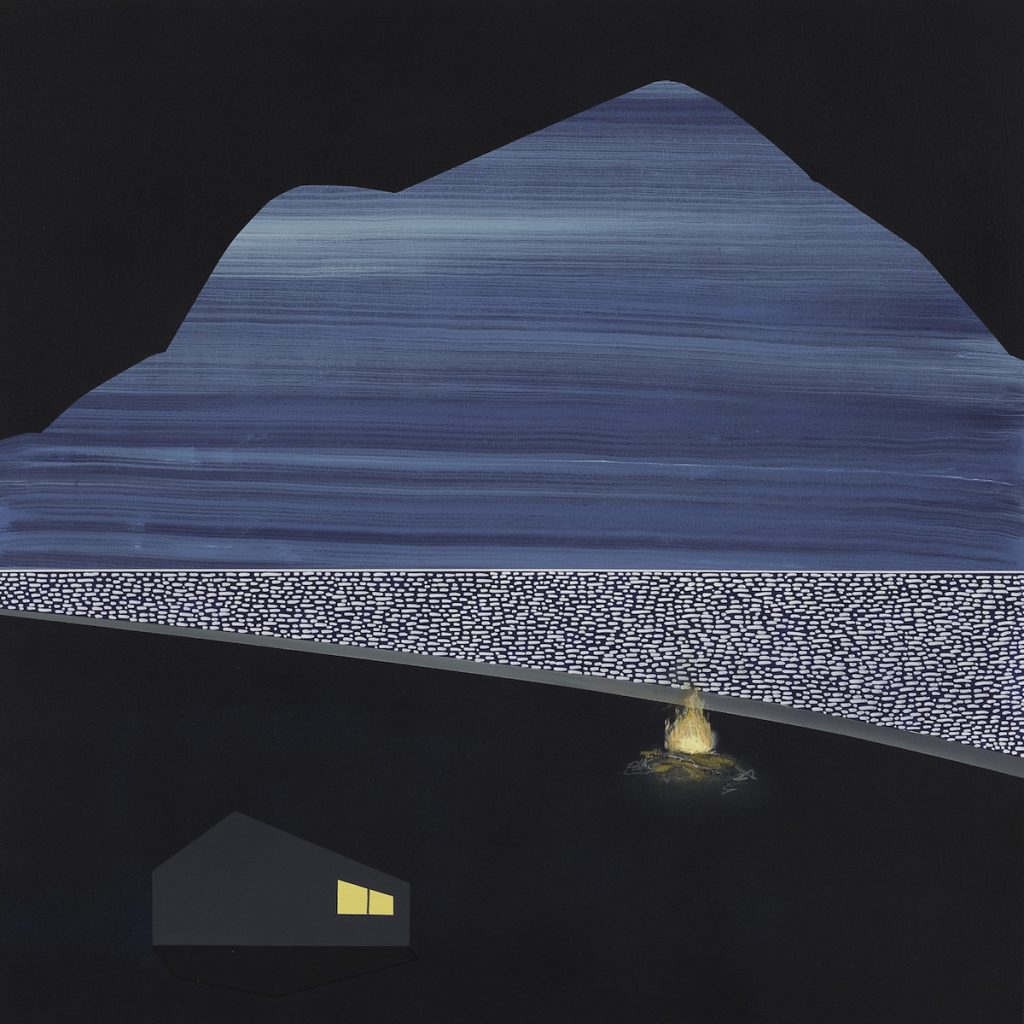 There is no exclusive formula that dictates whether a person is a Newfoundland artist. There is no set milestone one must reach to attain such title. For me, it's simple: does this artist have a lasting and respectful relationship with this place? Do they speak with the place rather than at the place? Do they want to be here? Yes, some good art comes from away, and the best-case scenario is that those artists stay and continue to grow here. Not just when it's summer holidays or term-time, and not just for residencies. I am part of a generation that has been "learning to leave" since birth. I now know that good art also grows from here, without the need for outside validation. We need to start teaching to stay and build new place-specific supports for that to be possible.

In new works at Christina Parker Gallery, Gough's Nocturnal Series draws attention to domestic light in the dead of night: light coming through a window, a fire pit. I am reminded of Chan sitting on the front steps of the Teddybear House, next to the old generator grumbling to keep the projectors running. I think of Gill's trio of migrants arriving at Lion's Den, the light meeting their clothes in the morning. I think: the lights are on and we are making good art here.

[1] Newfoundland and Labrador Arts Council funding program for curriculum-immersed art programs in schools delivered by professional artists
[2] Lion's Den is a sheltered cove on Fogo Island of about 50 people that was voluntarily resettled in the 1950s