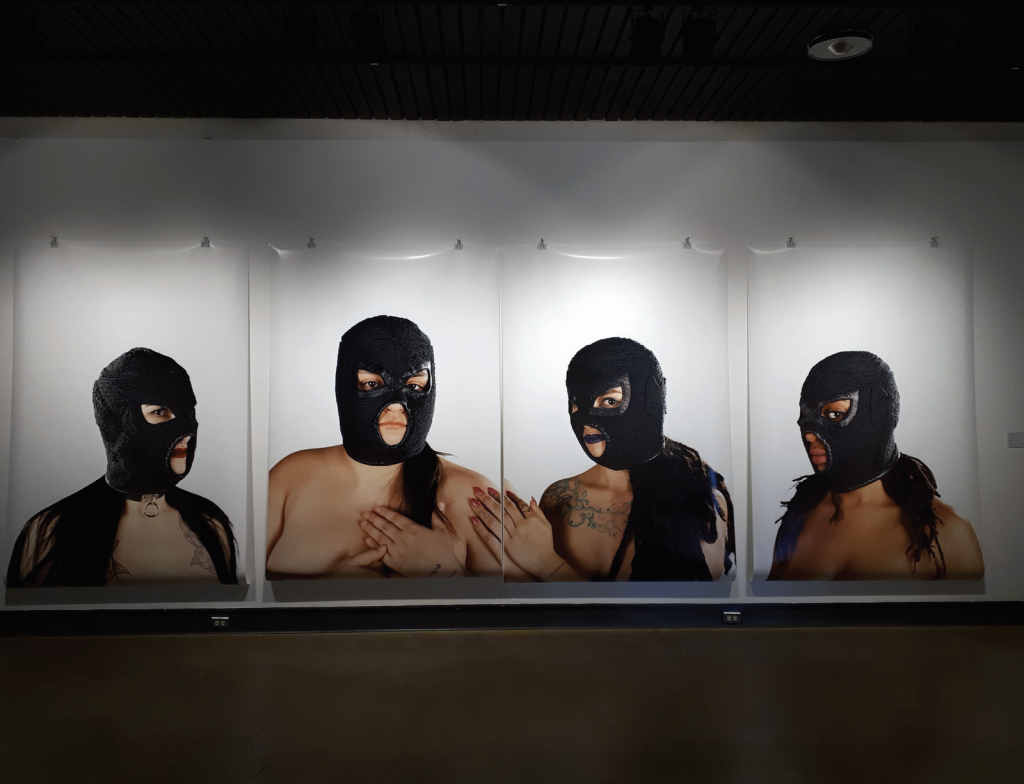 At the entrance of the Galerie d'art Louise-et-Reuben-Cohen in Moncton, on the occasion of Sovereign Acts exhibition curated by Wanda Nanibush, a small monitor is installed on the wall. Showing in a black and white historical video, a group of performers are dancing, dressed in what appears to be traditional garments and headdresses. Captured on film by Thomas A. Edison in 1894, it is here one of the oldest Indigenous performance videos. Ironically, it's the video of a fake Ghost dance. In an accompanying description, it is explained that in 1884 in Canada and 1904 in the United States, traditional rituals were punishable by imprisonment. In order to continue to perform and share their knowledge, these Indigenous groups had to adapt to stereotypical movements to please and fill the imagination of a colonial public, consciously leaving aside a part of their identity. This recording is a document of assimilation and the subjugation of Indigenous peoples of North America.
The exhibition Sovereign Acts includes the work of Indigenous artists Rebecca Belmore, Lori Blondeau, Dayna Danger, Robert Houle, James Luna, Shelley Niro, Adrian Stimson, and Jeff Thomas as they explore various aspects of artistic performance as an act of cultural resistance. Through various techniques combining photography, video, painting, installation, and performative documentation, the exhibition examines the influence of the identity of colonialism on Indigenous cultures.
Robert Houle's traditional portrait paintings, Mississauga Portraits "Waubuddick", "Maungwudaus," "Hannah," installed on a painted royal blue wall, recalls museum aesthetics and criticizes the lack of representation of Indigenous art in these institutions. The same concern is present in Jeff Thomas' work, which exhibits black and white photographs of preparations for a Powwow celebration. Unlike the conventional image of performers in action, Thomas manages to capture spontaneous and intimate moments. His work is an internal point of view highlighting the authenticity of his own culture in order to participate in the creation of visual references.
The complexity of identity influences from a contemporary point of view is accentuated by the masquerade present in the photographic series of both James Luna and Shelley Niro. Luna and Niro examine cultural appropriation as a way of addressing stereotypes. In particular, Niro's photographic series, "This Land is Mime Land," reflects on three diverse perspectives of Indigenous women's role throughout an international and colonial, an Indigenous viewpoint, and an introspective gaze.
On the other hand, Dayna Danger's large-scale photo-graphic installation depicts four people wearing black fetish masks covered with beadwork of the same colour. Danger's work explores a paradoxical dynamism between empower-ment and its objectification through a glim of vulnerability. Do the masks create a distance between the identity of the subjects and the space they occupied in the gallery? In this case, the hidden identity of the subjects reclaims space for gender non-conforming people, sexual minorities and sexually diverse role outside of the settler colonial institutions. Danger's work also speaks to the bodies' resistance of the perceiving of gender within a western gender binary.
Adrian Stimson's work explores self-construction through characters, mostly known by The Shaman Exterminator and Buffalo Boy. Stimson investigates from his personal experience including several generations of Indigenous communities attending residential schools and its impact on culture. The photographic series in the gallery revisit and bringing together both stills from performances and historical images taken in 1892 in Sisika Nation. In a first diptych, Onward upward, Christian frock, the front of the lie… the work depicts an historical image showing Indigenous children dressed as altar servers, standing in line on the side of a church. It is accompanied by an image of Stimson personifying a priest dressed with nylon stockings and high heels. The adjacent diptych, Chalk Board Witness signs, Telling Eyes, Sketches of Indian Life, the historical image shows children in a classroom with a cold and surprised look. This one is presented with a picture of Stimson's Buffalo Boy sitting in a classroom with a similar facial expression. In a way, these performances are healing efforts through the recognition of ongoing suffering and self-acceptance to better understand how to live with trauma and tragedy.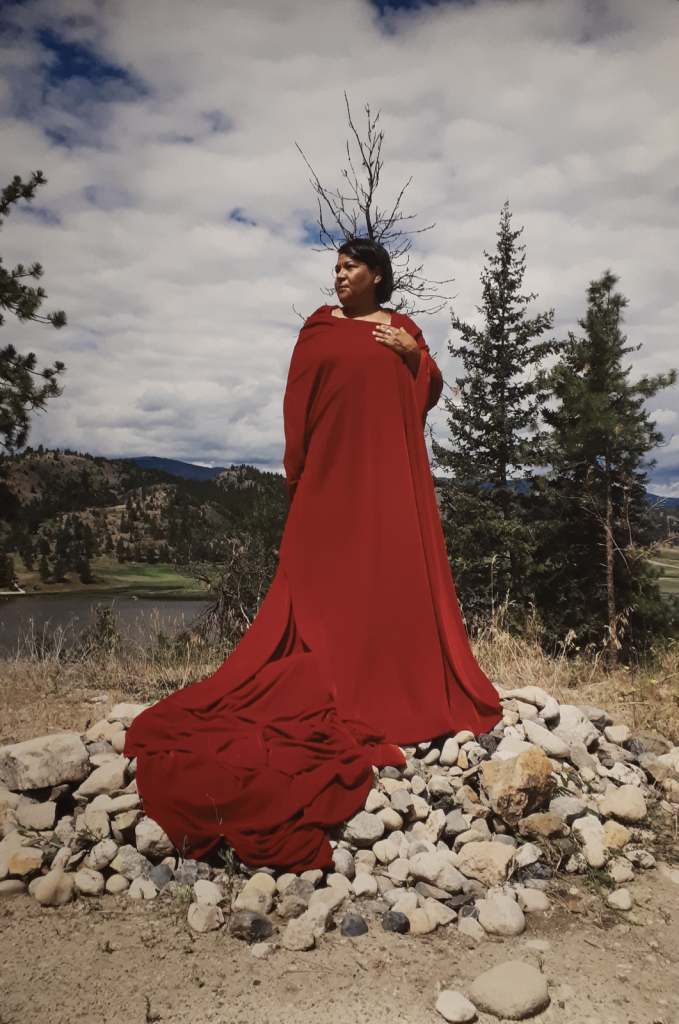 Rebecca Belmore's "In A Wilderness Garden," is presented as a triptych video installation projected on a large wall. In the first video, Belmore is seen in a forest, her hands tied behind her back while lying on the ground covered with leaves. Belmore is tenacious in constant motion and tries to get up. This section of the performance makes me restless, impatient, but above all helpless in front of this struggling woman. Then I notice the centre video. I see a character motionless with a blanket over his head and bare feet. This immobilization reminds me of mine in this moment. It also makes me think about the inaction of colonial peoples vis-à-vis the many injustices of Indigenous Peoples. In particular, I am thinking of the Missing and Murdered Indigenous women and girls, whose presence I feel symbolized on the adjacent wall by Lori Blondeau, who is wearing a red dress. The third video shows a leaf blower scattering leaves. This last scene may imply that the conse-quences of the inaction of the second figure will make life even more difficult for this woman in order to finalize her efforts.
As an exhibition, Sovereign Acts is a space of understanding, shared knowledge, and above all, an awareness of reconciliation. The performances of every artist of the exhibition constitute an act of resistance aimed to reclaim the narrative of their cultural voices by changing colonial perspectives that had influence their identity.