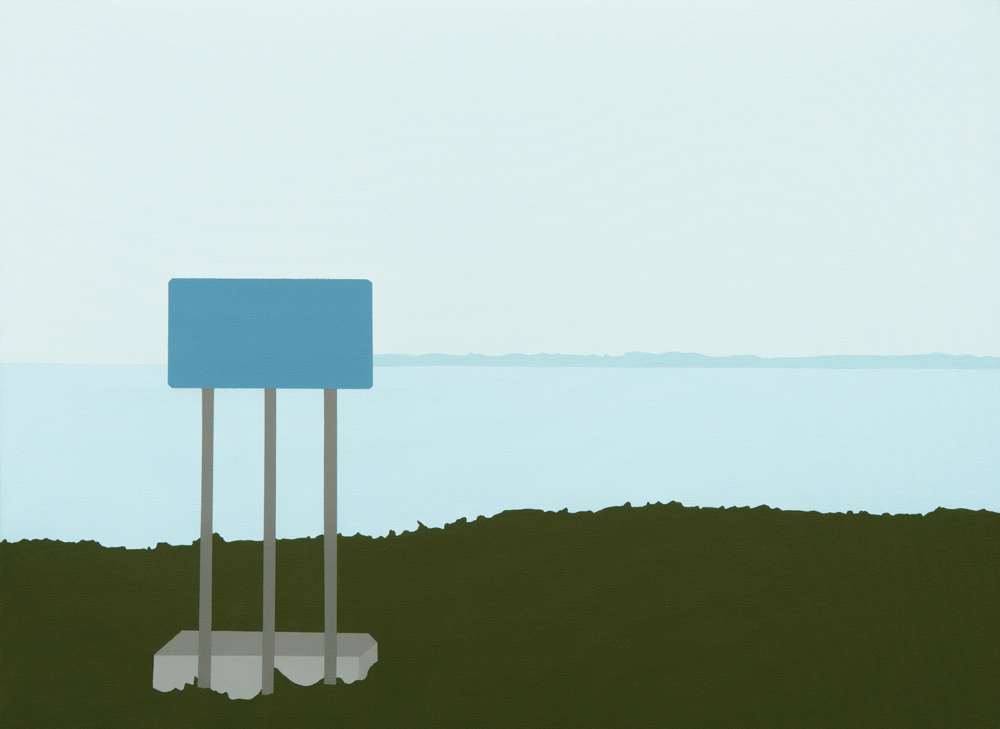 "There wasn't much napping," says Kym Greeley, as she makes us espressos as we begin our interview. She has just returned from driving across Canada, from Vancouver to St. John's, via the Trans-Canada Highway. Greeley shared the mileage with her sister, Joann.
When her sister was driving, Greeley took photographs using a dashboard-mounted tripod, which was constructed to capture the driver's perspective through the windshield. Then, when it was Greeley's turn to drive, she asked her sister to press the shutter upon her request."You were kind of forced to always pay attention to what you were looking at and what you were seeing, which was really fun," says Greeley.
This attention is central to Greeley's work. She is a landscape painter who observes the ways we interact with nature every day, and reflects this complexity back to the viewer. At the centre of her work is a relationship to Newfoundland and Labrador, which is continuously evolving.
Physical and visual access to the landscape changed significantly in 1966 when the Newfoundland portion of the Trans-Canada highway was completed, spanning 900 kilometres between St. John's and Channel-Port aux Basques. Previously, the most accessible way to travel was by boat, but road access created an entirely new set of sightlines and approaches to some remote communities, carved through the wilderness.
While representations of this place can linger in a bucolic aesthetic calibrated for sale in souvenir shops—picturesque harbours, windswept cliffs and impossibly bright jellybean houses—Greeley's paintings offer another view.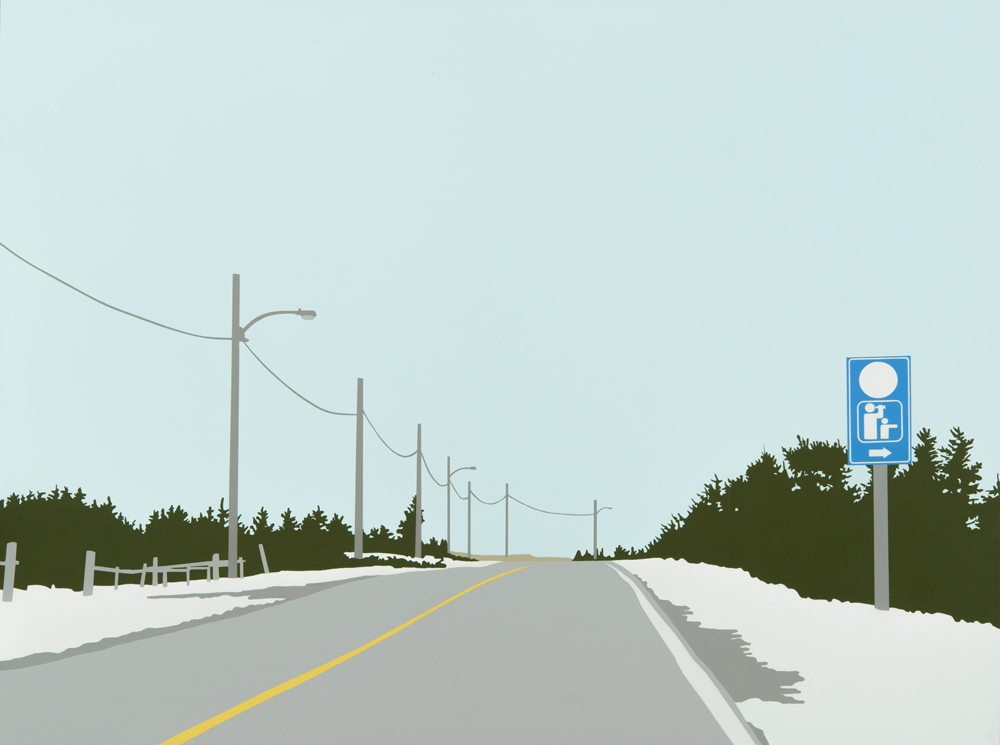 Greeley uses the car windshield as a frame, and the highway as a major compositional element in her paintings. Objects often cropped out of tourism brochures, such as road signs, guardrails and lane markings, become significant features. The aesthetic of the highway is reflected in her refined style. Like the graphics used on highway signs, each element is clear and readable. Layered together, however; they create intricate compositions and complex, open-ended narratives
Common Occurrences, Greeley's most recent exhibition at Christina Parker Gallery, was created during a long winter. In Be Real, a reflective speed bump sign is illuminated against dark woods. There is a sharp curve in the road and snow on the shoulders. While you are reminded of the fragility of human bodies, and the destructive power of speeding cars, the hazards here seem to extend further than road safety.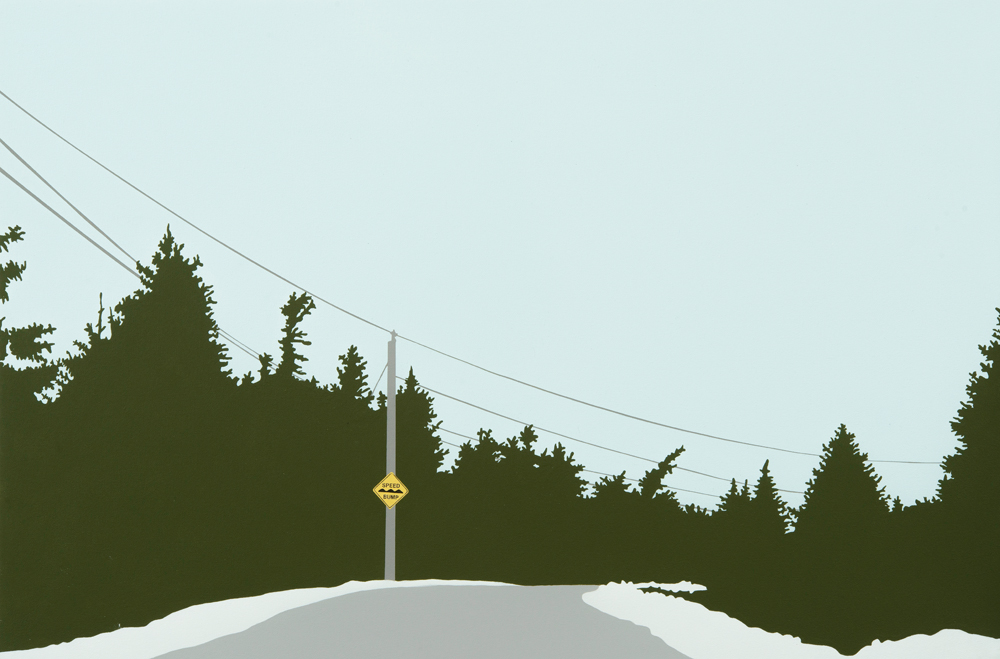 Sometimes her colours are an exercise in subtlety, where a flat expanse of water meets a pale expanse of sky. Drama happens in bright white snow drifting across dark rock, or ice piled up along the shoreline. Sometimes I Feel Too Much is a stomach-fluttering vista where the ground seems to drop straight down to the North Atlantic just below the bottom of the frame. It's the kind of image that only seems possible in winter. There is the ever-present danger of slipping, but also the delicious solitude of travel after tourist season.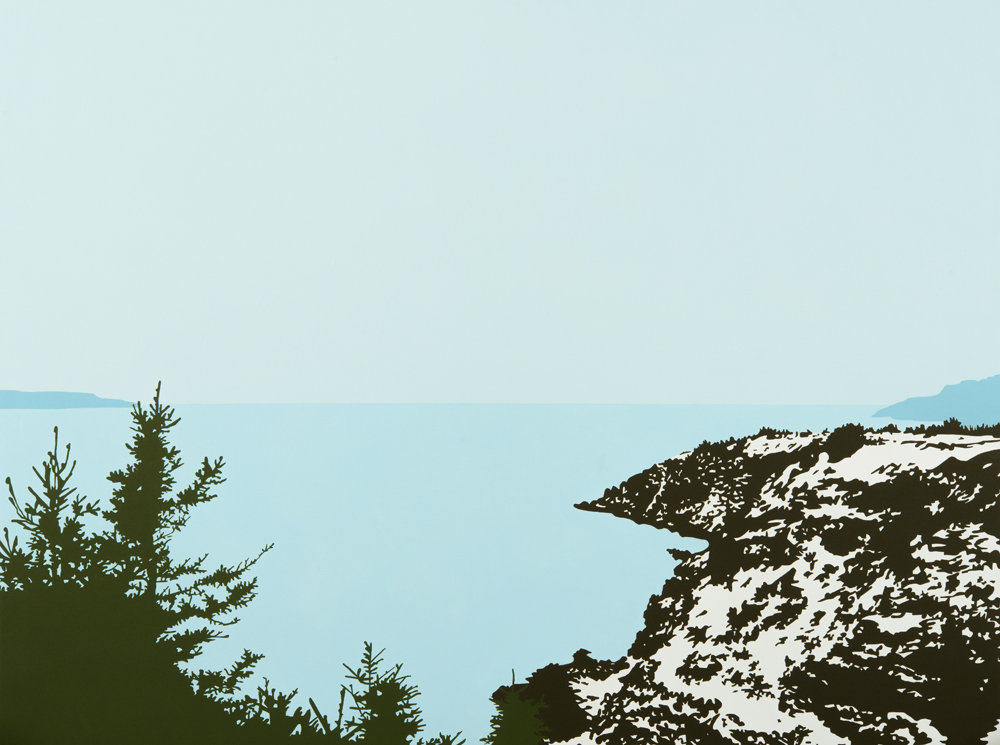 Common Occurrences also focuses on another site of human intersection with the landscape – the lookout point. It Doesn't Mean Anything at All features a rectangular sign, in silhouette at the centre of the frame, in front of a vast bay, punctuated by a pale strip of land at the horizon. There is no text visible, yet its presence indicates some interpretation, or mediation of this landscape was deemed necessary.
Greeley describes lookouts as places "that the community has designated as their optimum viewpoints." Located conveniently off the highway, these locations present an idealized, camera-ready view of the landscape that never includes the road itself. "Most people when they get to these lookouts, don't even exit their vehicle," says Greeley. "They just feel satisfied by taking a picture out the windshield or out the side, and then Instagramming it or Facebooking it, to prove that they've visited that place. It is enough interaction for them."
But lookouts also serve a practical purpose for those living and working in rural areas.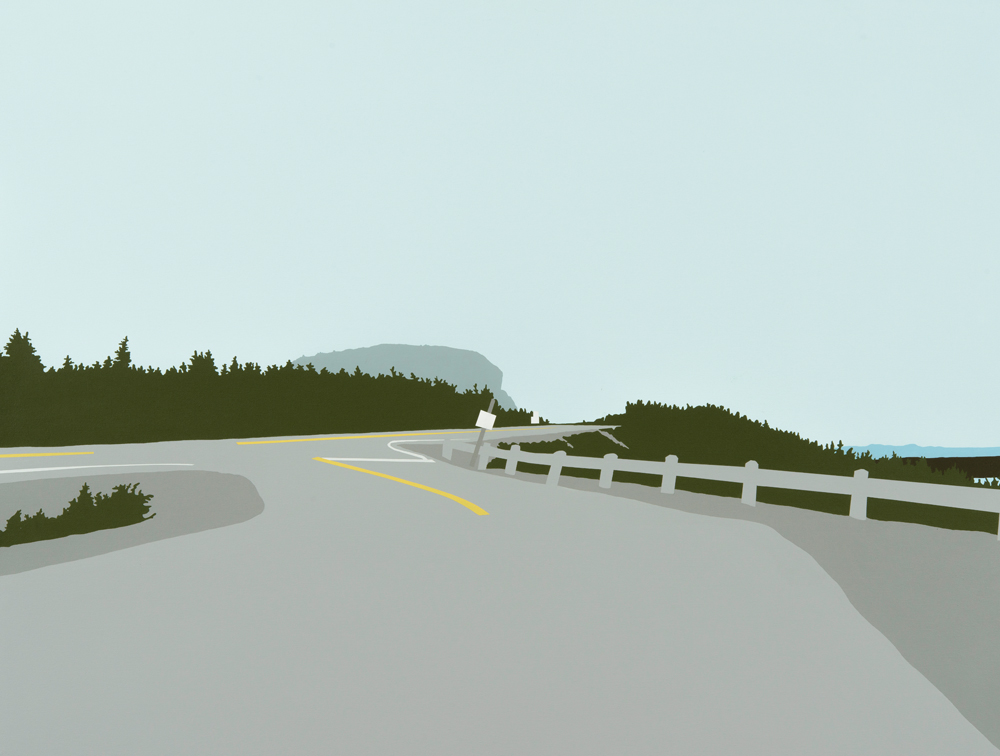 "The lookouts are the highest points, so those places are where you have cell service and so a lot of people travel to the spaces from their cabins, or just stop to check their phone," says Greeley.
"We're guilty of it, too. We go up the big hill to watch the sunset and check our emails, take a few snaps and drive back down to put the kids to bed."
This visual mediation between human and landscape provides another framework for Greeley.
"I'm kind of interested in the technological connection through another object. The fixed compositional frame mimicking the compositional frame of your phone or your iPad, and what you're looking at through that."
Greeley's frames take in more than most. They foreground interpretive panels, retain walls, view platforms and handrails. Her work illustrates more markers of human presence and human perspective on the landscape. It is these markers that remind us of our own subject position within the places we inhabit.
Greeley describes herself as "somebody whose most comfortable language is image." She has developed a distinct vocabulary of form, texture and colour that she employs with precision, like an iconography for this place. But hers is also a poetic sensibility—using formal structure and exacting detail to explode layers of connection and meaning.