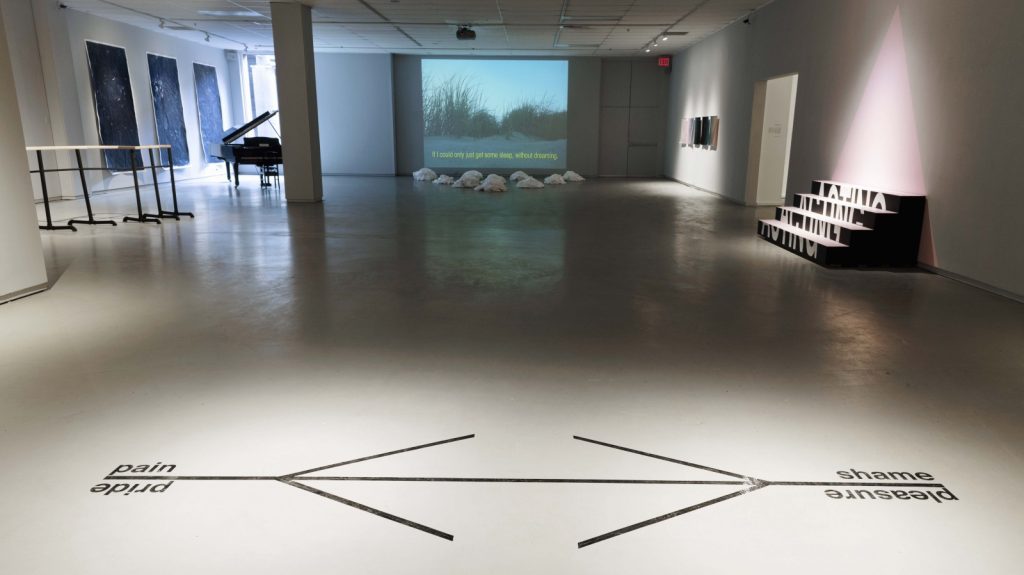 Queerness is fluid—it lives, breathes, and acts through fluidity. Like the ocean that surrounds Canada's Atlantic region, and the tides that are pulled in to shore and recede again by the moon's gravity, to be Queer, to live in Queerness, and to create as a Queer is to navigate a rigid world from a place of uninhibited movement.
The first instances of recorded artistic output by 2SLGBTQIA+ artists in Atlantic Canada surfaced during the Gay Liberation movement in the 1960s. Queer artists, writers, and other cultural figures began to bring their own Queer perspectives and personal experiences into central focus in the socio-political and artistic spheres. Early iterations of Queer artistic practice appeared as ephemera related to gender and identity politics that were linked to the fight for equal rights for the Queer community.
Despite the emergence of foundational work by Queer artists in the region, a decisive history has yet to be recorded in the manner of the canon associated with Western art history. To learn from our past, to learn about our origins and who has come before us, a history is necessary. However, Queer history is often overlooked, excluded, and erased. Retracing Queer histories—in particular, what could constitute a Queer art history across Atlantic Canada—is imperative not only because of the lack of a clearly identified one but also for the longevity of such a history.
For decades, local writer, curator, historian, and archivist Robin Metcalfe has been actively collating an archive, taking crucial steps in recording Queer art history. Metcalfe organized seminal exhibitions including Camp Fires: The Queer Baroque of Léopold L. Foulem, Paul Matheiu, Richard Milette (2014-2015) and Queer Looking Queer Acting: Lesbian and Gay Vernacular (MSVU Art Gallery 1997 and 2014), exploring the roots of Queer artistic pursuits across the Maritimes while creating space for dialogue on artists of different generations who have contributed to this area of the arts.
I began conducting preliminary research into what a Queer art history in Atlantic Canada might look like in 2021. I noticed a thread of commonality emerge through the themes and media intrinsically tied to the political roots of Queer liberation. Ephemera and local craft as well as a focus on local traditions, historical individuals, and investigations into gender performativity, care, community responsibility, and reciprocity have consistently taken centre stage in the artistic practice of many 2SLGBTQIA+ artists. As the political movement for Queer rights gained momentum, a number of 2SLGBTQIA+ artists (such as James MacSwain, Rita McKeough, John Greyson, and the late Colin Campbell) began to create a bedrock of artistic praxis for future Queer artists. The art practices of these elder artists worked to destabilize cis and heteronormative binaries established by society and cultural institutions. They critiqued Queer oppression using everyday objects and scenarios, and by bringing the body into the work through video, performance, and large-scale installation.
The archive is an essential site for such investigations, acting not only as a place for safekeeping memory and history but also to facilitate retrieval and action. This emerges in the work of Nova Scotia transmasculine artist Lou Sheppard, in which he asks, "Can we read our history Queerly to see what has been hidden, encoded and forgotten; what was never recorded in the first place?" In his art practice Sheppard researches public records, obscenity laws, and other historical and political documents to create what he terms "scores" for dancing, walking, and ultimately reading Queerness. Sheppard creates scores in the sense of a piece of music composed and arranged, or a choreographed dance. The scores he creates remain in the gallery as traces of his research, a record of the performance and final artwork. Such an ethos was particularly evident in his recent solo exhibition Phase Variations at St. Mary's University Art Gallery in Halifax during spring 2022. Visiting Metcalfe's archive as well as the ArQuives in Toronto, the artist sought to offer an underground perspective of Queer history by reading what had been left out, in fact reading absence. Through the political ephemera and records sourced, Sheppard choreographed movement to disentangle Queer identity and how the 2SLGBTQIA+ community historically activated their own Queerness.
Phase Variations, the exhibition's titular work, features five scores printed on cotton satin. Each score expands upon a specific artwork in the show and notates a central idea of Queerness that Sheppard wanted to investigate, highlight, and celebrate in the exhibition: Queer movement, Queer language, Queer time, Queer exposure, Queer place and Queer cosmology. Phase Variations explores how Queerness can manifest through our unique movement in the world.
Queer place explores the names of bars where Queers could meet in the Atlantic region. The names are almost imperceptible, printed in such a way that they appear invisible on the fabric. Sheppard notes how the bars carried very colonial names. Disrupting both the invisibility of Queerness and Indigeneity underscores the violence both groups experience. The piece scores the multi-part installation Somebody, Who, which includes multiple text-based works, audio, and light based on morse code derived from the score. In this work Sheppard delves into his experience of transitioning and the dance of Queer recognition. Language plays an essential role in this aspect as part of the piece outlines:
I am made in language
I am betrayed in language
Queer time features a white line printed through the middle of the square of fabric shaped as a double-ended arrow. The left tip of the arrow points to the words pleasure on top of the line and shame written upside down underneath; the opposing side reads pride and pain. The artwork describes moments of emotions experienced living as a Queer person. This piece is the score for Tightrope; it was derived from a map to a leather party by the same name, the location of which was always kept secret.
Sheppard's video work Send Them All To Sable Island got its title from an offhand remark made in the 1980s by a Halifax area mayor. The offensive comment became the inspiration for the artist's invention of an island commune for Queers. A dreamy meditation on the possibility of Queer joy, the video reflects on the oppression faced by 2SLGBTQIA+ people, especially those living with HIV/AIDS, and highlights the need for community. Walking towards the video, the viewer finds a series of shadowy mounds of sheets, each one having been slept in by someone who identifies as 2SLGBTQIA+. The sheets mimic sand dunes while also referencing crumpled bedclothes. The installation offers the impression of a languorous landscape, a feeling of presence and absence palpable in the space.
Archival material and historical fact turned into fiction play major roles in the work of Acadian trans and non-binary artist Rémi Belliveau. The artist centres Acadian history within their practice, offering a Queer lens through which to re-read this oft forgotten history. In DYKEPUNKS, Belliveau reimagines the personas of Acadian folk hero Joseph Broussard dit Beausoleil and British general Robert Monckton, who oversaw the deportation of the Acadians in 1755. The only record of Broussard exists in written accounts; no historical likeness of Broussard was painted although many conflated versions exist. As a heroic figure of Acadian resistance, Broussard has been raised to myth-like status. In DYKEPUNKS, Belliveau was able to create their own version of the narrative surrounding two historical figures. The artist inserts a dystopian invented narrative into the work, weaving a tale in which the Acadians were deported for not conforming to gender norms. Each portrait is "… photographed by my real and fictional selves," writes Belliveau, bringing yet another layer of distance from the truth. The opacity that surrounds Broussard's existence provides an ideal opportunity for Belliveau to intervene as a pseudo-historian re-inventing his and Monckton's appearance through staging portraits. The artist juxtaposes finer elements, such as gilded frames and different photographic techniques, to create the appearance of a historical portrait, pairing the individual sitting in the portrait with artefacts from the Musée acadien de l'Université de Moncton's collection. While validating the work within an institutional context, Belliveau's talent for playing with fact and fiction also inserts an ironic twist into this particular moment in Acadian history.
The perception of failure as Queer aesthetic is deeply imbedded in Belliveau's art practice. In The Queer Art of Failure, Queer theorist Jack Halberstam makes an argument for offering an alternative mode of understanding the concept of failure in today's society. He states: "… Queer or counter-hegemonic modes of 'common sense' lead to the association of failure with nonconformity, anticapitalist practices, non-productive life styles, negativity and critique." Halberstam positions failure in opposition to success as determined by advancement, capital gain, fertility, and reproduction, observed through a systemically heteronormative culture, to conjure the possibilities of what living failure might offer. Belliveau's dedication to critiquing this binary is evidenced in how they weave together missing information and aspects of stories that appear as "failure" within a cis-heteronormative and patriarchal system.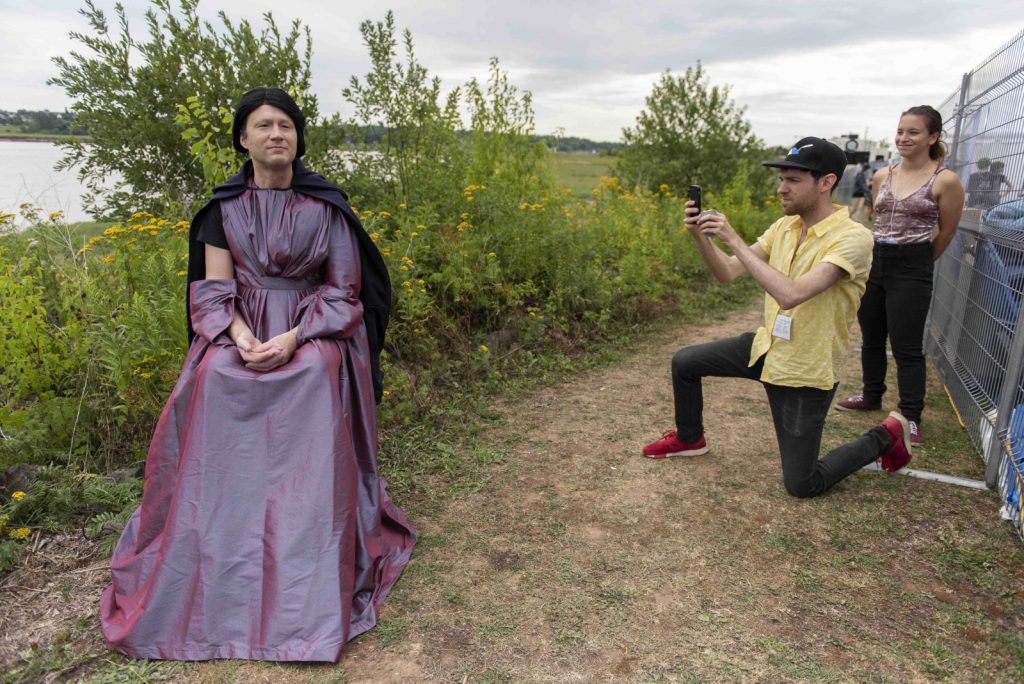 Belliveau's large ficto-historic project, Hier semble si loin / Chapitre 4 / Jean Dularge [1965 – 1967] (2020), focuses on the absence of an Acadian rock tradition and how that was epitomized by the failed career of musician Jean Dularge. As they state: "In April 1967, Acadian singer-songwriter Jean Dularge did not record his 45 single 'Viens voir l'Acadie.' He was not the first artist signed by Les Disques Acadisco (label), nor was he required to cancel the release of his song due to a supposed copyright dispute." Following a narrative structure as established in the literary tradition of the novel, the artwork is divided into five chapters, each one representing a different part of the project and investigating a different aspect of the unknown Acadian rock 'n roll tradition. Playing with established modes of narrative and splitting the work into chapters emphasizes the fictitious and playful aspects that Belliveau infuses into their work. The artist conducted research and collated artefacts over many years to bring this large-scale project together, creating intrigue and casting a critical eye on the misrepresentation of much of Acadian history.
Belliveau is deeply invested in exploring the history of Acadia and has created a number of works examining the many truths and untruths that centre around Evangeline, the tragic heroine who has long symbolized the suffering of the Acadians during the Great Upheaval. While likely not a real individual, she persists as a central figure in Acadian history and culture. In Evangenalia Photobooth, the artist repositions Evangeline within Acadia by using a repurposed version of "visiting cards," a 19th century tradition in which members of the upper classes would share their portraits amongst themselves. A painting of Evangeline by Thomas Faed is used as inspiration for the series. The portrait was widely circulated despite the misrepresentation of Evangeline as a wealthy woman, and the romanticization of her through a European lens. For the series, the artist invited Acadians of all ages and gender identifications to sit for a portrait dressed as Evangeline. The artwork plays with history, fact, and fiction, disentangling misconceptions surrounding the important Acadian figure and enabling the artist to reorient the viewer's understanding and knowledge of Acadia.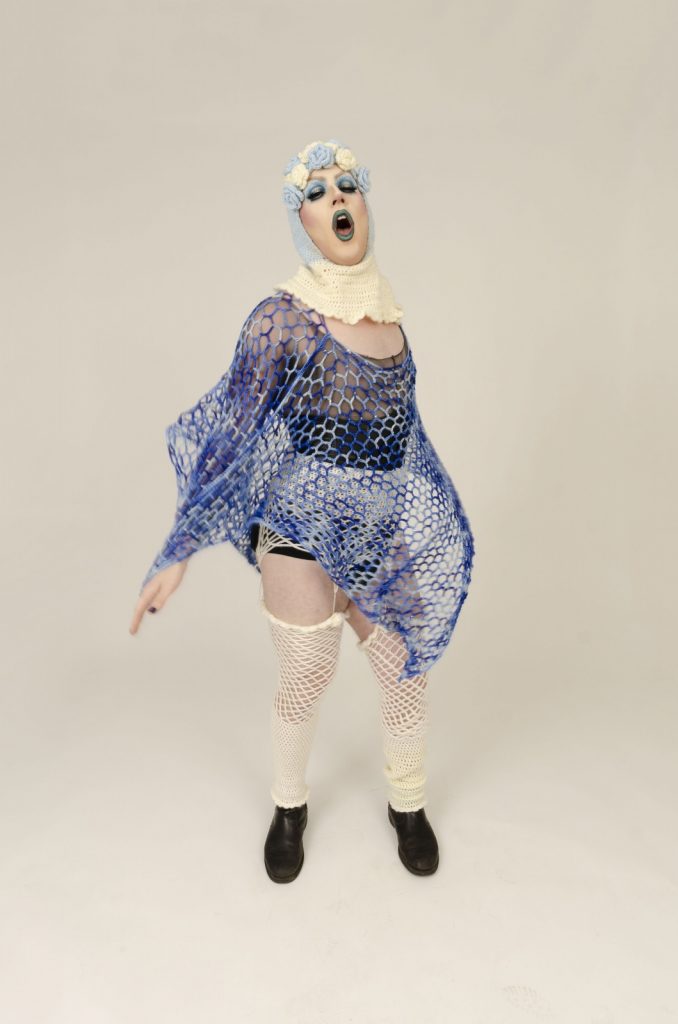 Many Queer artists in the region use established craft techniques and local traditions as themes and means of creation, often to explore gender performativity. New Brunswick-based Newfoundland-born artist Lucas Morneau embraces craft and the Newfoundland tradition of mummering in their series The Queer Mummer. Morneau adapts the tradition of the mummer into a drag persona, performing their gender identity while playing with the role of the mummer. Mummering—or janneying, as it is also known—began sometime in the early 1800s, although specifics are vague. The tradition arrived with British and Irish settlers, morphing with time into how it is practiced today. From the Feast of St. Stephen on December 26 to the Epiphany or Twelfth Night on January 6 (Old Christmas), individuals don costumes disguising their faces, bodies, and voices.
Mummering is innately Queer in its aesthetic, inviting folks to dress up, dance, perform, and act out entirely other personas. Morneau takes this fun and joyful tradition and mixes it with understandings of Queerness, drag, and performance art in their sculpture and photo series. The work features costumes the artist made as well as photographs of the artist performing in each one. Each persona carries a different name to match the character's ethos. The names of the characters, such as Fag Hag, Inky Twinky and Lumber Jackoff, riff on Queer vernacular while the photographs allow Morneau to perform their ultimate drag fantasy.
Morneau's Queer Newfoundland Hockey League (QNHL) pairs Queerness and the quintessential Canadian sport of hockey with traditional Maritime craft. The project imagines a hockey league made up of 14 teams, the names of which are discriminatory terms used against the 2SLGBTQIA+ community, including fag, sissy, pansy, dyke, and fairy. The artist hand crocheted and rug hooked the uniform jerseys with goalie masks fashioned as doilies in a colour palette not normally associated with the highly masculinized sport. The pairing of an overtly masculine hobby with handicraft and language used to discriminate against the Queer community ingeniously critiques the inherent cis-heteronormative, patriarchal, homo & transphobic culture associated with hockey. Morneau's QNHL destabilizes the normative toxic masculine overtones of the favoured sport by bringing Queer playfulness and joy into focus, in effect making room for Queerness in a sphere where it is not normally welcomed, giving voice and agency back to their fellow sissies and fags.
In her essay "The Transformation of Silence into Language and Action," lesbian poet and activist Audre Lorde discussed the principles of the festival of Kwanza. On the third day of the African American harvest festival, the principle of Ujima is celebrated, which is collective work and responsibility or, as Lorde writes, "… the decision to build and maintain ourselves and our communities together and to recognize and solve our problems together." The principle of Ujima speaks distinctly to the aesthetics of Newfoundland-born Toronto-based artist Mikiki; the core of Mikiki's art practice is rooted in care, responsibility, and reciprocity directed towards the 2SLGBTQIA+ community.
In their work Mikiki, who is of Acadian/Mi'kmaq and Irish descent from Ktaqmkuk/Newfoundland, takes up the role of providing care toward the community in times of grief and anger, informed by their history as a sexual health educator and harm reduction worker. The artist successfully bridges the worlds of contemporary art and advocacy work to not only provide love to Queers in times of pain and crisis but also to comment on the political adversity that 2SLGBTQIA+ individuals live with every day. Cloud Ascension honoured the life of a young man tragically killed while acknowledging the misremembered truths of his life by the community. In the piece that acted as part performance, part protest, and part funerary ritual, the artist, dressed in a Hermes-esque costume with an intricately constructed ethereal cloud headpiece, led participants to the top of the Southside Hills around St. John's, NL, providing a collaborative space to mourn and heal.
Food and discomfort occupy a primary position in Mikiki's work; they have been producing their drag show and performance series Rose Beef for several years. In this work, Mikiki screens The Golden Girls followed by a discussion with the audience on central plot points in the episode. The television show that featured four older women sharing a home together became an iconic part of Queer culture. The well-loved characters were bold and witty, but more importantly the show provided a platform to discuss topics ranging from coming out to same-sex marriage and HIV/AIDS. The tag line for this project reads "Comfort Food and Uncomfortable Conversations with The Golden Girls," ingeniously playing off the familiarity and comfort of The Golden Girls while creating a safe space to discuss aspects of Queer life. Disclosure Cookbook brings community together around something comforting while addressing a difficult, sensitive, and misunderstood subject. Part performance, part publication, Disclosure Cookbook provides a platform for dialogue regarding disclosing HIV-positive status over a collectively prepared meal. Pairing the sharing of food with hard topics of conversation demonstrates Mikiki's tender sense of care toward their community, and toward those who need care the most.
Tracing the entirety of Queer art history in Atlantic Canada cannot be investigated in one essay. The lifelong work of Robin Metcalfe; the foundational artistic endeavours of Queer elder artists like James MacSwain, Rita McKeough, John Greyson and Colin Campbell; and the work explored here by Lou Sheppard, Rémi Belliveau, Lucas Morneau, and Mikiki provides a glimpse at this history. Here we pull the veil away. As I write this Pride month is coming to a close, Roe v. Wade has been overturned to the south, and violence against Queer folx continues to erupt around the world at an alarming rate. The rallying cries must continue, the rainbows must shine, the glitter must sparkle, and the magic must be conjured. This is but a beginning.