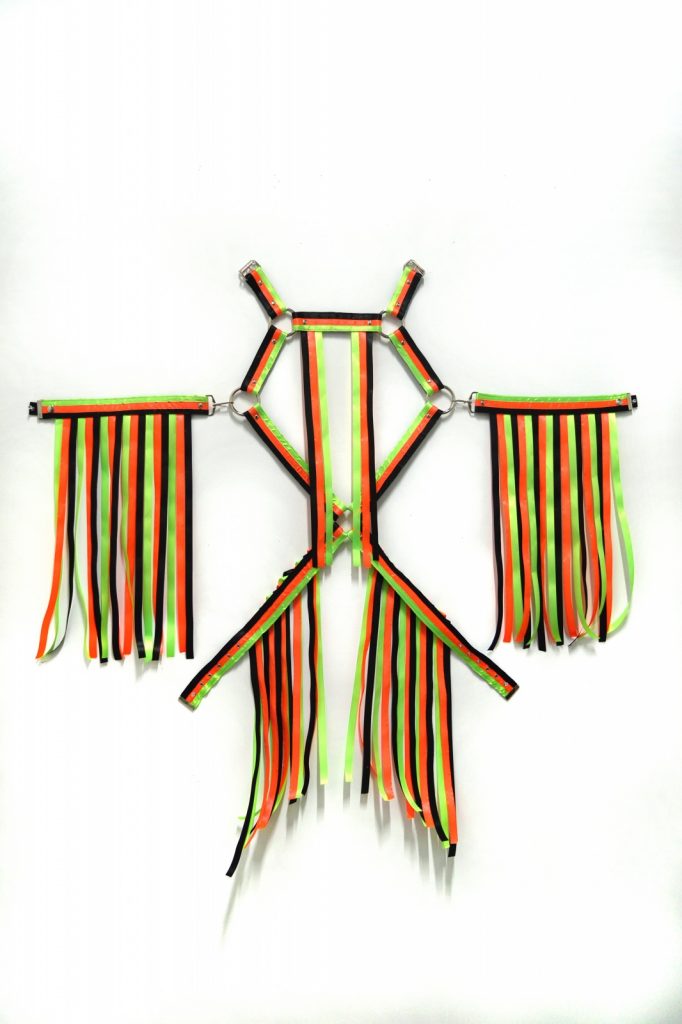 Trickster child Brandon Hoax, son of a Stonecoat mother and Dullahan father, summarizes their work using the following visual descriptors: being alone at a party, standing in a parking garage listening to the hum of a fluorescent bulb, and staying up late waiting for you to message me. Undoubtedly, aloneness is intricately woven into Hoax's work, and it blends with the visual paradoxes they create. As a Haudenosaunee, Onyota'a:ka, and a Two-Spirit artist from London, Ontario and Oneida Nation of the Thames, Hoax explores brown queer Indigenous longing and desire. Currently residing in K'jipuktuk, their work navigates contradictions that incorporate themes of the sensual and the frightening, the severe and the tender, the desirable and the off-putting.
The concept of solitude is not alien to Hoax. When they were a teenager in the late 2000s, they participated in the early days of Tumblr, having three different blogs from their late teens into their early twenties wherein they explored their online self image and crafted a persona. For them, this persona relates to being unattainable and off-putting, a façade that is constructed based on Hoax's visual interests. Those early blogs served to activate and fulfill Hoax's want to control other users' perception while also serving as a place for those interactions to occur. This type of dynamic is what led Hoax to be "Tumblr famous" for some time. Now all those blogs have been archived and are not available to the public, but Hoax continues this practice through other platforms like Instagram and Twitter. Hoax's blogs have become mood boards that serve a similar purpose. They include images of body modifications (tongue splitting, scarification), facial tattoos, mud wrestling, fat men wearing jockstraps, and videogame characters, among other things.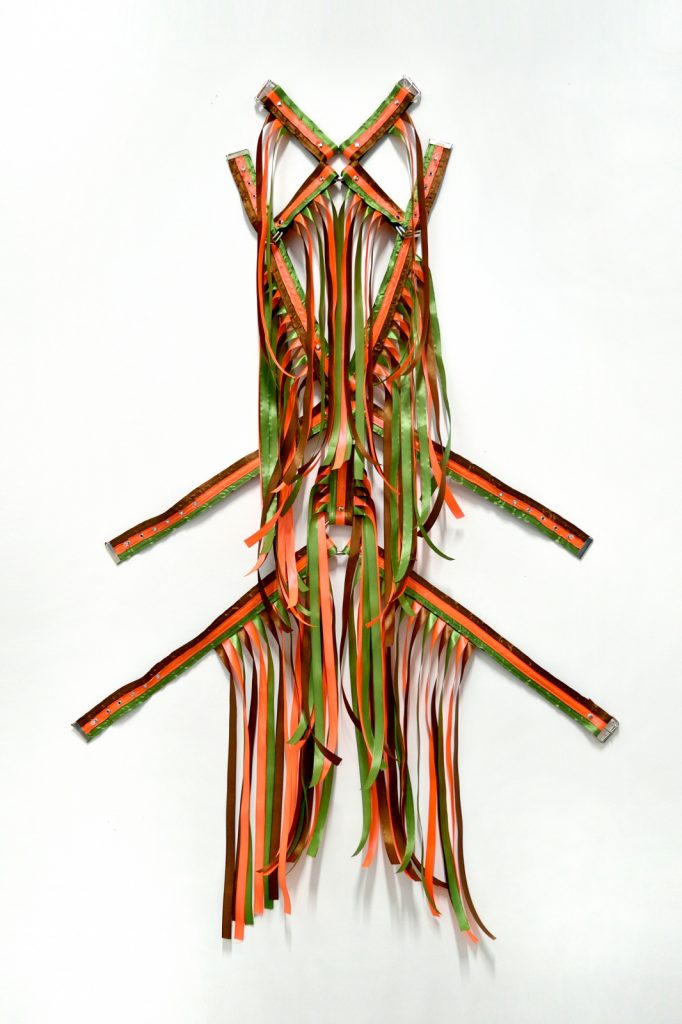 In their essay Loneliness and Internet Use, professors Yair Amichai-Hamburger and Barry H. Schneider state that even when people use the internet to communicate and maintain relationships with others, navigating the internet is a solitary experience. In this study they present two opposing conclusions: internet usage does not alleviate loneliness in individuals and yet, when it comes to minority groups (disabled people, elderly people, racial minorities), it actually leads to "increased self-acceptance, enhanced self-esteem, and a further reduction of loneliness." These oppositions are what Hoax uses to their advantage, as they share an inner world that is supposed to be personal while still managing to connect with others, fulfilling the internet paradox of being alone together.
By residing on the internet at such a young age, Hoax's work draws parallels with early internet art, particularly Mouchette.org, 1996. On this interactive website, an anonymous artist posed as a thirteen-year-old girl living in Amsterdam. The website, which is still maintained by artist Martine Neddam, invited viewers to engage in what could be perceived as disturbing topics for a young girl. Hoax's early internet presence is similar to Neddam's, as they both can attract an audience and play with a fabricated character, which makes them alluring and intriguing. Hoax explains that creating a persona served as a defence mechanism that enabled them to meet and talk to people in the early years of their work; having the made-up self images meant that those interactions held low stakes for them. Even when this need for connection with others is present in online platforms, there is a clear boundary between Hoax's internal and external worlds, as nothing personal is being disclosed. In these private worlds, Hoax is able to create meaningful experiences, generating discourses and ways of being that inform their current practice. There are clear parallels between Mouchette.org and Hoax's art practice, as they both explore identity manipulation, playful interactions, sexually suggestive themes, and the line between severity and desire.
In their recent work, MOVEMARROW, made during a residency with Eyelevel artist-run centre, Hoax examines severity and desires by making harnesses out of ribbon, borrowing from accents found in pow wow regalia. The nine completed harnesses can be found in a digital exhibition hosted on Hoax's website. As part of this project, Hoax made these custom harnesses as a present for members of their community of Two-Spirit/Indigiqueer artists. Once the harnesses leave Hoax's possession, they belong entirely to the artists. The artists are invited to engage with the gifts by taking a selfie, making an art object, or performing, but there are no expectations for them to respond. In this work, Hoax invites desire in the form of fetish wear by having the harnesses displayed in a virtual white cube without anybody wearing them. This decision extends from Worn Inward, an exhibition at the Art Gallery of Nova Scotia that toured to Yarmouth and Corner Brook, Newfoundland, in which Hoax made a harness for themselves that was wall-mounted to a frame. Fetish wear needs to be worn to be activated, and by being on display an aloneness is added to it. The harnesses not only create an opportunity to romance oneself but also generate a commitment between nations and territories.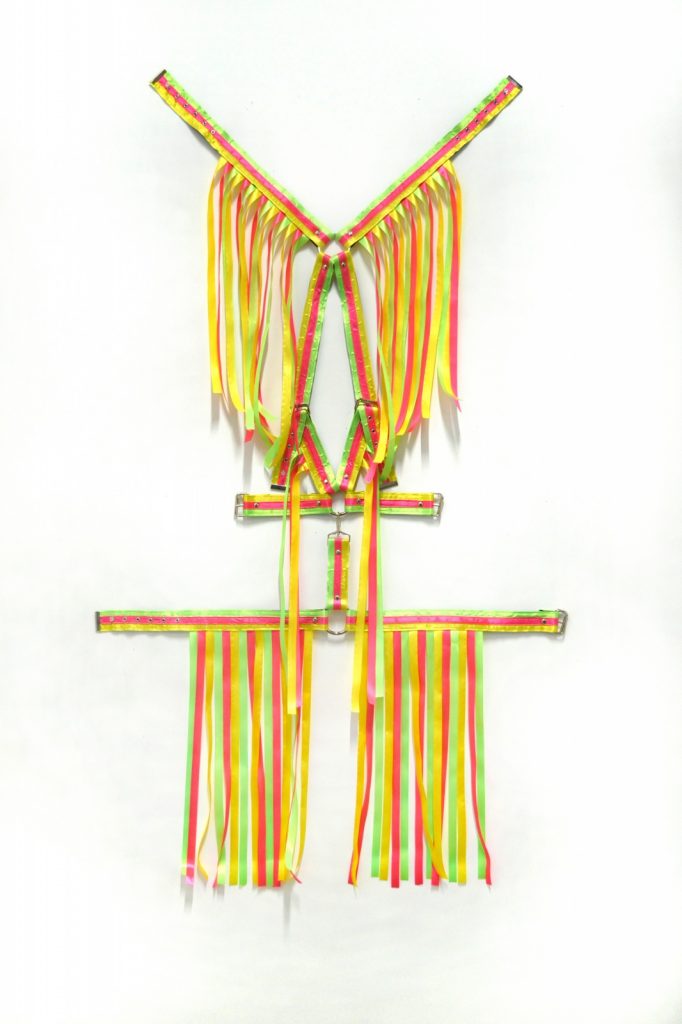 Hoax's work encompasses an "it's a joy to be hidden but a disaster not to be found" sentiment, which stems from psychoanalyst Donald Winnicott's theory. Through using captions like "call me horrible things, let me know you love me" and "you held my hand and I pulled away" in their illustrations on Instagram, Hoax offers a glimpse into the world they have created by following similar patterns as they did in their youth online. While doing this, they build on the paradoxes that they rely on to create meaning. What Hoax allows us to see is both seductive and lonely.