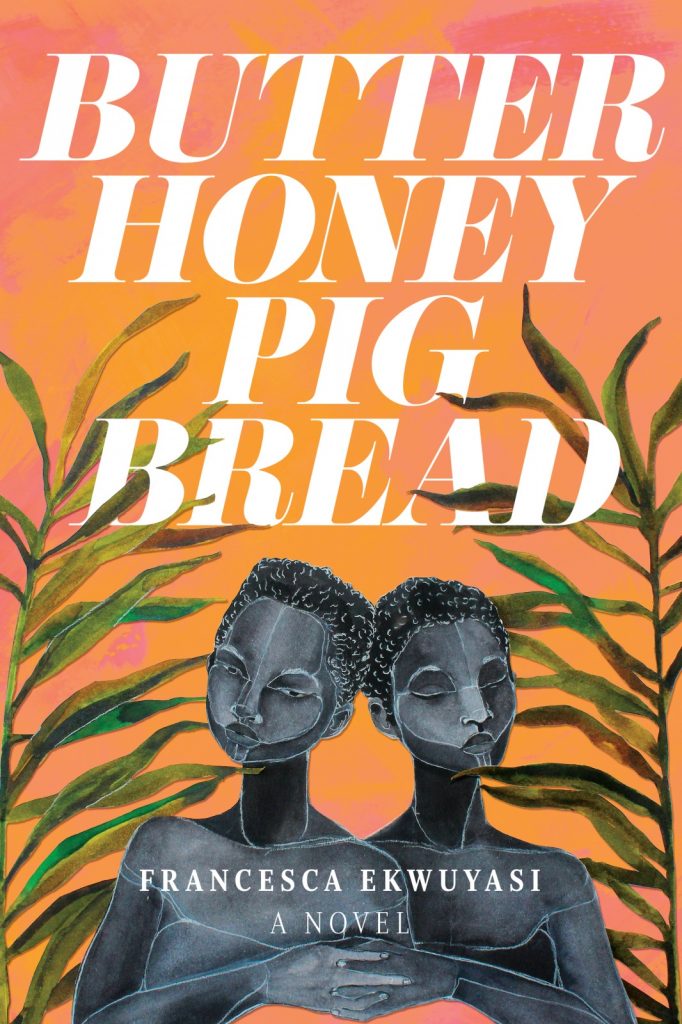 Francesca Ekwuyasi's Butter Honey Pig Bread stunningly explores the complex relationship between mothers and daughters, as it reconciles queerness with faith and offers the ingredients of spirituality, family ties, and intergenerational trauma to create a debut novel like no other. Born in Nigeria, Ekwuyasi moved to Halifax for graduate school, but writing has always been her first love, and true calling. With a poet's keen sensibility, and mouth-watering descriptions of food, Ekwuyasi, who is a regular contributor to Visual Arts News, could also moonlight as a poet, or food critic, should she decide. Lucky for us, she's gifted us with a masterful novel—Butter Honey Pig Bread—rich with succulent imagery of food, Nigerian culture and women, spirituality, and healing.

Butter Honey Pig Bread is a story of three Nigerian women from Lagos: Kambirinachi and her twin daughters, Taiye and Kehinde. As a mother, Kambirinachi believes herself to be an Ogbanje (a spirit that haunts a family with grief by continuously dying and being reborn in childhood), and, due to her choices to stay alive, suffers. Her fears come true when one of her daughters, Kehinde, is subject to a childhood trauma that ruptures the family. As a result, Kehinde later leaves Lagos and moves far away to Montréal. Taiye flees to London. Both women come of age—one attempts to find healing in Montréal, the other throws herself into England's recklessness—and, a decade after running, must circle back home to Lagos to confront their past, reconnect with their mother, and reconcile their family.

The cover image of Butter Honey Pig Bread is a work by Brianna McCarthy, a Trinidad and Tobago based mixed-media artist whose work represents strong, bold, and beautiful Afro-Caribbean women, which subverts the stereotypical representation of the black body. Both the artwork and the title of the novel—not to mention the juicy and flavoursome descriptions of food—offer readers various forms of literary sustenance. It's no wonder Butter Honey Pig Bread has been longlisted for the Scotiabank Giller Prize 2020, and shortlisted for CBC Canada Reads 2021.

Shannon Webb-Campbell: It's an honour to connect with you Francesca, as you're in the midst of banner year with your book. Congratulations on everything that's come your way – the Giller and CBC Canada Reads. It's all so well deserved. What's this experience been like for you?

Francesca Ekuwyasi: Thank you very much, Shannon. I'm grateful to be in conversation with you. The whole experience has been very much a dream come true. I'm overwhelmed with joy and gratitude for how generously this book is being received.

Webb-Campbell: Can you tell me a bit about what inspired Butter Honey Pig Bread, and where the title comes from?

Ekuwyasi: This book was inspired by so many things! One main source of inspiration was reading—I've loved to escape into stories since I was small, so at a certain point I wanted to write my own stories to escape into. Some aspects of my own life and the lives of folks around me also inspired the book; so, themes of desire, belonging, longing, appetites, loneliness, the diaspora, and faith or a lack thereof, that show up in the story, have shown up around me. Writing is one way I make meaning, or attempt to make meaning of the world, so everything around me, everything I experience, including the work of other people, inspires my own work.
The title was a last-minute change; those four ingredients (butter, honey, pig, and bread) showed up a lot, rather unintentionally, throughout the book, so it made sense as a title only after I'd completed the story.

Webb-Campbell: The opening chapter of the novel, Butter, has some of the most incredible descriptions of the relationship of food and sustenance, in particular how guava fills Kambirinachi with life: "There were lovely things about being alive, she had to remember, like the taste of guavas. Their existence filled her with so much joy that it burst out of her in gleeful laughter." How does food, the body, and sustenance play a role in the novel?

Ekwuyasi: In many ways I think this book is about negotiating with the fact of embodiment as the price of being "alive." This is true for the character Kambirinachi, as well as, to a lesser extent, for Taiye. Embodiment requires nourishment, food, sustenance. I think of Belgian psychotherapist Esther Perel, who talks about the difference between sexuality and eroticism being human creativity and imagination, about how human beings can transform sexuality through the act of imagining, desiring, anticipating it. It is no longer merely a mechanical act, but one loaded with meaning, even if the only meaning is pleasure. I think there are some aspects of that idea that apply here. For the characters in the book, much like for myself and many folks in my life, food becomes more than simply fuel for our bodies; it can be about igniting memory, it can be a pragmatic tool for reconciliation, as we see for the character Taiye. Food can also be weaponized, as it is for Kehinde, a character who has moments of being at war with her body, and earlier in her story struggles with an eating disorder and her body image. For that character, this weaponizing of food and all that goes with that is a symptom of her unresolved traumas. What I'm trying to illustrate is the interconnectedness of everything in these characters' lives, which reflects the interconnectedness I see in everything around me.

Webb-Campbell: Near the end of chapter one, Butter, Taiye is fetching chocolate caramel from the freezer to ice the cake before heading to the airport, and is beating the mixture while sweat drips down her face. "Until the caramel was just stiff enough to be spread without oozing down the sides of the cake. She iced the three layers with a large butter knife and assembled the desert. Cake, caramel, a sprinkle of salt. Cake, caramel, a sprinkle of salt. Cake caramel, a spring of salt." Why is the cake, and food in general, so important to Taiye? What does food embody or symbolize in the larger novel?

Ekwuyasi: In that scene, Taiye is about to see her twin sister, Kehinde, for the first time in about a decade. They'd had a strained relationship since a childhood trauma, so for her the cake is a peace offering. It's pragmatic, an attempt to communicate that she would like to begin to rebuild their relationship. But Taiye is deeply flawed—they all are, we all are—so, for a while, she fails to communicate more directly with her words.
Webb-Campbell: How did you and Arsenal Pulp Press arrive at the Butter Honey Pig Bread cover, and the artwork of Brianna McCarthy? What does the image evoke in you, and how does it visually represent your powerful story?

Ekwuyasi: I completely adore Brianna McCarthy's work. Well before I'd even submitted my manuscript to Arsenal Pulp, I knew that I wanted her art as the book cover. I'd followed her on Instagram for a while and was continually blown away by the evolution of her work. I'm inspired by her and was motivated to complete my book so that I could see it all come together.

The folks at Arsenal Pulp are incredibly supportive; they asked me what I would like for the cover and I sent them a few pictures of Brianna's work.

A lot of her work has twin imagery, so they were very into it. The image of the twins, with their fingers intertwined, and looking somewhat melancholic against a vibrant green foliage on a pink and orange background, really portrays the flavour of the book in many ways. There is quite a bit of sadness, but also so much lushness, and colour. I'm just so honoured that Brianna was open to us using her work, and that the folks at Arsenal Pulp shared and supported my vision.

Webb-Campbell: How does queerness play a role in your work? And do you think there is a relationship between queerness and sustenance?

Ekwuyasi: Regardless of genre and plot, if I'm writing about humans then I want my work to reflect what I see and know, my communities. I see queerness all around, so it would be dishonest to exclude that. I find sustenance in my communities, my family, my friendships, my workplaces, where I play—most of these areas are coloured by queerness. So, for me, the relationship between queerness and sustenance is no different than the relationship between community and sustenance, or love and sustenance.

Webb-Campbell: What is your relationship to your writing and sustenance? Is writing something that nourishes? How does creativity and spirituality intertwine?

Ekwuyasi: Writing and creativity in general is absolutely something that nourishes me. I'm immensely grateful for the opportunity to write, make art, and experience the art of others. It is very much part of my spiritual practice; I write my prayers, I meditate over everything I create, particularly if it's going to be shared in the world. I want to leave goodness wherever I go, and being in creative flow is one way I know how to keep mentally and spiritually healthy—it feeds me and helps me move through the world with more grace. I just honestly feel that it's a gift to be able to create and find communities with whom your creations resonate.

Webb-Campbell: In addition to your writing, you have a creative art practice. I recently came across your work Paper cuttings 2018 and Penance + Reconcile (Residency at the Khyber Centre for the Arts) 2019, which were rooted in a reflec-tion of a large-scale paper cutting project about queerness being criminalized in Nigeria, as well as the intersections between queerness and faith. Can you share with our readers a bit about the work, and why it's important to you?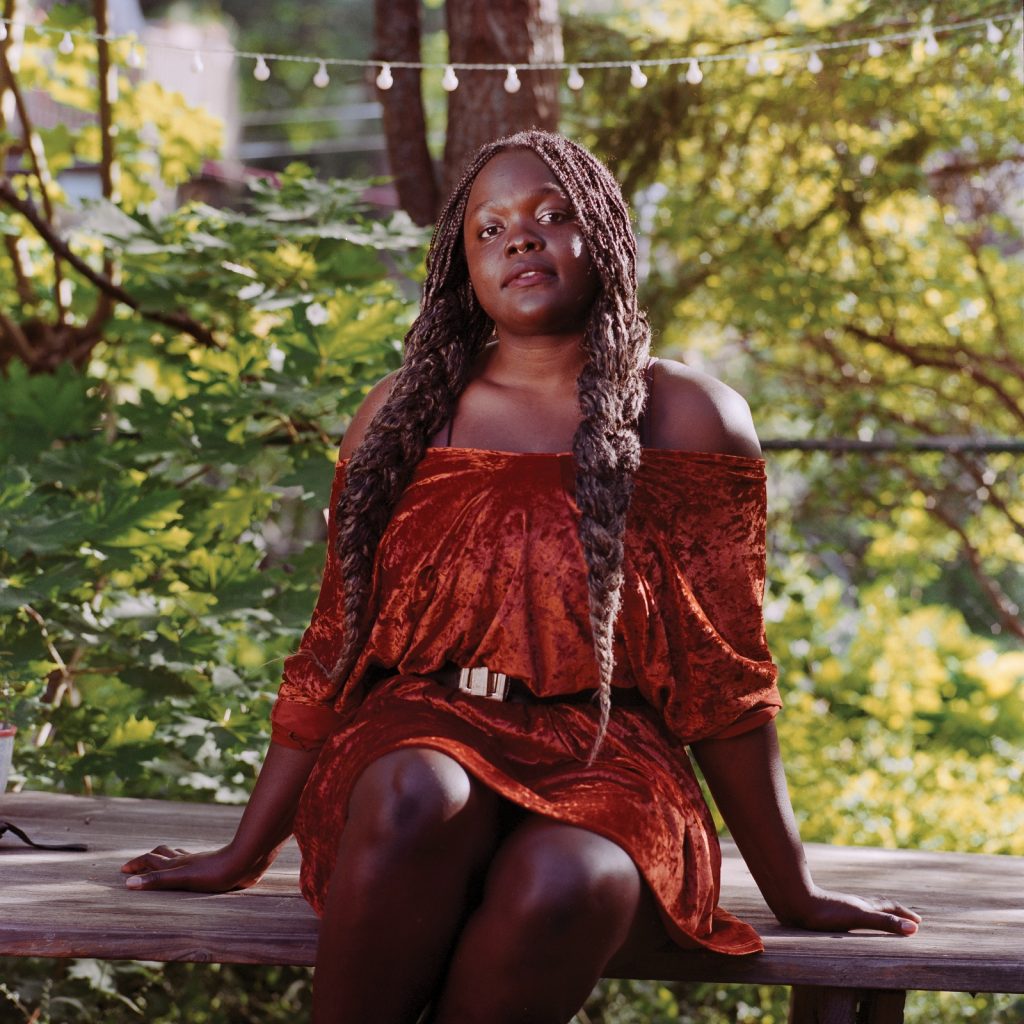 Ekwuyasi: Yes, I developed that project during a residency at the Khyber in fall of 2019. It was an incredible experience to have the opportunity of connecting various media to create and connect stories of queerness and faith. The project consisted of two parts, Penance + Reconcile. Penance focused on an inward reflection of the criminalization of queerness as well as the larger culture of queerphobia in Nigeria. This reflection took shape as large-scale paper cuttings wherein the repetitive cutting motions required to complete the body of work reflected the Catholic tradition of penance. The second part, Reconcile, was a more outward exploration on the connections queer folks have with their religions or faith practices. It was done through interview style documentaries, during which I filmed a number of participants as they shared their stories while cooking a meal that was significant to them.
The core of that project, and of many of my creative art projects, is storytelling as one way to find meaning. This is true of my writing as well.
Webb-Campbell: What's next for you creatively? More art writing?

Ekwuyasi: I love art and writing! My intention is to continue to write and make art, write about art, write about everything I want for as long as I'm alive.