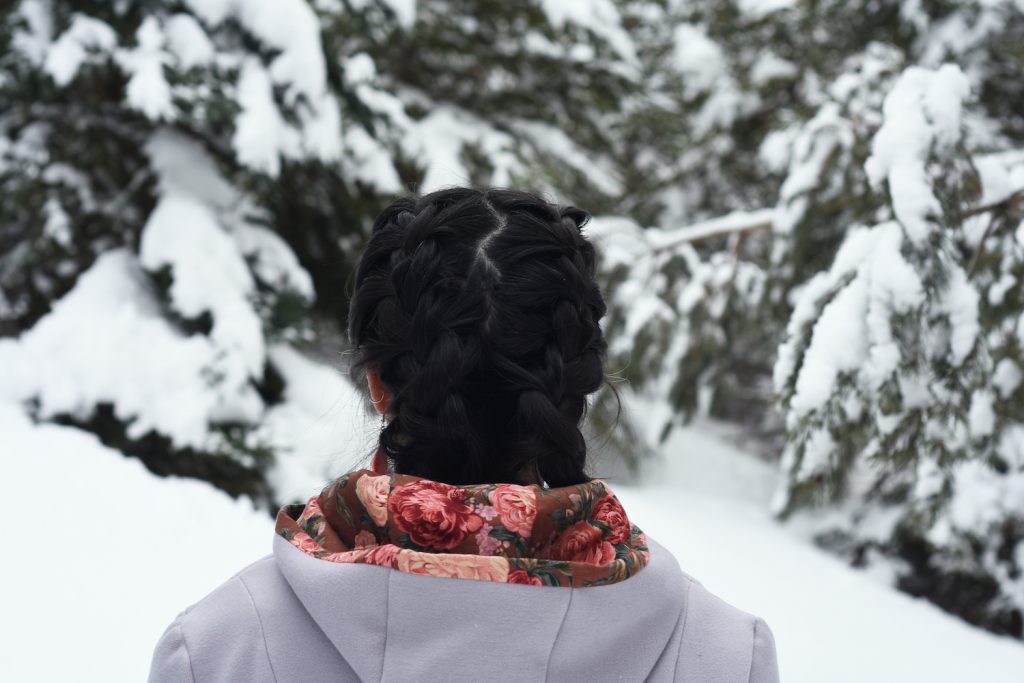 When I visited The Rooms this past summer, to see Labrador artist Melissa Tremblett's solo exhibition, Reprise, I was on my way down the southern shore to scatter my mother's ashes off the Drook, in the company of her two sisters. Walking into the gallery to Melissa's work brought me a sense of comfort, a reminder that we are all connected to our ancestors, and part of a larger relation. Our mothers. Our Aunties. Our grandmothers. We are carrying their love, their teachings, and their hearts. In a way, our lives are like a musical composition, a reprise to all that came before and will come after.
From my position as a mixed-Mi'kmaq/settler reviewer, I want to clearly address that Tremblett's Reprise is deeply personal, as it weaves text, photography, beadwork, natural found materials, and textiles to connective tissues of ancestry. This illustrates the artist reconnecting to lost histories and refining her relationship to her identity and Innu heritage. It's both powerful and vulnerable. The exhibition gives viewers the opportunity to witness multiple selves, to be uncomfortable, to reflect on addiction, mental health and all that creates an object and an identity. There is no division between artist and art work.
Reprise is a reflective self-portrait, inviting viewers to hold space, contemplate, and pay witness. As part of her Elbow Room residency, Tremblett spent time with many objects found in The Rooms' collection, including a caribou skin jacket (the maker is unknown) and tea dolls that were central to traditional Innu ways of life and made by her grandmother, Madeline Michelin (1932-2008), a renowned Innu artist. She studied the handiwork of the caribou skin jacket maker, her grandmother, and her aunt—who is also a doll maker—and learned from their techniques. Tremblett created a straitjacket, "Evade, 2019," made of mixed media (cotton, cotton thread, antiquated brass hardware, and a plastic buckle) that speaks to the artist's struggle with addiction and an eating disorder. "Reprise, 2020" is another jacket made of wool, cotton, cotton thread, magnets, and seed beads, with a hood lined with her grandmother's fabric.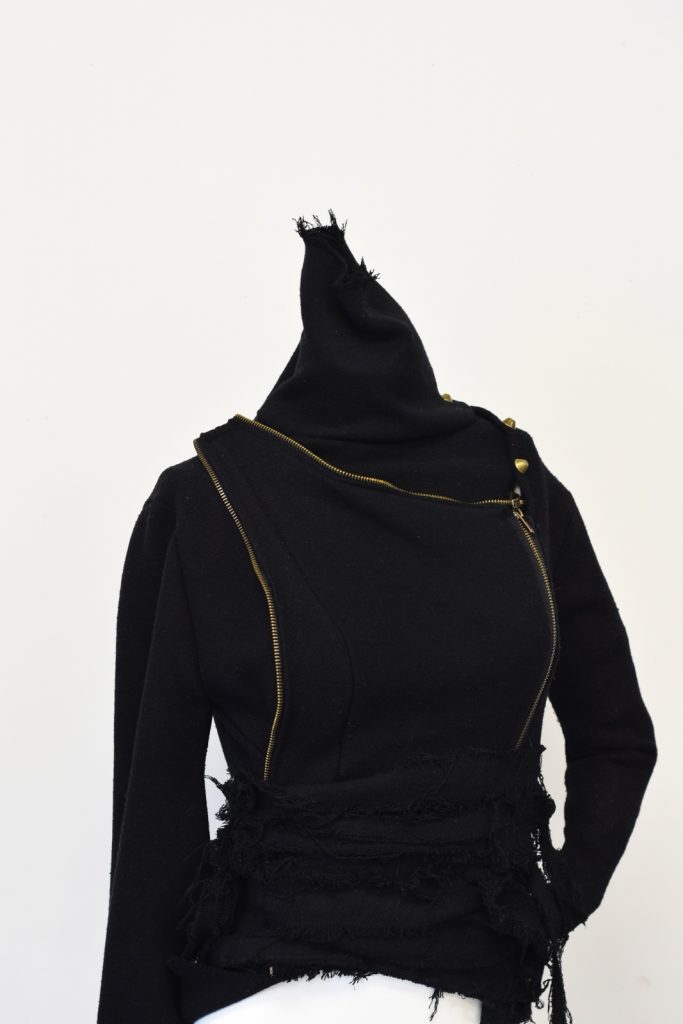 Michelin, Tremblett's grandmother, was a doll maker, a skill passed down by her mother in the resettled community of Sheshatshiu. The juxtaposition of her "Untitled 1997-1998" mixed media tea dolls and Tremblett's tea doll "Just like Madeline, 2019," (made with black tea, naturally dyed cotton, fabric, linen, imitation hide, seed beads, and faux leather trim) are an act of generational knowledge transmission, carrying Innu teachings. The words "hearts intertwine," which are below the three dolls, brought me to tears. The relationship between great-grandmother, grandmother, and granddaughter resonates. The tea dolls, made by dollmakers for their children, are constructed from caribou hide and stuffed with a pound or so of tea. As it was up until the 1950s, Innu people of Labrador moved twice a year to be closer to primary food sources, packing up every winter to follow the caribou herd. It was the children's job to carry the tea dolls, which the adults needed to borrow to make black tea to share with the Elders and hunters. Once the tea supply ran out, the dolls were re-stuffed with moss. Tea dolls weren't only practical, they were a way for children to learn the importance of taking care of the Elders and sharing with others.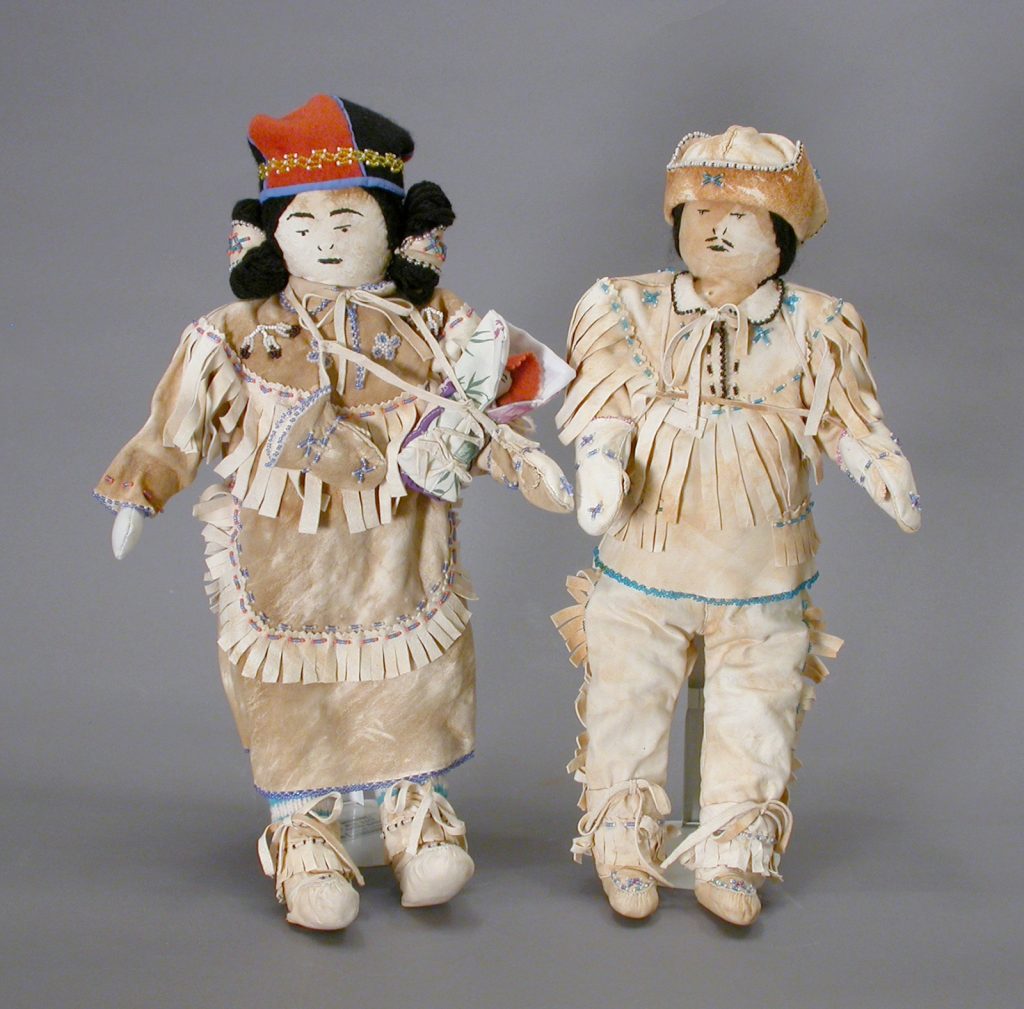 Reprise speaks to the ongoing interconnectivity between generations.
Despite the exhibition being visual art, poetry is found throughout the gallery walls, which adds a dreamlike aspect. Tremblett's words, "Meandering/ Falter/ in spite of the dark/ my heart grows fonder/ mended spirit/ taking root/ renew the mind/ braided spine/ sauntering softly/ hearts intertwine," almost whisper throughout the space. A framed poem features the line, "We may not know how to talk to our people. But we will always go back." However, it's the wordlessness of the large, black-framed "Self-portrait as a Tree, 2014," a series of reclaimed pieces of birch bark, that speaks for the relationship between the artist and the land, highlighting how Tremblett, of Innu and English descent, is separate neither from the land nor her ancestors.
While Tremblett's work is provocative and striking, it's the artist speaking in her own words about returning to Labrador seven years after her grandmother's death that is central to understanding the truth and courage of Reprise. Tremblett writes about going for a walk with Innu Elder Tshakuesh (Elizabeth) Penashue in the spring of 2015. "When I talked with Tshakuesh about Grandma she would tell me how I was 'Just like Madeline.' I've always felt I wanted to be just like Grandma when I grew up. When Tshakuesh said that to me, it was the first time I felt like I was reconnecting with Gram. After that, I got into making tea dolls. I had tried before but felt like I didn't have the right because I didn't feel like I belonged. Now I know who I am."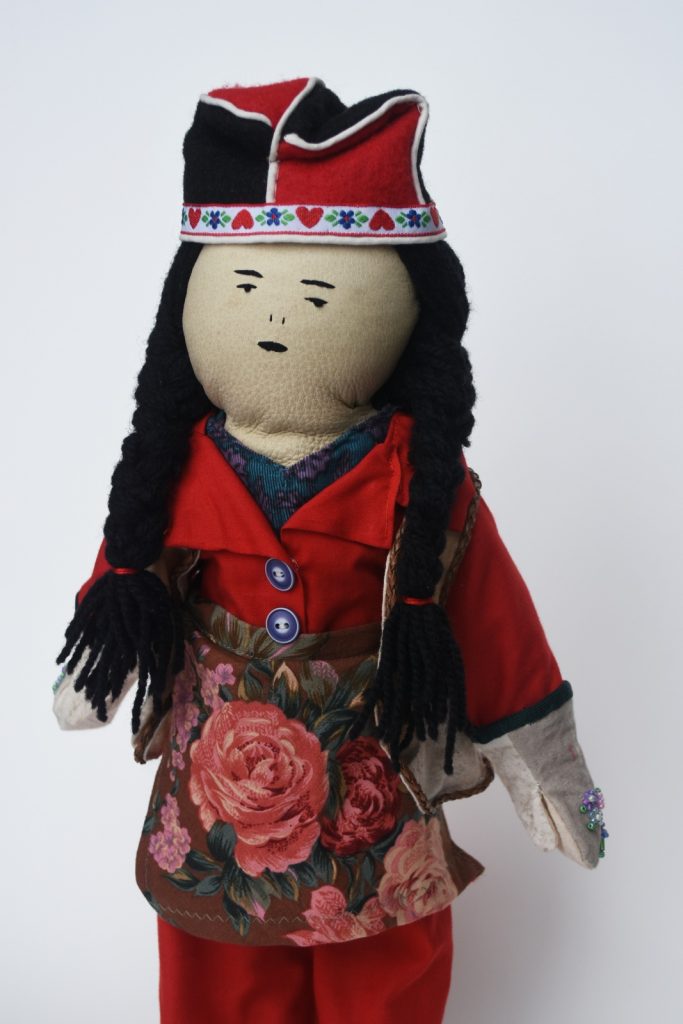 Tremblett's Reprise is a testament to her own becoming, and it honours her Innu culture and artistic practice. Like Tremblett, I needed to return home to reconnect to the land and waters after my mother died this past fall. Despite being in the midst of a global pandemic, I am grateful to the Atlantic bubble for the opportunity to spend time with this important exhibition in Ktaqamkuk, an artistic place like no other.