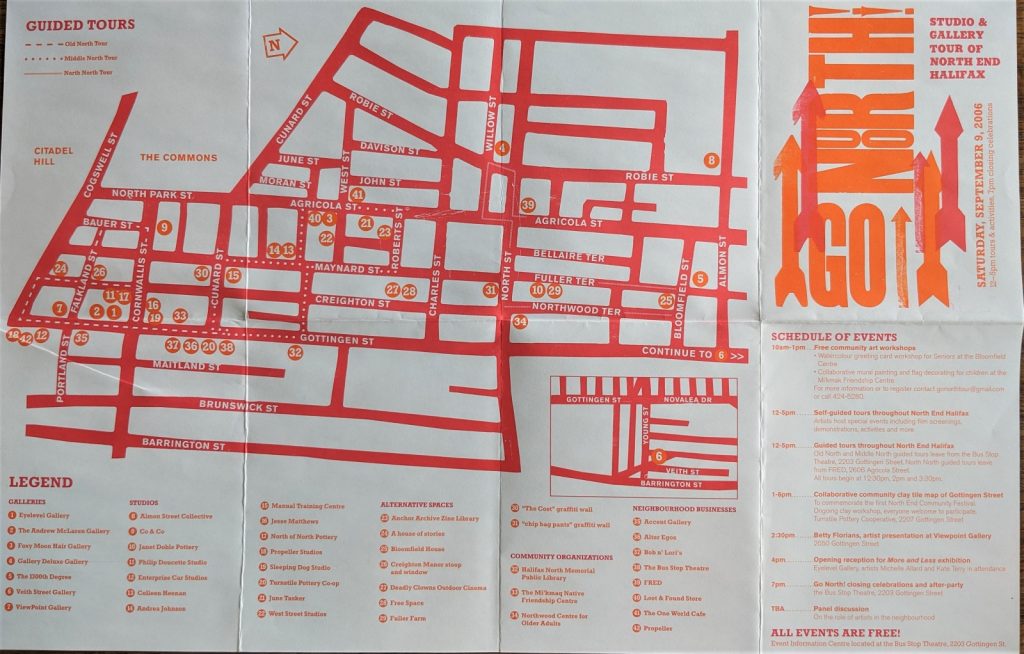 From 2006 to 2009, Eyelevel Gallery hosted a studio tour called Go North! which aimed to bring arts consumers to Halifax's North End at a time when it was largely stigmatized as a low-income neighbourhood. Artist studios, local businesses, and galleries welcomed neighbours and visitors to celebrate the North End's alternative art-production spaces. Tour groups moved through ad-hoc backyard cinemas, sculpture gardens, and basement darkrooms, as well as projects by Uniacke Square Tenants Association, Black Business Initiative, and the Mi'kmaq Native Friendship Centre. Go North! attempted to work across lines of class and race difference, in order to reckon with the North End's shifting identity.
In a 2006 article about Go North!, Michelle Strum, owner of Alter Egos Café, discusses the vacancies on Gottingen Street saying, "People talk every year about the businesses that leave, but it's not uncommon everywhere. It's just more obvious here because so much is empty." 1 The emptiness Strum describes is no longer present on Gottingen Street, where most vacant buildings are slated for demolition and dotted with scaffolding. When Eyelevel Gallery no longer had the administrative and economic capacity to continue Go North! in 2009, it foreshadowed major shifts in the North End as the pace of gentrification accelerated. Between 2011 and 2012, commercial property values increased by 17% in the North End, the highest growth rate on the peninsula. 2 When the North End Business Association was founded in 2011, they claimed the domain www.gonorthhalifax.ca, making the name synonymous with economic growth and development, rather than DIY artistic action.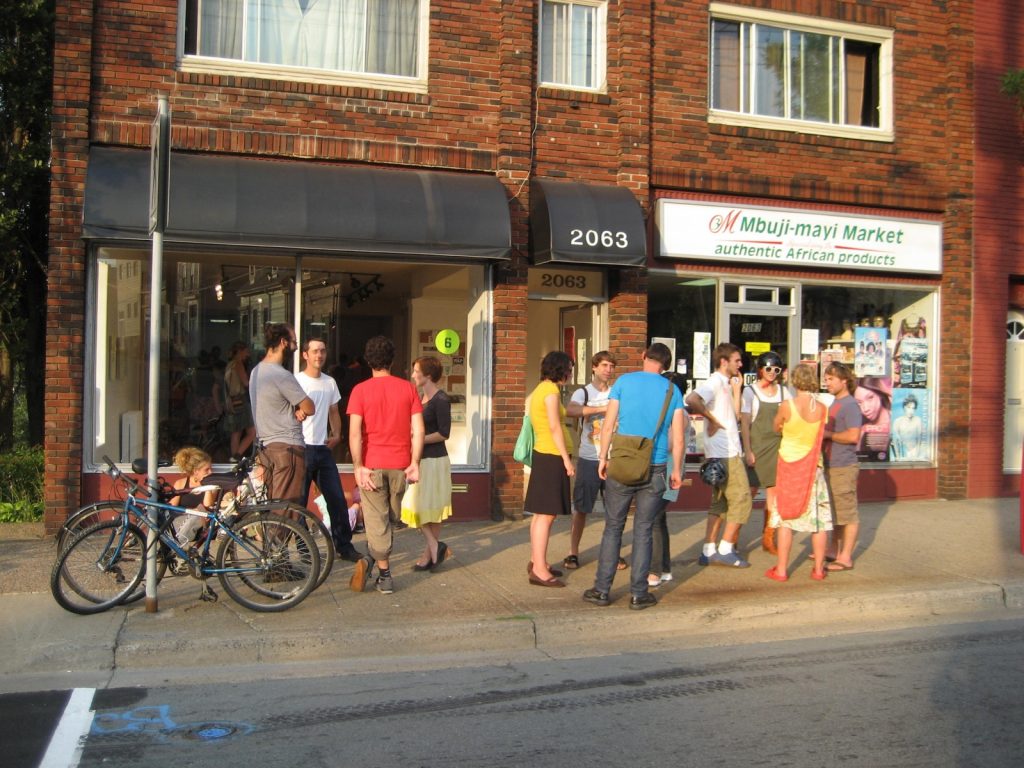 My guess is that if Go North! was restaged today, there would be significantly fewer artist studios on the map. Or perhaps the artist studios would simply be displaced to kitchen tables or bedrooms. Maybe these spaces never died, and only transfigured. Fuller Farm, a DIY urban farm with a bike workshop, silkscreen studio, and darkroom, has moved between different homes on Fuller Terrace; its current tenants are interdisciplinary artists who still make use of the equipment. Many ceramicists from across the North End now collectively work at Wonder'neath Art Society, using kilns that have been moved from various former studios. On the topic of artist-run culture, Jon Tupper says, "I'm interested in the sort of space that for its brief life burns brightly."3 Temporariness is not necessarily a weakness for arts spaces, and artists find ways of embracing precarity as an inevitable aspect of their practices.
When I conducted a survey of 46 Halifax-based artists in October 2019, the number one reason they gave for leaving their North End studios was eviction/demolition. This staggering statistic comes as no surprise to artists who have been relocated in various waves of "renoviction" in the last decade. In the time since Go North!, the artist studios above Enterprise Car Rental (now Seven Bays Bouldering) and Propeller brewery were closed to make way for expanding businesses. Artist migrations tend to be patterned—after being evicted from their studios in the Bloomfield School in 2005, many artists moved to the Manual Training school before they were again forced to relocate. 4 The artist studios at 6050 Almon Street were demolished in 2017, and the mixed-use housing, retail, and commercial development that proposes to take its place covers almost a full city block, and will measure 27 storeys at its highest. 5 After losing her studio space at Bloomfield School in 2005, and again at 6050 Almon Street in 2017, sculptor Sarah Maloney says, "I finally realized that the only way I could have a secure studio space was to have it off the peninsula in a building I own." While rising rent and financial constraints are among the top reasons why artists are vacating their studio spaces, eviction remains the dominant factor behind the relocation of artists in the North End.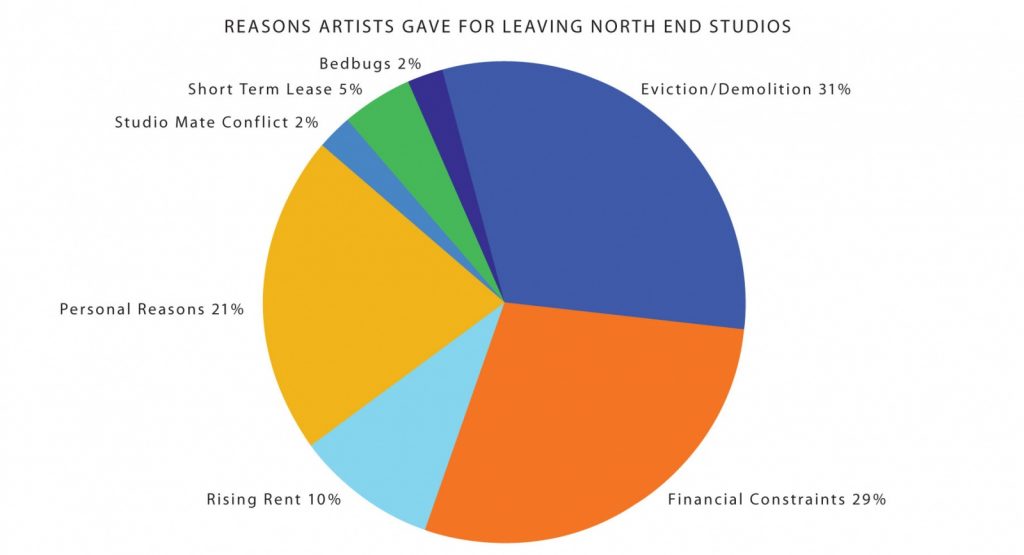 In October 2019, as the Co-Chair of Eyelevel's board of directors, I helped our Artistic Director Sally Wolchyn-Raab move boxes of receipts and archival materials into our new space above Radstorm at 2177 Gottingen Street. Eyelevel is moving less than one block away from where it was listed on the 2006 Go North! map, because its most recent home on Cornwallis Street was condemned due to damage from Hurricane Dorian. In the midst of this relocation, Eyelevel is launching Sitelines, a publication about its spaceless and site-responsive model. It developed this organizational framework under the direction of Katie Belcher in 2013, when it moved out of its space on Gottingen due to a 30% rent increase. 6 As it relocates for the 11th time in its 45 year history, Eyelevel continues to embrace this model, whether by choice or by force.
Eyelevel's recent move coincides with massive changes to Halifax's land-use policy. The Halifax Regional Municipality has been developing Centre Plan—a comprehensive policy which dictates density and height requirements for buildings in peninsular Halifax and Dartmouth—since 2015. Centre Plan's first phase was unanimously approved on September 18, 2019, opening up several areas of the North End to high-rise developments. 7 The areas highlighted in red on Centre Plan's interactive map are designated as "higher intensity zones" where mixed-use developments are authorized to be built up to 27 storeys high, the tallest currently allowed in the city. 8 These zones cover the current sites of Eyelevel, Radstorm, Centre for Art Tapes, Midnight Oil, Bus Stop Theatre, Halifax Pop Explosion's office, the sites where artists were evicted from their studios at the Bloomfield School, and 6050 Almon Street. Arts spaces which fall outside of this high-intensity zone include Wonder'neath Art Society, Veith House, and Hermes Gallery, but the second phase of Centre Plan is awaiting approval.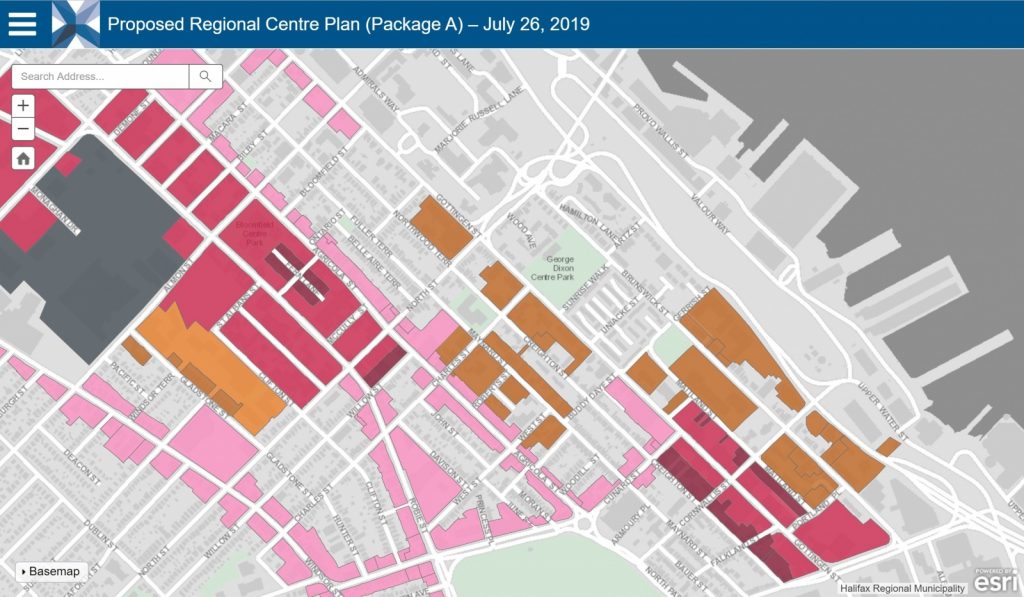 It is widely accepted that artists contribute to the rate of gentrification in cities, and the acceleration of development in the North End is no exception. 9 I've lived in the North End on-and-off for five years, and my purchasing power as a white-settler arts worker makes me complicit in the whitewashing of my neighbourhood. When I lived on Willow Street last summer, my landlord decided to not renew our lease in order to turn our three-bedroom apartment into an Airbnb. That same summer, I cringed while booking Airbnb's for visiting artists-in-residence, in buildings where friends and fellow artists had their leases unceremoniously not renewed. As karma's pendulum swings, arts workers who are beneficiaries of gentrification also become its victims—sometimes simultaneously.
It is conventionally understood that arts spaces attract real estate developers to low-income areas; granted, recent research claims that "it is gentrification that draws the arts, not another way around." 10 Peter Moskowitz, writer of How to Kill a City: Gentrification, Inequality, and the Fight for the Neighborhood, argues that "there's nearly always a stage 0, when a city opens itself up to gentrification" through tax breaks and incentive programs for developers. 11 While artists are certainly involved and implicated in the process of gentrification, the policy changes at a municipal level undeniably propel drastic changes in the built environment.
As the victims of countless renovictions (in a cycle of gentrification which they, in turn, contribute to), what impact do artists have on North End property values? Are they only scuffing floors, clogging sinks, and causing buildings to deteriorate? Or are they also monitoring spaces that don't otherwise have a security presence, creating inventive solutions to poor infrastructure, and financing the business downstairs? In my conversation with Eryn Foster, the creator of Go North!, she said, "I just think it would do so much to really acknowledge the importance of artists and the place that they occupy in our city." As long as the points on the map continue to shift, precarity will inevitably continue to be a part of artistic practice in the North End.
Jiajing Chen, "Streetscape Analysis of Halifax North End," North End Business Association.
Jon Tupper, "Invisible Spaces," Decentre: Concerning Artist-Run Culture = Decentre: À Propos de Centres d'artistes (Toronto: YYZBOOKS, 2008), 246.
Zane Woodford, "Halifax passes first half of Centre Plan despite developers' concerns with affordable housing 'tax,'" The Star, September 18, 2019.
See the interactive map on www.centreplan.ca. See also the North End Business Association's Development Map which tracks all new construction, and active applications for zoning variance in the North End, viewable at www.gonorthhalifax.ca/development-map.
Jillian Billard, "Art & Gentrification: What is 'Artwashing' and What Are Galleries Doing to Resist It?" Artspace, November 30, 2017.