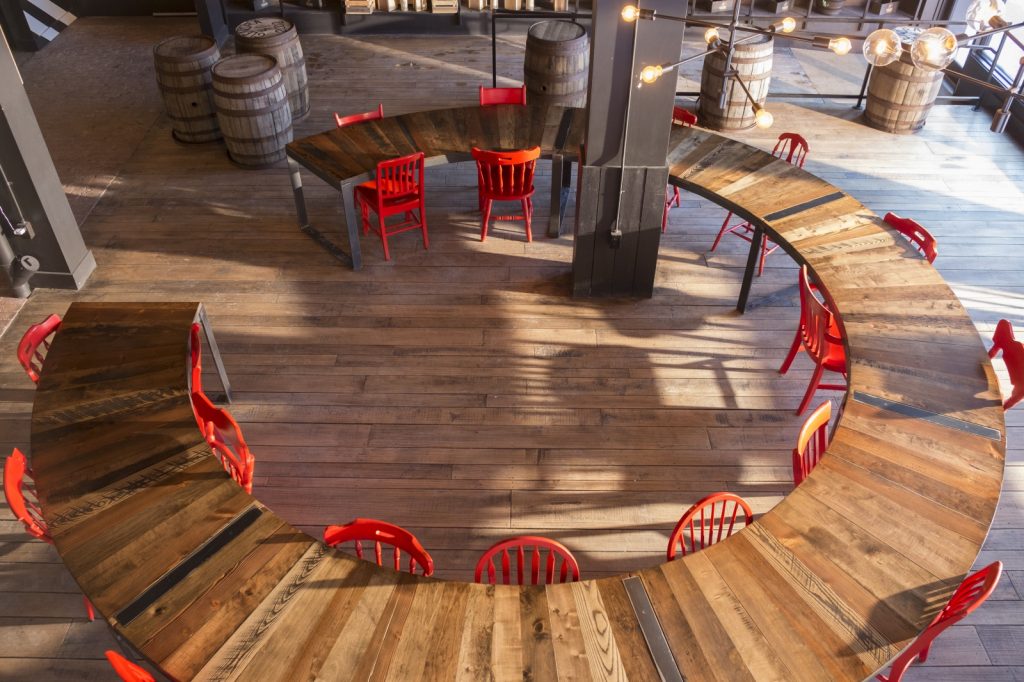 Ten years ago, Atlantic Canada looked a lot different than it does today. Not the nature, which has remained relatively consistent, but the typical cityscape.
In Halifax, for example, heritage mainstays like the City Hall building (opened in 1830) and the Old Town Clock (opened in 1803) now coexist with modern buildings like the Halifax Central Library, which was designed by local firm Fowler Bauld & Mitchell and introduced bold lines and sleek glass walls into the city's skyline when it opened in 2014.
Also, St. John's, Newfoundland is well known for being a city with a long past (after all, they have close to 30 federally designated historic sites), but even they have been looking toward the future with the construction of The Rooms in 2005. The modern building was built on a historic site, but with plenty of consultation from historians and archaeologists to quell fears of lost heritage.
These places, and other cities across the Atlantic provinces, are evidence that residents have started to let go of long-held ideas that old is always better. This has resulted in new skylines that mix traditional heritage architecture with modern, innovative buildings.
This shift has been largely driven by young, creative architects who see their practice as a form of art, rather than something strictly technical and functional. They work at small firms where they have creative autonomy, bringing in inspiration from art movements, the feelings of certain places, and the stories that can be told about their work
Narrative Architecture
One of the biggest new trends in Atlantic Canada is narrative architecture, or architecture that's developed around a story. The emphasis is placed on the meaning of the building rather than just the design.
For Monica Adair, founder and partner at Acre Architects in Saint John, New Brunswick, the narrative behind the pieces is one of the most important elements. In fact, the firm's tagline is "storied architecture."
"I think this idea of inspiring people to live great stories was really about going beyond the bricks and mortar," Adair said. "It was about how we see the world, how we see ourselves in the world, and how can we transform that?"
Adair is originally from Saint John but spent a lot of her time in New York before returning home to set up her practice with Stephen Kopp, her husband and business partner.

While in New York, they set up the precursor to Acre Architects – the Acre Collective, comprised of artists, writers, landscape architects, and other people that inspired the two. There wasn't much strictness to it – it was more about working on exciting projects with people who inspired them.
One of their first "stories," as they call their architectural projects, was a public art piece titled "In Transit." Situated just in front of the new Saint John Transit headquarters, the project is both a public art piece and a bus stop.
"That project for us showed that architecture could cross both realms of art and architecture, and it actually crossed the idea of functional space," Adair said. "So, that was a really good project for us to keep our practice open and for us to work with ideas and to change the public realm."
Another firm that's using narrative to guide their design process is Fathom Studio in Dartmouth, Nova Scotia. Chris Crawford, director of architecture and vice president, says that "it's all about storytelling."
"I think that plays a major role in our design, and I think every project has a story, and having a team that regularly uses that as a medium, it really helps inform that greater design process."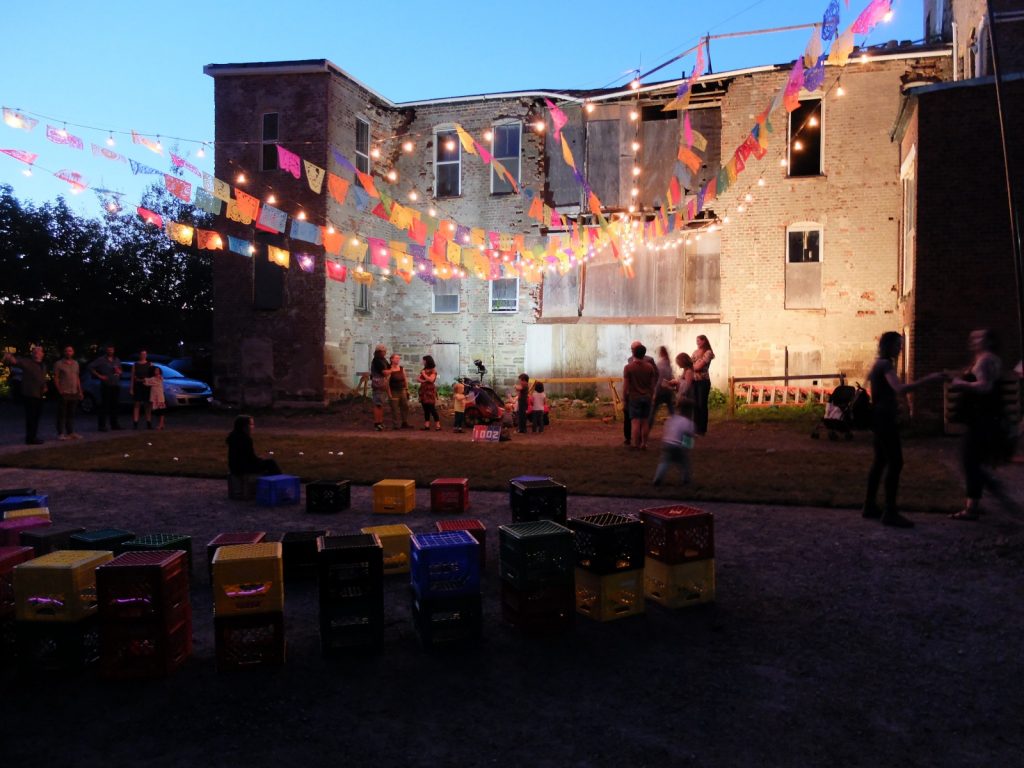 Fathom Studio has done a lot of work for Parks Canada, and where it would be easy to stick up a sign without any context, they focus heavily on the history of the space, telling stories that are instrumental to understanding the area and its people. There's a reason that an area is designated a national park, and it's not just the beauty.
For example, in Fathom's work at Prince Edward Island National Park, they used the stories of Indigenous heritage—as well as French, Acadian and British colonization—to inform the design of their work at Robinsons Island.
The island, which is actually more of a peninsula, was most recently used for camping, but has been used by the Mi'kmaq people to harvest shellfish and by the English and Acadian settlers to forage cranberries. When Parks Canada got in touch about creating signage for their new trail system, Fathom did some research to uncover those stories and then let those stories inform their design.
The site has signs that expand and retract, minimizing the impact on the natural landscape, and transparent signs that overlay the vista with illustrations of former activities that took place on the site. At one stop, they've demonstrated the size of the annual cranberry harvest through a red metal frame.
"It's just illustrating the importance of the other layers that are other times ignored in the history of what has happened on the site or the current culture and society.
Heritage reimagined

Architecture is vast and explores many complex ideas, but individual architects vary widely in their approach. The people I spoke to approach projects very differently, but one thing that they can all agree on is that there has been a major shift concerning heritage buildings, or the idea that old is good and new is bad.
"I've been working for 13 to 14 years now, and in that time, I've seen a massive shift," said Crawford. "From being a young graduate and not having much optimism that our province or our culture would be open to new ideas to seeing a real design culture emerge."
Crawford says that in Halifax specifically there was a perception that architectural innovation meant a throwing away of history in favour of something cold and heartless. That's no longer the case.
Rayleen Hill, the principal architect and founder of RHAD Architects, is also based in Halifax. She's noticed the same kind of pattern over the years and thinks the shift in perception might have been the construction of the new Halifax Central Library, a large modern glass building with a second story that juts out over the rest of the building, all bold lines and sharp edges.
"I think it was the first time that everybody got to see modern architecture in a great new light, and all that it can provide," she said, "and I think it might have changed a lot of minds. It's been a very important building for the city."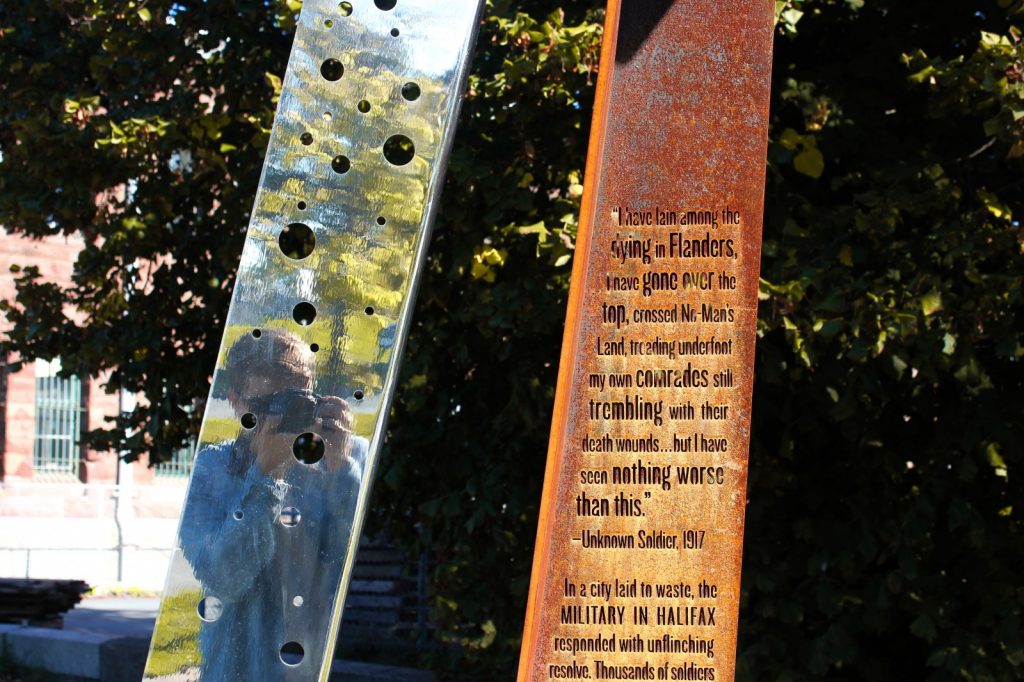 Hill has worked on a number of projects that bring modern twists to heritage buildings. For example, one residential project in 2014 added a garage and new siding to an existing Halifax home, turning it from a regular old house into something modern and energy efficient that still paid tribute to the original structure.
The same goes for Adair. One of Acre's first projects in Saint John was the creation of a tiny patio for a wine bar housed in a heritage building. The project was relatively simple, but Adair says that, as the first contemporary intervention on a historic structure in the city, the meaning was much deeper than you'd think.
It showed many St. John residents that you could make a modern change to a historical building in a city that prides itself on heritage without compromising the past.
"That's something not to take for granted for us," she said. "These moves, even small, kind of start to set the stage. So, I think that was a great opportunity for us to start our dialogue for mutual accommodation between old and new."
Acre has since worked on many of the commercial buildings in the historical core of the city, bringing their signature look to much of Canterbury Street and Grannan Lane. Here, the cobblestone streets and brick buildings mix with modern industrial touches and old rustic lighting to evoke an image that's hip and modern, not unlike what you'd see in the cooler areas of Brooklyn.
Architecture is Art
Another common thread linking this new wave of Atlantic architects is how they view their field. Whereas in big architectural firms the focus is on technique and functionality, everybody I spoke to believes that the most important element of architecture is the design, and how it makes people feel.
"I think outright that architecture is art," said Hill, when I posed this question to her. "It doesn't have a relationship with art, it just is art."
Of course, she adds, this depends on the specific architect and how they approach a project. For Hill, whose background is firmly rooted in design, any architectural piece that her firm works on takes into consideration the same things that an artist would: colour, form, emotion.
That's why it's so rewarding for her to work on things like the Halifax Explosion Commemorative Markers. With that project, she was focused on how people would react to the space, what they would see, and how they would feel. As a result, what could have been just a signpost is a piece of public art with a message.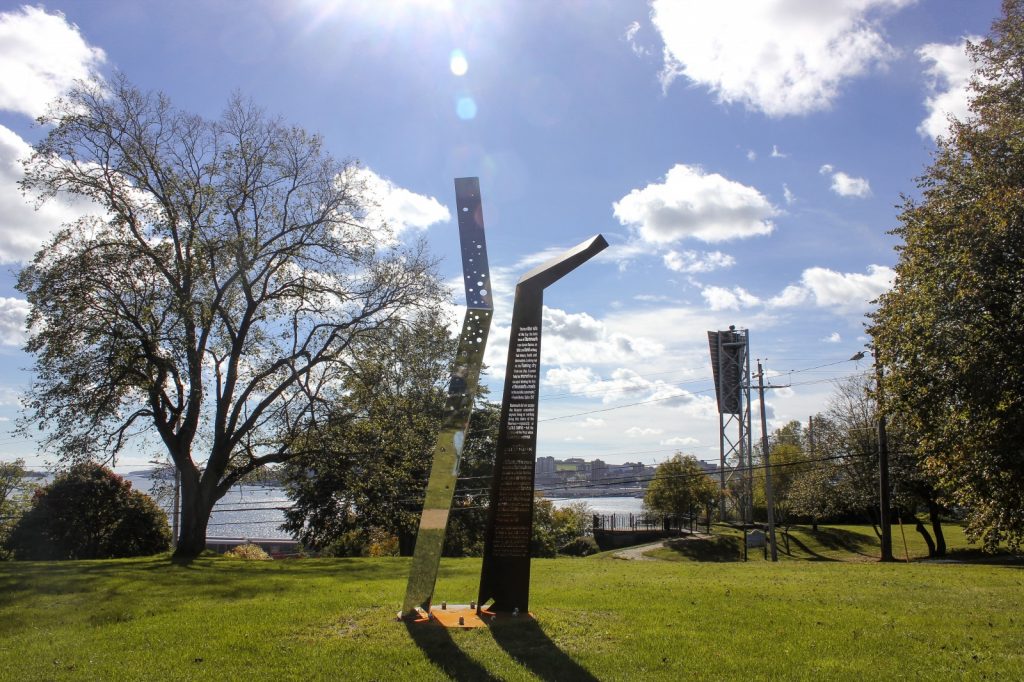 "What we were really trying to do was to develop a sense of scale, and really to have this moment where people could walk up to the markers and read them, and while they're reading them, also be able to see their own reflection in the markers."
For Crawford, the relationship between art and architecture is a little less obvious, but he heavily emphasizes the importance of place-making, something that requires the ideas of art and architecture as well as those of urban planning and community feedback.
One of Fathom Studio's projects, a revitalization plan for the seaside community of Borden–Carleton on Prince Edward Island, is a perfect example of what they hope to achieve.
The plan looks at the fabrication yards right outside of the small town as an asset rather than a liability, envisioning a large park with boardwalks passing through marshes, markers explaining the location's history, and rotating artist studios built from the concrete pillars of the yard.
He uses the Highline in New York City as an example of the kind of project that he sees this becoming.
"Someone walks through and sees the old highline, this derelict raised subway line and you know, your initial thought is this is horrible, we need to get rid of it," he said, "and then you see what happens as a result of some community advocacy from that passionate community, and now every major city is trying to recreate it."
The Borden–Carleton project has not yet gone through development, but Crawford is hopeful that either someone will pick it up or a community-led initiative will give it the support it needs to go forward. If that happens, he sees it as a hub for PEI's artistic community.
For Adair, the relationship between art and architecture is more characterized as a way of thinking or a way of viewing the world. It has been heavily inspired by the artists she worked with in New York, including Lawrence Weiner, Walter De Maria, and James Turrell.
"I'm very interested in transformational projects, and things that change the way we think, the way we see the world," she said. "And so I think these land artists, or these Dia Foundation artists, are just part of these big thinkers, and I think they've always really inspired me."
When it comes to transformation, Acre is really pushing toward the future. By the year 2030, they hope to have completed 100 transformational projects—whether the scope be big or small—and they are well on their way to achieving that.
"We're not just going to sit there and go, 'okay, that's a great project and brings in money, and we're happy to just do it', [the point is] to really just spend some time thinking about how do we ambitiously try to go after making change."