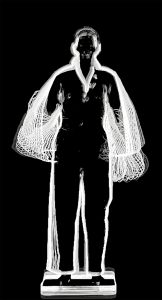 Claire Cunningham Tributary, 2019, image courtesy of the artist
Vernissage: September 13th at 7pm
Automatisme Ambulatoire, or ambulatory automatism, is an expression that conjures notions of the compulsive traveler, while simultaneously implying irresistible urges and movements such as grimaces, tics, and gestures that form relationships with corporeal pathologies. This term inspires the title and theme of the exhibition Automatisme Ambulatoire: Hysteria, Imitation, Performance, which includes six new works focused on performance, choreography and installation.
The six artists in this project have been invited to consider ideas of "automatisme ambulatoire," "hysteria" and "epilepsy" as a performance style, and to consider how these gestures can work to subvert, undo, transform and reimagine the body and language, both real and imagined. Through diverse and established choreographic practice, which always already embrace hybrid, performance-based gesture, these artists aim to question, challenge, and complicate the ethical and moral boundaries of "imitation," and how the so-called "pathologized" body might be considered under new social and cultural contemporary contexts. Through their work, they demonstrate and so chart an evolution of the moving corpus since modern times. It is especially through the performance and portrayal of queer, disabled, and gendered subjects that the ambulatory hysteric will and can be reclaimed, rethought, and revitalized within a social justice context.
This is one of the 200 exceptional projects funded through the Canada Council for the Arts' New Chapter program. With this $35M investment, the Council supports the creation and sharing of the arts in communities across Canada.
Learn more about the exhibition, symposium, artists and get detailed Venue Access and Interpretive Services information at automatismeambulatoire.ca.