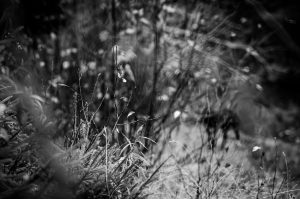 Janice Wright Cheney, Sighting the Lucivee: Welch, Pigment print on cotton rag, 2019, photo: Courtesy of the artist.
This group exhibition explores the wondrous in nature by reconsidering the role of animals in storytelling. These works present fantastical narratives in which animals preside over strange episodes: tales are rewritten or unwritten, travellers embark on uncertain journeys, danger lurks deep in the forest, a witch appears from nowhere, birds and beasts are spellbound, clothing is enchanted, and a shoe materializes, as if magically spun from gold. If animals are "good to think with," as anthropologist Claude Lévi-Strauss once famously remarked, then folk and fairy tales have a long history of speaking through beasts, whose otherworldly transformations can express our innate or unconscious longings and desires.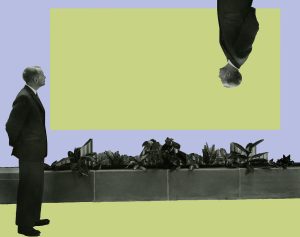 Didier Morelli, 1.52 x 2.42 meters, digital intervention into a photograph of Alex Colville and his mural Athletes (1961), 2019, photo: Courtesy of the artist.
Art and sports are often considered so separate as to be almost opposed. In fact, they may easily complement each other in the creation of shared communities and spaces. In Opening Exercises, artist Didier Morelli sets out to explore this very connection. Using Alex Colville's mural Athletes (1961) as a point of departure, the artist mines material from the Mount Allison University Archives, combining it with his own work and written contributions from curators Eunice Bélidor and Camille Georgeson-Usher, both of whom have relationships to distance running. The resultant installation proposes "a series of starting points moving out in various other directions," and thus emphasizes unexpected connections and moments of collaboration as well as divergence.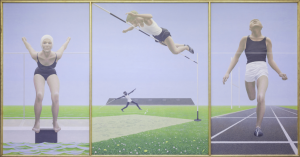 A permanent exhibition space devoted to the work of Alex Colville (1920-2013), one of Canada's most celebrated artists and one of Mount Allison University's best known graduates. The Gallery features the installation of the mural Athletes, commissioned by Mount Allison for its new Athletic Centre in 1961. Designed around the theme of the student athlete, the mural was the focal point of the new building; it remained there for over 50 years, until its present installation in the stable and secure environment of Owens Art Gallery. Other artworks by Colville are also on view, including many of the preparatory drawings for Athletes and examples of the artist's serigraphs.
Alex Colville, Athletes, oil and synthetic resin on board, 1961.