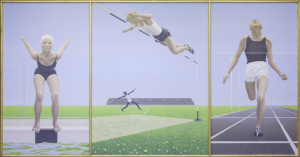 The Colville Gallery
A permanent exhibition space devoted to the work of Alex Colville (1920-2013), one of Canada's most celebrated artists and one of Mount Allison University's best known graduates. The Gallery features the installation of the mural Athletes, commissioned by Mount Allison for its new Athletic Centre in 1961. Designed around the theme of the student athlete, the mural was the focal point of the new building; it remained there for over 50 years, until its present installation in the stable and secure environment of Owens Art Gallery. Other artworks by Colville are also on view, including many of the preparatory drawings for Athletes and examples of the artist's serigraphs.
Alex Colville, Athletes, oil and synthetic resin on board, 1961.