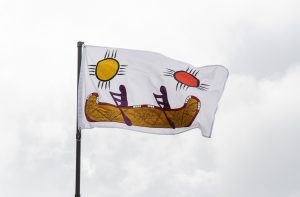 Pauline Young: Wabanaki/People of the Dawn
Wabanaki/People of the Dawn is the first in a new series of commissioned flags created for the Owens Art Gallery's exterior flagpole. Designed by artist Pauline Young, the flag features two figures in a birchbark canoe paddling from sunrise to sunset and represents the territory of Mi'kma'ki as a living relationship between land and sea. In the artist's words, "Land and sea, from sunrise to sunset, it is all Mi'kma'ki." Pauline Young is a respected Mi'kmaq visual artist from Metepenagiag First Nation. In her work, she draws inspiration from the natural environment and the legacy of her father, Philip Young, a renowned artist who exposed her to art at a very young age. Employing a variety of media, including painting, drawing, and stained-glass, her artistic practice carries forward both family and cultural traditions of storytelling and image-making.
Installed on the roof of the Owens Art Gallery, which is located in a nineteenth-century, beaux-arts building, Wabanaki/People of the Dawn is an important assertion of Mi'kmaq sovereignty. Every year, the Owens will commission a Mi'kmaq artist to design a new flag for both the flagpole and its permanent collection.