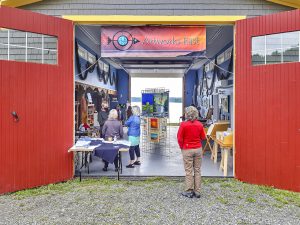 ArtWorks East Gallery entrance; photo by Kas Stone
For the second year, the members of ArtWorks East will share their work at the popular Guysborough waterfront gallery. Visitors will find paintings (oil, acrylic, and water-colour), photographs, monoprints, drawings, wood carvings, jewelry, greeting cards, and other fine art and crafts.
For examples of their work, visit https://www.artworkseast.ca/
On weekends, visitors can also visit the nearby community market, eat at the Spud Wagon, and may even enjoy some waterfront music.
The gallery is open Wednesday – Friday, 10 a.m. to 4 p.m. each day.
80 Main Street, Guysborough NS