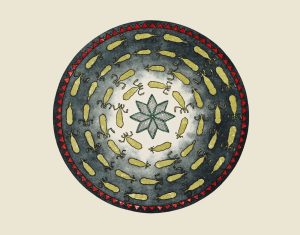 Jerry Evans: Weljesi
Weljesi marks the first major survey of Jerry Evans' iconic prints, paintings, projections and video portraiture. One of Newfoundland and Labrador's most significant and beloved visual artists, Evans has been dedicated to the preservation, reclamation and continued growth of Indigenous communities across this province for more than 30 years. His generosity of knowledge, deep respect for his heritage and community, and his constantly evolving, engaging contemporary practice are fundamental to the art history of this province and the rest of Canada.
Questioning the very format of the traditional retrospective, this exhibition is rooted in Indigenous concepts of cyclical time, storytelling and beauty. It reveals how Evans' works are in constant movement, as they align with his expanding Indigenous worldviews and act as a focal point for life and community.
This exhibition is accompanied by a full-colour catalogue with essays by Jordan Bennett, Jenelle Duval and Dr. Pam Hall.