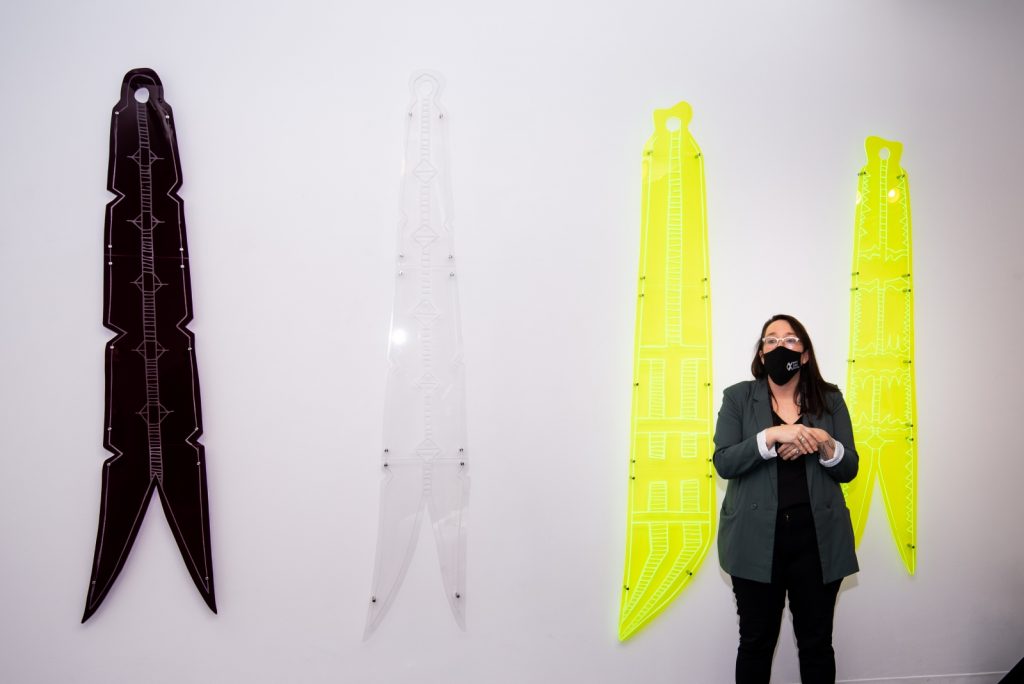 Reflections of neon Beothuk pendants, electric colours, and textures coalesce into the dark, marbled concrete floor of Eastern Edge Gallery. The energy of the artwork in My Cousin's Cousin cannot be contained to just the walls of the gallery—it activates all surfaces. This exhibition highlighting the interrelatedness between all beings was created as part of the programming for Spirit Song Festival, a celebration of Indigenous Arts and Culture held annually in St. John's, Ktaqmkuk. Through the transmission of intergenerational knowledge and reciprocity in their kinship systems, Amy Malbeuf, Jerry Evans, Jordan Bennett, and Meagan Musseau call attention to the importance of nourishing our relationships with the land, water, and animal relatives that sustain us.
The radiating sculptures of Beothuk pendants, collectively named Re/awakening by L'nu artist Meagan Musseau, are part of her latest solo exhibition, pi'tawkewaq | our people up river. Each of these pendants is created from laser cut plexiglass, which is the same material used to encase dispossessed cultural belongings within museums and archives. The engraved designs reference drawings made by Musseau from her visits with the Beothuk belongings and caribou bone pendants held in the vault at The Rooms. In replicating and enlarging the markings by ancestor artists, Musseau transmits the intimate experiences of visiting these belongings and their embedded histories of these lands and waters, while refuting colonial narratives of erasure.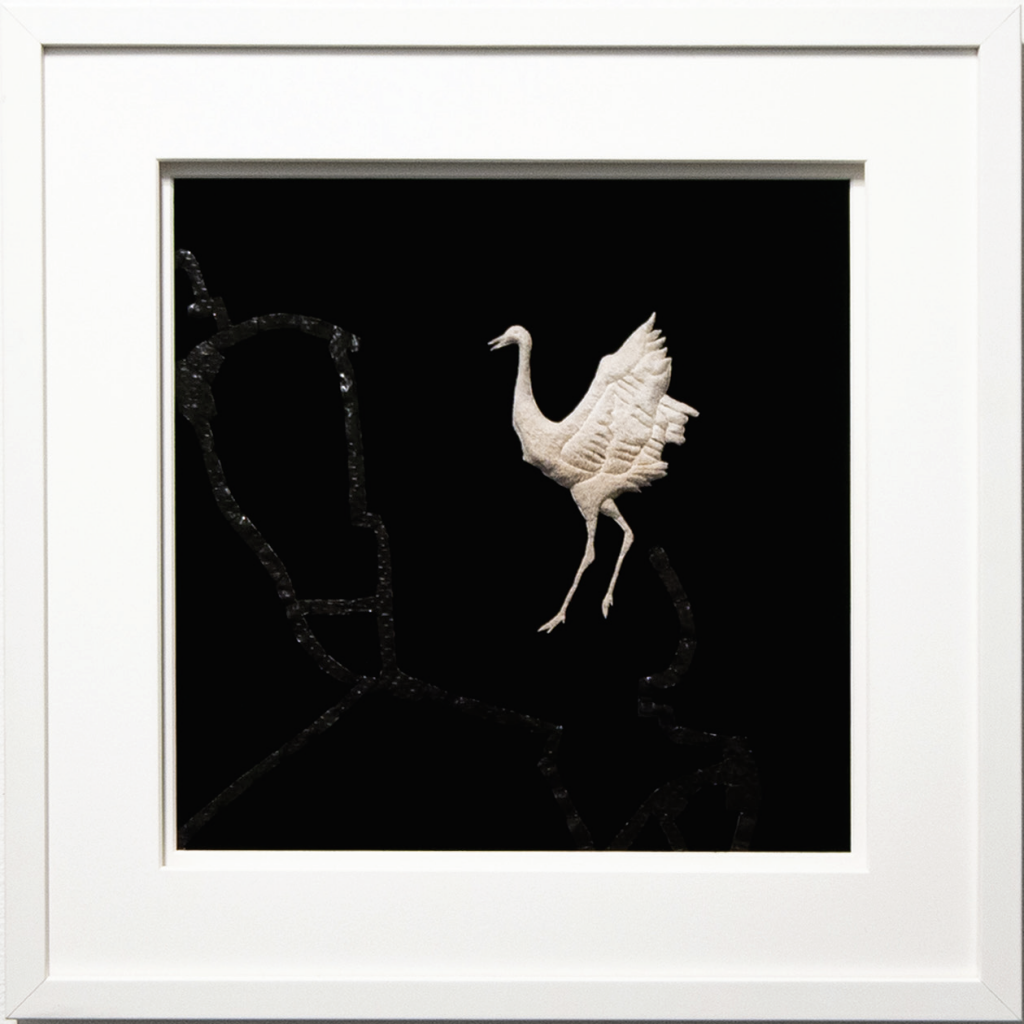 On the opposite side of the gallery is Métis artist Amy Malbeuf's triptych of animal kin, Woodland Caribou, Whooping Crane, and Arctic Grayling. Each image is a constellation of caribou hair tufts exploding like fireworks across the black velvet prairies. Specifically, the appliquéd strips of tarp stitched beneath each animal represent aerial views of pipelines in Northern Alberta that threaten their habitats and lifeways. By using caribou hair as a material, she honours that relationship to create the portrait. In these works, Malbeuf calls attention to the extractive and colonial environmental practices that harm her homelands, and the effects they have on these animal relatives who sustain her community, and who are integral beings of Métis kinship structures.
Jordan Bennett, Malbeuf's partner in life and art, was the Visual Artist-in-Residence for the duration of Spirit Song Festival. In this residency, in the days leading up to the exhibition opening, Bennett created three paintings that would become part of My Cousin's Cousin, each one intentionally responding to lithographs made by Jerry Evans. For instance, Evan's lithograph Mimajuaqne'kati – Place of Life depicts swirling migrations of caribou, salmon, and seal; each of these beings are sustenance and animal kin from Ktaqmkuk. Bennett drew inspiration from these cyclical movements in the creation of the painting Mechanical Medicine Wheel.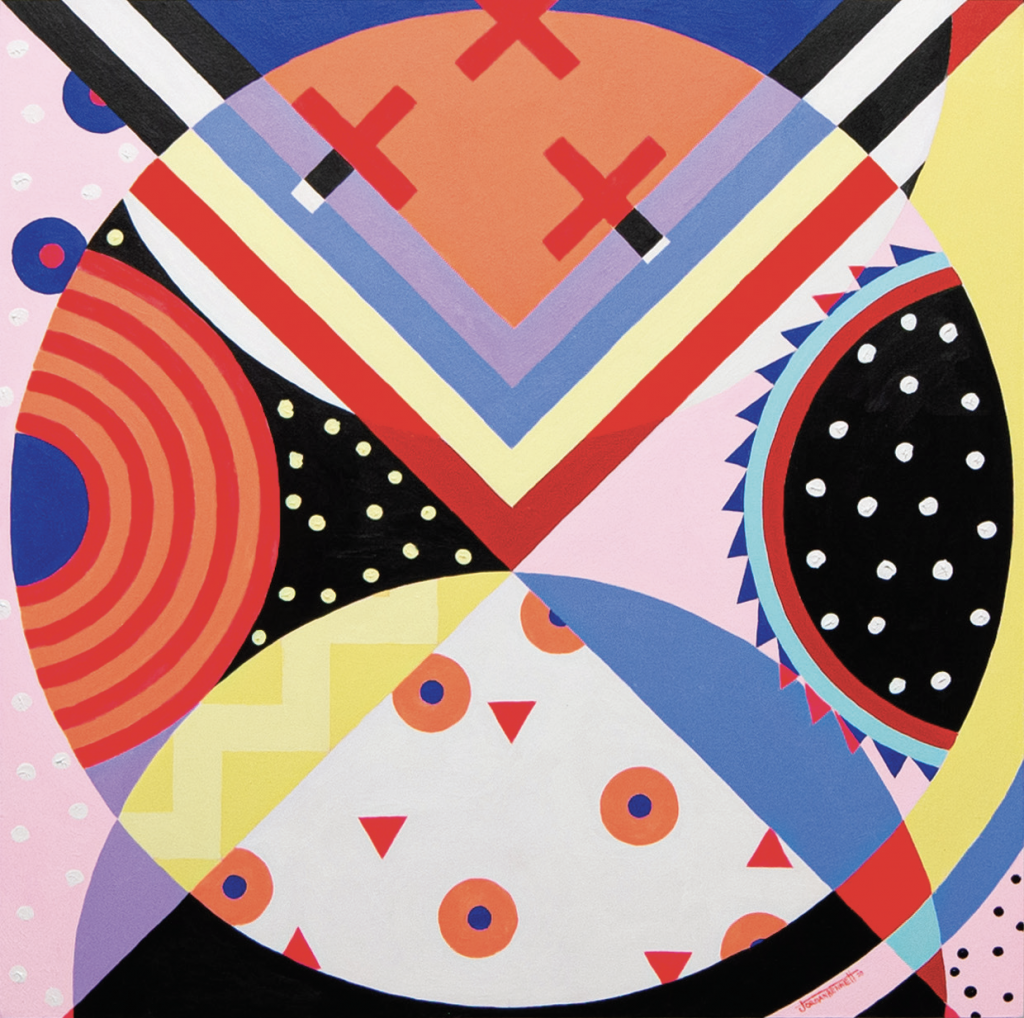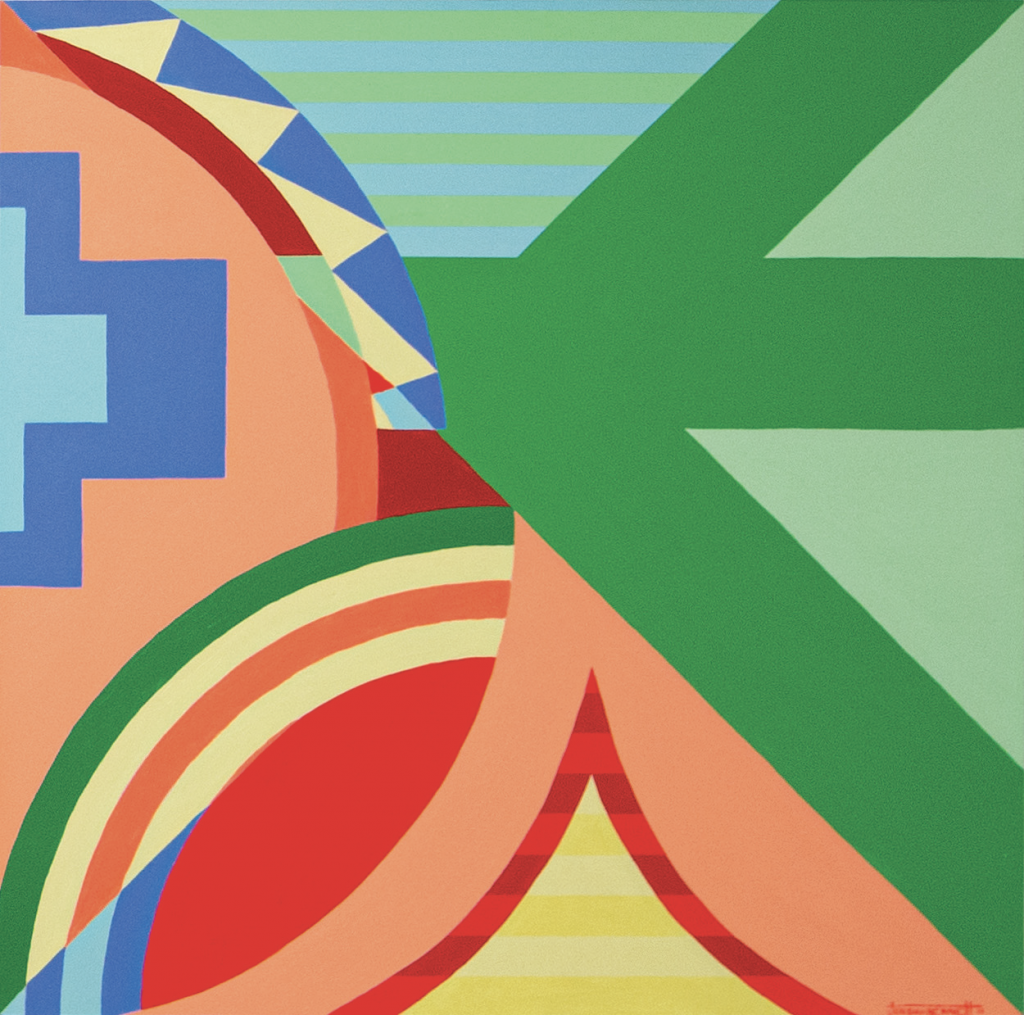 Two days before the opening, Bennett gave an artist talk to speak about his residency, and where the influences in his art practice come from. He spoke of how he was always inspired by the land and waters of Ktaqmkuk, our visual culture, and ancient histories as Mi'kmaq. Most affectingly, he also expressed the significance of Evans' encouragement and support when he was starting as a young artist, and their reciprocal relationship in sharing their practices with each other.
It would be impossible to write about this exhibition without acknowledging how deeply important Jerry Evans is as a cultural innovator, storyteller, and community member in Ktaqmkuk and beyond. Last year, Evans was the recipient of the 2019 VANL-CARFAC Endurance Award, an accolade given to an artist in honour of their sustained and consistent dedication to their professional practice. Over decades of commitment to honouring his Mi'kmaq ancestry as a Master Printmaker, painter, filmmaker, and tattoo practitioner, Evans has also prioritized knowledge-sharing and supporting future generations of L'nu artists. Bennett described the work of Evans as "living and breathing…reaching backwards and projecting us forward."
This gathering of works makes me think about how there is a continuum of transmitted intergenerational knowledge inherent in these artistic and cultural practices. With love, kinship, and reciprocity in the relationships between family members, My Cousin's Cousin emphasizes our responsibilities towards each other and our territories that hold us close.