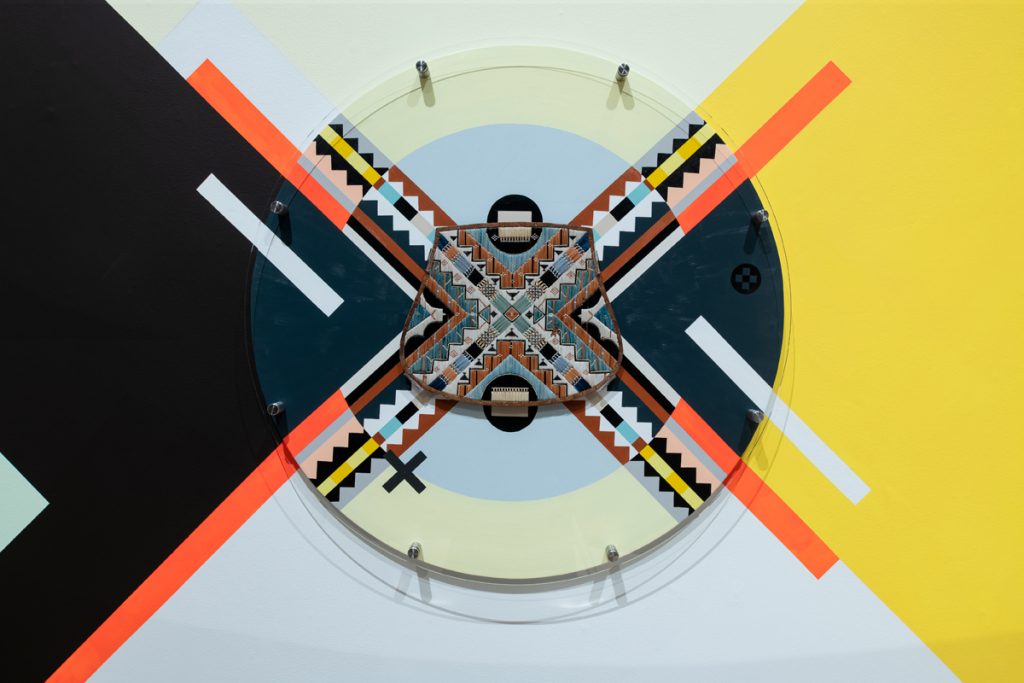 When you first walk into the Art Gallery of Nova Scotia's exhibition space holding Ketu'elmita'jik, created by Ktaqmkuk (Newfoundland) artist Jordan Bennett, the colours and designs flood your senses. They enter you like some otherworldly creation that has seeped into your brain and started playing music you can't quite hear.

This site-specific work fills the entire gallery. On one wall the painting extends past the usual ten-foot tall barriers and into the space of the gallery above. Ketu'elmita'jik, a Mi'kmaq word meaning they want to go home, incorporates 18th, 19th, and 20th century Mi'kmaq quillwork borrowed from museums across this land that is commonly called Canada. The intricate brightly coloured quillwork is carefully displayed on the wall in custom Plexiglas frames and cases created specifically for their current inhabitants. The designs and motifs painted directly on the walls echo those of the quillwork.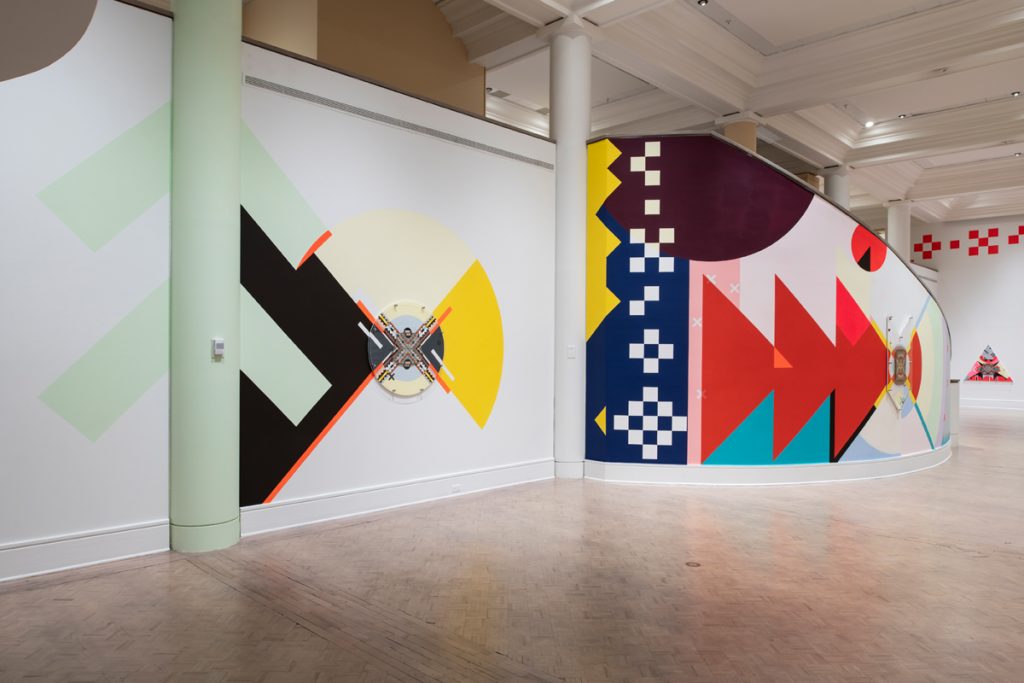 In the gallery space there are no labels, dates, material lists, or institutional ownership affiliation displayed on the wall— this space functions as one cohesive piece. The exhibition holds a cyclical sense of space and time, one that reflects Indigenous worldviews. By continuing the designs of these quillwork pieces Bennett is adding and continuing the knowledge these designs hold, encouraging the next generation to see them, to hear them, to feel their ancestors.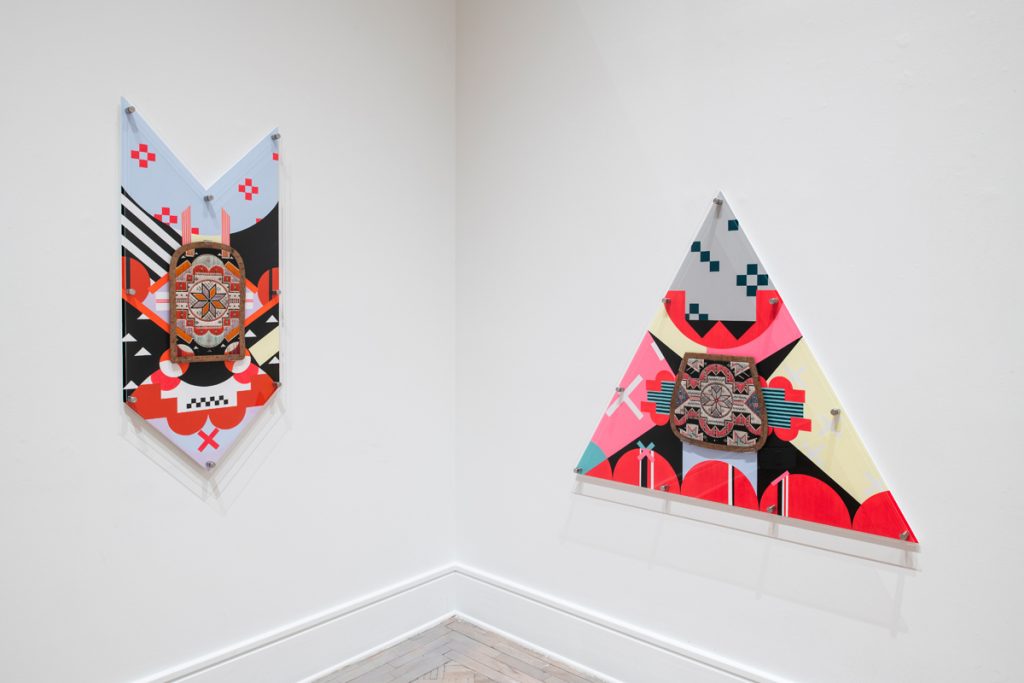 These works were made in community by many women's hands[1], they are a collective collaborative piece, and made with the specific intention of trading. These are artworks; they are not utilitarian objects, they were traded to sustain the community's livelihood. They were made in surroundings of laughter, story, food, sharing, language, and love.
It is worth pointing out that Indigenous products—trade items, handmade goods, and art works—are made to sustain, celebrate, continue, and pass on our way of life, our culture, our community livelihood. Hunting, gathering, storytelling, and making are all interconnected—they also allow us to practice our ways of life as well as participate in local and
global economies.
Bennett's continuation of the quillwork in paint depicts his ability to listen and draw from his ancestors and the makers of these art forms; making becomes a prayerful act, one of honour, listening, and continuing. An act to reconnect and heal from colonial trauma. Not simply by displaying the work, but by adding to it, by continuing the conversation past the barriers of the piece he is honouring his ancestors. This action illustrates the breath of life in the quillwork that still exists, which requires its' ancestors in the present to interact with it; much like Coast Salish masks they need human contact. It is so important for us, as Indigenous peoples, to see and interact with the work of our ancestors because it is in our blood memory, and our ability to read the designs and speak the visual language, even if we have not found our oral one yet.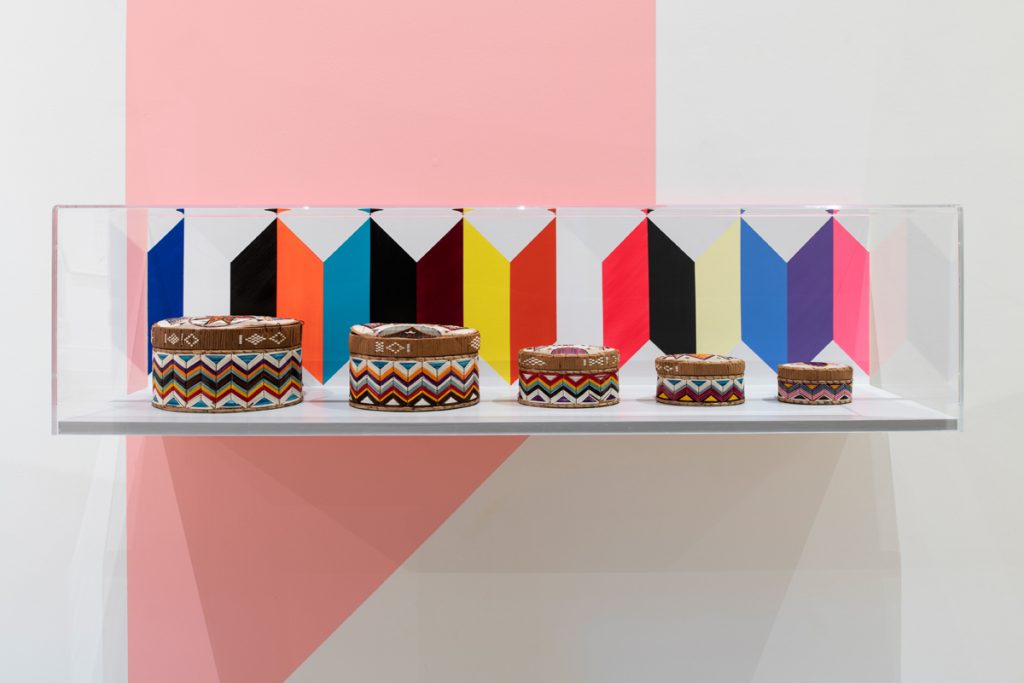 The quill pieces hold Bennett's ancestors—they directly draw a line from them to him and future generations. He understands the continual thread that is being pulled through time. We recognize that when we use these designs they are not ours, they are our communities' and we are adding to the existing narratives.
A good friend said to me once, "as an artist, especially as an Indigenous artist, you have to understand that whatever you make now, you are adding to a history, you are continuing a story, and however you tell it, that version will always exist, thus influencing future generations". The weight of this statement is heavy, but it should be. Indigenous artists are not just creating: we are continuing, we are surviving, and we are reconnecting. Bennett's understanding of that weight is evident in his growing body of work.
Most recently, I saw Bennett at the unveiling of Pjila'si at Zatzman Sportsplex, another site-specific installation using Mi'kmaq and Beothuk designs. This permanent installation celebrates Indigenous contributions to sports and recreation in Mi'kma'ki. The piece utilizes various materials: aluminum, oak, walnut, ash and maple wood, 3M road sign sheeting and locally sourced labradorite. The 3M road sign sheeting almost shouts at the viewer, "Look over here!". While the local materials such as the wood and stone softly suggests: "We have always been here." At the opening, Stoney Bear Singers began with a powerful drumming performance and finished with the honour song.
"It was important for it (the honour song) to be sung in the space so the ancestors feel welcome," says Bennett.
Indigenous art is not just art, it is our being and ancestors pushing through our bodies, through our fingertips, it is blood memory in physical form. Many Indigenous languages don't even have a word for art, as it is embedded in our way of life.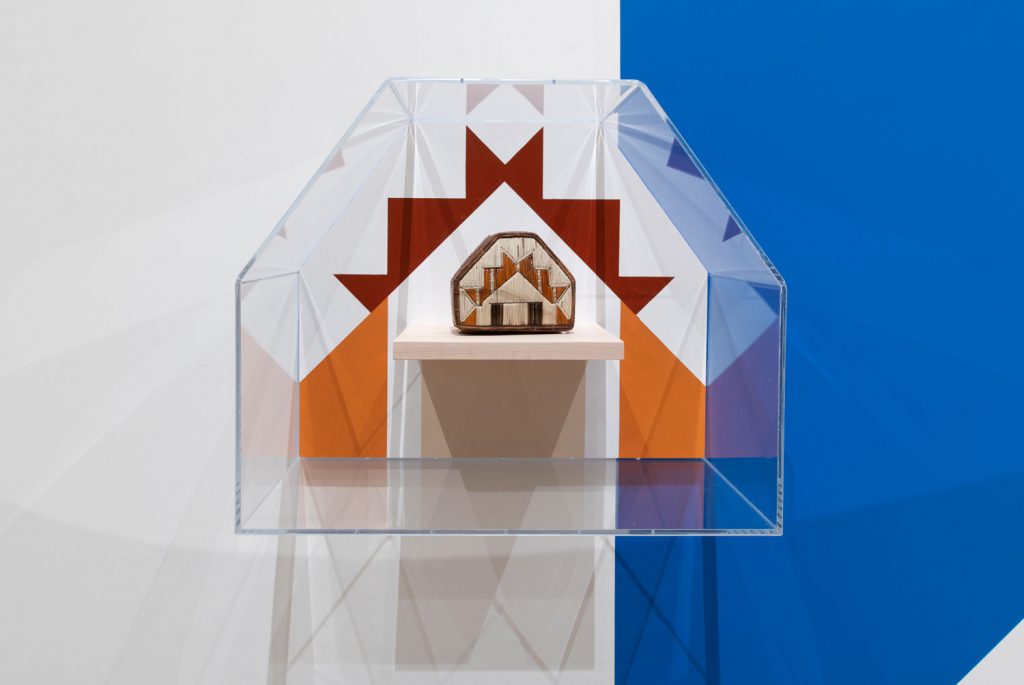 Bennett has created a space that celebrates Indigenous ways of being and knowing within the walls of an institution that was not made for us. His ability to include and continue his ancestors designs is inspiring and will continue to inspire future generations.
[1] Handwork such as quillwork is typically done by women but if a person who identifies as a man or non-binary showed interest the community would make space for that person.