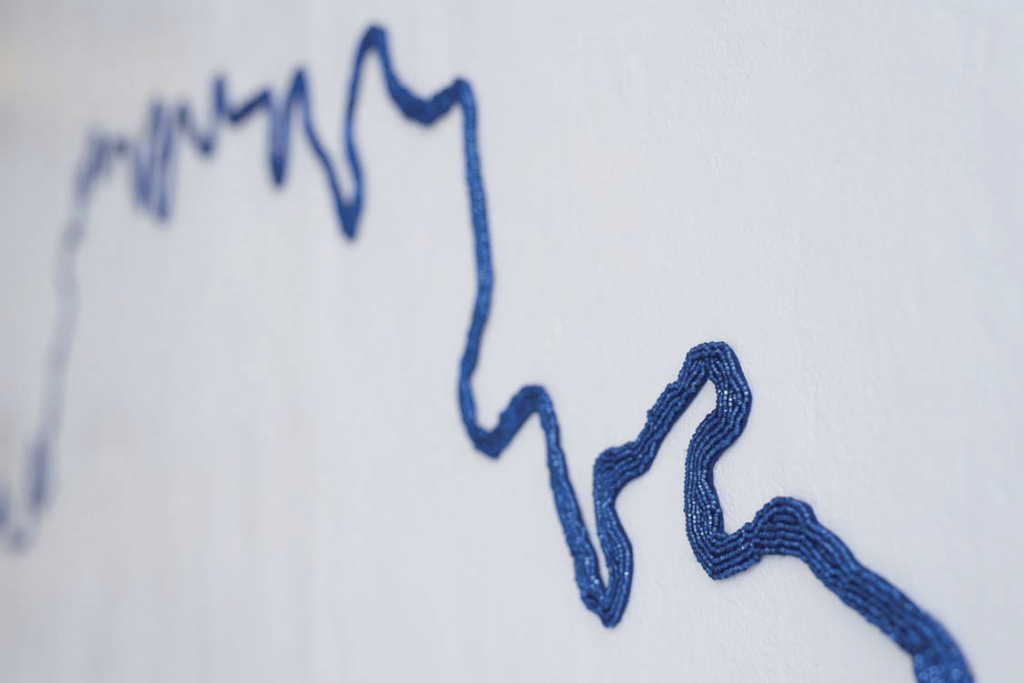 Carrie Allison's work deals with identity, as well as ideas of allyship, kinship, and hosting. An artist of Cree, Metis, and European descent who embraced her Indigeneity at a later age, her approach to materials is empathetic and thoughtful, working in large and often collaborative beading projects. Her work traces lines—fingers over pages, veins across skin, rivers across landscapes, while looking to the future of cultural institutions and the laws that govern them.
As part of her MFA thesis work, Allison considered waterways that were important to her maternal lineage, and beaded the Heart and Fraser Rivers (in Alberta and B.C., respectively). Wanting to make a similar gesture to the place she has called home for the past seven years, Allison turned her attention to the Shubenacadie River. She invited collaborators of all skill levels to bead a portion of the River in an attempt to build community and draw attention to the work of Indigenous water protectors who are on the front lines fighting the Alton Gas development—underground gas storage units that Indigenous and non-Indigenous allies are opposing, due to the development's plan to dump salt brine into the Shubenacadie River.
MOLLIE CRONIN interviews CARRIE ALLISON in anticipation of her latest body of research and work with Eyelevel Gallery the Nova Scotia Museum of Natural History in Halifax, NS.
MOLLIE: I remember talking with Eyelevel director Julia McMillan back in the spring and when she told me about your work, she kept using the word "transplant," relating to how you were thinking about plants (invasive species in particular) and sort of seeing yourself reflected in that idea.
CARRIE: I love plants, I think they're amazing … Identity has always been in my practice, but it's always been a hard thing for me to understand. When you're trying to reclaim a connection to Indigeneity … it was hard for me to do, I didn't grow up in an Indigenous community—my grandmother wouldn't acknowledge that she was Indigenous and that was mostly because of residential school guilt, so I feel like that was passed down to me. It took me a really long time to be okay with saying: "I'm an Indigenous person, as well as mixed-race" (which is something that I identify more with). Plants were the first way I understood that. It made more sense to think about colonialism though plants, how the landscape has been altered, and that moved [my work] to more political and social practice in general.
I looked at a lot of indigenous plants and invasive species, which I'm still very fascinated by because they're so pervasive. With projects like this I really just see myself as trying to navigate [these ideas] but also build connections, kin and work within this idea of allyship. I understand that I am a guest here, that I am being hosted by the Mi'kmaq people.
MOLLIE: I think there's a lot of material there, in terms of thinking about colonialism through plants: landscape, agriculture, even gardening and growing grass…
CARRIE: Grass is so crazy! It's like a sign of royalty—the fact that we still have it in our lives is very weird!
MOLLIE: Our "natural" spaces in Halifax are so Victorian still—from the park to the public gardens, it's very British.
CARRIE: Very British. You can't sit on the grass.
MOLLIE: I think that your work with museums right now is a similar sort of teasing out a very rigid way of moving through a space. Museums operate with these same restraints—very precious, very white glove, very don't sit on the grass.
CARRIE: Totally. A lot of Indigenous knowledge is based within the land, but colonial knowledge is based in these boxes. These "discoveries." Whereas a landscape can function as an archive in and of itself.
MOLLIE: A living archive.
CARRIE: Yeah, it's just a matter of knowing how to read it. [Archives and museums] are gatekeepers. I'm fascinated by them—museums and libraries—I've always loved searching for things. They can hold so much power. Libraries, archives, churches—they just hold everything there. And [these are the spaces] where we were "legitimized" as people: marriage, birth, etc. I always have a hard time navigating these two worlds. I grew up in a world of museums and libraries; everyone grows up in institutions in some way, these colonial parameters that you have to navigate as a citizen. Indigenous ways of being don't really function within those constraints. They're more fluid—a more fluid way of being.