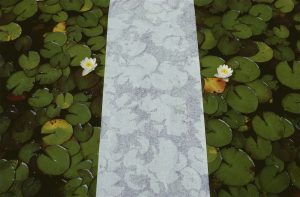 This nationally-touring retrospective exhibition presents the work of prominent Newfoundland-based environmental artist and poet Marlene Creates, offering viewers a comprehensive and immersive experience of nearly four decades of her unique activities. Internationally-known for her work in photography, mixed media assemblages, and (more recently) prizewinning videos and poetry, Creates's projects explore the complex and layered relationships between people and the natural world they inhabit.
Organized by the Beaverbrook Art Gallery in partnership with Dalhousie Art Gallery and with support of the Museums Assistance Program.
Cutline: Marlene Creates, Paper and Water Lilies, Newfoundland 1982, photo-landwork from the series Paper, Stones and Water, 1979–1985, azo dye (Cibachrome) colour photographic print. Collection of Dalhousie Art Gallery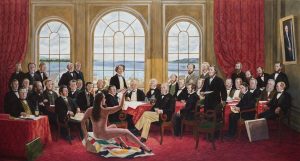 Kent Monkman's Shame and Prejudice: A Story of Resilience was created as a response to Canada 150 sesquicentennial celebrations. Monkman's gender bending, time travelling alter-ego, Miss Chief Eagle Testickle is the guide on a journey through Canada's history that starts in the present and takes us back to the years around Confederation. Miss Chief leads us through the harsh urban environment of Winnipeg's north end and contemporary life on the reserve, and all the way back to the extermination of the bison, addressing some of the darkest chapters of Canada's past and narrating a story of Canada through the lens of First Nations' resilience.
Produced by the Art Museum at the University of Toronto in partnership with the Confederation Centre Art Gallery and made possible in part by the Government of Canada.
LEAD SPONSOR: Donald R. Sobey Family Foundation.