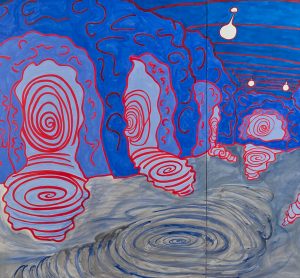 In 2012, overwhelmed by grief, Hamilton-based painter Sandra Meigs produced a series of four large-scale paintings that translated her emotional state following the death of her husband into an imagery of subterranean architecture. One of the inspirations for the work was her sister's basement in New Freedom, Pennsylvania. She found in the claustrophic, disused space, in the arrangements of half-forgotten things, a scene she linked to her emotional state and to the processes of stasis and change that preoccupied her. She described the experience:
"To get into the basement there's a small door and rickety stairs, the ceiling there is quite low, and incandescent lights hang down just by their wires, from the ceiling. I found the basement so beautiful, especially when it was lit that way…there's random stuff piled on other stuff, with narrow walkways through. It's kind of like being in a museum…[but deposited] through normal accumulation over 40 years."
The approximately 500 photographs Meigs took in New Freedom became source material for a series of modestly scaled paintings, The Basement Piles, and a catalyst for the more monumental The Basement Panoramas, which are each based on real basements whose locations are named in their titles.