Mount Saint Vincent University students, staff, faculty, alumnae and their families are invited to display their creative work in this annual extravaganza. Entries include visual art, music, performance, poetry, craft, literature, basketry and more!
Taskoch pipon kona kah nipa muskoseya, nepin pesim eti pimachihew aims to address and initiate a discussion on how Indigenous languages intertwine with Indigenous epistemologies and how the dormancy and extinction of Indigenous languages leads to a hindrance of culture and knowledge. Bringing together emerging and established Indigenous artists based in so-called Canada, the exhibition gives space back to those artists whose practices deal with Indigenous languages in each of their visibilities, vulnerabilities, and regional voices. Organized and circulated by TRUCK Contemporary Art, presented at MSVU Art Gallery in partnership with Eyelevel.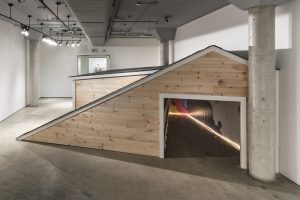 Heather Hart, Northern Oracle, Installation, 2017, photo: Heather Hart, Northern Oracle (2017)
Northern Oracle is an ambitious rooftop installation that emerges from the floor of the gallery, and is accompanied by a series of mixed media drawings. Hart considers Black histories, access to ownership, taking up physical space, and the significance of having a place to call home. Visitors may access both the rooftop and its floor level attic, while contemplating and enacting upon these vantage points. Northern Oracle provides a performative area: a locale for demonstration of power, influence, and for "shouting from the rooftop." The "Oracle" is the heart of the work and a shrine where visitors may leave offerings.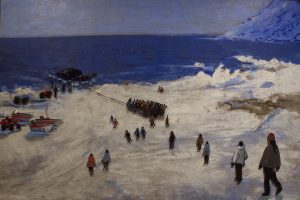 Megan Kyak-Monteith, Whale Hunt: I Think Everyone is Here, Video, 2019
Exhibitions in the Prospect series introduce artists in the early phase of their careers. Megan Kyak-Monteith is a recent graduate of NSCAD from Mittimatalik (Pond Inlet), NU who lives and works in Halifax. In her painting, Kyak-Monteith often combines images from her memory with stories shared with her by others. This new animation brings her painting to life, merging the labour of community endeavor (here, the whale hunt) with the work of turning still images into moving ones.