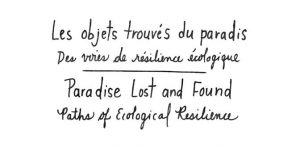 The exhibition Les objets trouvés du paradis | Paradise Lost and Found will be presented from June 23 to October 30, 2022, at the Galerie d'art Louise-et-Reuben-Cohen. Organized by Carolina Reis addressing areas of knowledge conveyed by nature, the exhibition brings together the work of Christi Belcourt, Denis Taman Bradette, Laura Demers, Mariana Lafrance, Kaylee Meyer, Sylvie Pilotte and Laura St. Pierre. The exhibition opening will be held on Thursday, June 23, at 5 PM, with some artists and the curator in attendance.
"Now that there is no place left on earth that is not contaminated by human activity, artists are revisiting the idea of paradise in their own way, and the term is taking on new meanings in our imagination." Declares the exhibition's curator, Carolina Reis. "Together, [the work of these seven artists] propose a diversity of dialogues with the environment and decentralized views of the place of human beings within the biosphere. […], these artists invite us to rethink the place of humans in their environment and to imagine different ways of reconstructing the paradises of the future with the remains of a fragmented nature."
 The exhibition will also be accompanied by a screening of films by Marjorie Beaucage, Katia Café-Fébrissy, and Thirza Cuthand, which will be held on September 29, at 8 PM, followed by a discussion. Other activities, such as a round-table discussion, online programming, and various creative workshops, will be shared throughout the course of the exhibition.
 The gallery hours are from 9 AM to 4 PM, Monday to Friday, and 1 to 4 PM, Saturday and Sunday. Admission is free.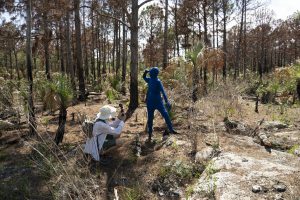 The Galerie d'art Louise-et-Reuben-Cohen presents Habitat, a new exhibition by artists Valerie LeBlanc and Daniel H. Dugas as part of the Festival International du cinema francophone en Acadie. The opening will be held on November 18, from 4 to 6 PM and there will be two presentations by the artists, at 4:30 and at 5:30 PM. (Please note that 40 people will be allowed inside the building at any given time).
Habitat is a trilogy of video, audio, and photo projects that have been produced in the context of artistic residencies in various nature reserves in South Florida. As introduced by the artists: "We explored each of these areas in turn with our cameras and audio recorders, often accompanying biologists and botanists in the performance of their duties. We tried to understand the reality of these places by remaining open to the spirits that inhabit them."
Curator Jonathan Lamy explains the artists' primary practice in this exhibition, videopoetry: "The artworks presented in Habitat are neither film nor cinema, but videopoetry. A hybrid practice, a genre which erases the boundary between video and poetry." The works in the exhibition thus manifest themselves in an association of images and texts that intermingle in the same space, and point to the place of human beings in nature.
Habitat will be presented from November 6 to December 20, 2020. Visiting hours are 1 – 4 PM, Tuesday to Sunday. Admission is free and all are welcome. The exhibition includes QR codes and visitors are encouraged to bring their smartphones as well as their ear buds to access the soundwalks. For those who don't have built-in QR code readers, third-party applications can be downloaded from Google Play or the Apple Store.