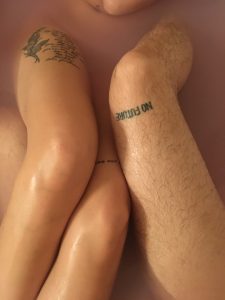 Adrien Crossman, untitled, photograph, 2020
Queer Bath Zine is a collaborative photography project that archives moments of queer and trans people bathing. Made up of images collected between 2020-2022, the project takes the form of a zine that explores how bathing, as a solitary or social activity can be a space that allows marginalized individuals to create their own environments of care and safety.
Launching at Eyelevel's Bookstore, 2482 Maynard Street on February 23rd @ 6:30PM with a talk by Adrien at 7PM, refreshments will be provided.
The Queer Bath Zine features contributions from:
Maddie Alexander, Vida Beyer, Dana Buzzee and Sam Wrigglesworth, Lucas Cabral, Chimera Collaboration (Vanessa Godden and Melissa Tran), Katie Clarke + T, Adrien Crossman + Katrina Sellinger, Dimitar Dangov, Marissa Diaz-Morris, Luke Maddaford, Francesca Ekwuyasi, Rowan En, AK Fischer, Angela Glanzmann, Rima Hanna, Zoe Hayes, Ashley Hemmings, Julian Kirchmann, Arjun Lal, Maddie Lycheck, Avery Morris, Laurence Philomène, Jocelyn Reynolds, Wren Tian, Thistle, Cameron Walker, Meichen Waxer, and Jessica Yee
Eyelevel is delighted to present Crafting from Memory, a workshop facilitated and designed by artists Camila Salcedo & denirée isabel. This workshop is kindly being hosted by Mary E. Black Gallery. Crafting from Memory will be a two-day workshop on July 23rd and 24th from 12-4pm, open to 10 participants from Eyelevel's community. This workshop is an extension of Lived in Room: Objects Frozen in Time at the Mary E Black Gallery, through which we will activate the gallery space and invite communities of immigrant and newcomer backgrounds to participate in one-on-one interviews in exchange for the creation of craft objects.
In an effort to extend an understanding of this artistic project beyond interview participants, the selected workshop registrants will be asked to reflect and share times in which they themselves have felt displaced. Using DIY craft methods of felting, paper maché or air-dry ceramics, they will be prompted to work on physical objects to represent their past experiences.
If you would like to register for this workshop, please fill out the google form, which can be found on Eyelevel's website, eyelevel.art or on the linktree on our instagram. Feel free to reach out to Eyelevel's Summer Programming Assistant, Robin, with any questions at summer.programs@eyelevel.art