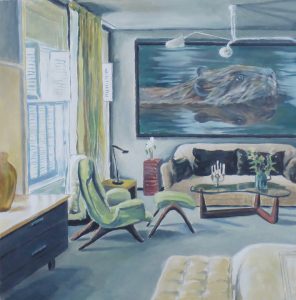 Never Before Seen Together
Marcel Kerkhoff's recent paintings place imagined paintings containing animals, animal characters, fairy-tale characters and pop culture icons in interior spaces. All the works in the exhibition are small – none larger than 12 x 14 inches. Marcel explains:
"There is something poetic, intimate and precious about small scale work with a particular level of handcrafted detail. It draws one in, seductively forcing engagement, causing the eye to focus yet meander. In a sense, these interiors are used to moderate and regulate a collection of thoughts reflecting the importance, significance and insignificance of things. Accepting that all of our belongings and ideas become a part of something else, in its isolation we are left with traces of life."
Marcel Kerkhoff was born in New York, raised in the Netherlands and India before immigrating to Canada. He completed a BFA from NSCAD University and an MFA from the University of Saskatchewan.