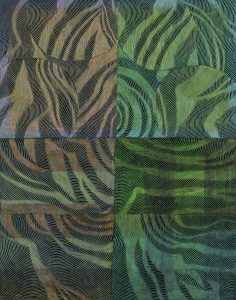 Hidden Fires / A Plague Upon This Howling
This exhibition features two artists, who work in comparable manners, with very different results.  Both Spielmann Rose and Perkins layer handmade and digital content. To some extent, the medium and technique become the subject. Both employ drawing, exploring line, colour and form.
Spielmann Rose mechanically incises lines into oil and oil pastel creating visual undulation. In his large pieces he photographed one such small painting, reproduced it in multiple digital prints and collaged them onto panels. Layers of oil stick and oil pastel were then worked on their surface.
Perkins exhibits small sketchbook paintings made using simple materials and influenced by contemporary conversation. His larger work layers and incorporates a found digital image to transform the original.