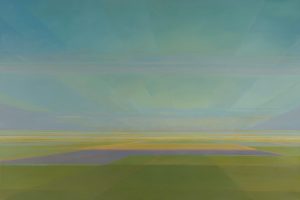 East of the Peaks
Studio 21 is pleased to exhibit Peter Di Gesu for his first solo exhibition at the Gallery.
Peter's landscapes are a balance of realism and abstraction. His primary concern is the relationship of form, colour, space, and light moving towards an elusive horizon line. The paintings are the result of meticulous layering of oil pigment.
Residing in Halifax, NS, since 1988, Peter was born in Los Angeles and received an MFA degree from the San Francisco Art Institute. His work is displayed in Galleries across North America.
"Peter di Gesu's finely described landscapes seem to exist in their own realities, neither in the present nor the past, but suspended between waking and dreaming." – Tom Smart