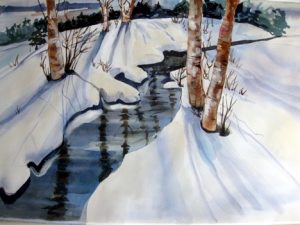 Margaret Wiles. Snowy Stream. Watercolour. 2016. Photo by artist
Artist's Reception:  Wednesday, September 25 from 2 to 4 p.m.
Margaret Wiles was born in the UK, attended Leeds College of Art and received her National Diploma of Design. She worked for architects and interior designers doing architectural renderings and presentation work in Leeds, West Yorkshire, UK, St. Johns, Newfoundland and Halifax NS.  She produces work that is both illustrative and realistic. Margaret taught watercolor classes for the Halifax Recreation Department, the Sackville Art Association and the Tidnish Bridge Art Gallery.  Her work has been exhibited widely in Cumberland County.  In 2018 she was honoured as Featured Artist for the Sackville Art Association's Annual Members' Exhibition at the Owen's Gallery in Sackville, N.B.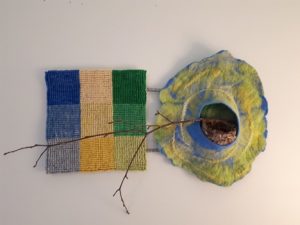 Gwen Dixon, "Plan B", From My Father's Workshop. Rug hooked mat and wet felted vessel with bird nest. 2019, photo by artist
Artist's Reception: Tuesday, October 15 from 2 – 4 p.m
Fibre art pieces inspired by the unusual items the artist's father saved and organized in his workshop during the past 60 + years. The items have been re-imagined and incorporated into fibre art pieces which express lessons learned from a father and thoughts about life and beauty.  Come and share your own experiences with saved and found items, collections, life events that require the giving up of objects, and your experiences of re-imagining or reconsidering life.