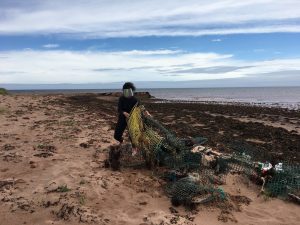 Plastic Waves Are Still, is a series in flux using refuse washed up on the shores of Prince Edward Island to create sculptures reflecting the relationship between the land and water merging at the shoreline. By exploring and documenting the transformation of materials this series represents the strong yet delicate gesture of the waves reaching for the shore, while the energy of the tide acts as a filter for purging the refuse from the ocean onto the land leaving it partially buried and tangled in organic matter in a line at high tide.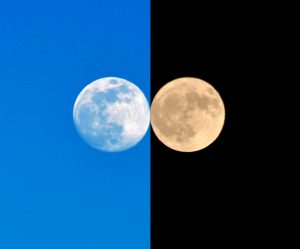 MoonLight documents the moon in conversation with various objects of nature and artifice. There are a few close calls and near misses. The moon nevertheless maintains an aloof dignity throughout. As the photographer moves from place to place, the moon remains reassuringly there; a constant, appearing no matter what strange foreground exists. Often the moonrise is the reason for taking the camera out, adding the critical element for an image. At night, the moon provides just enough light for magic to occur. Fewer colours are perceptible and most objects are reduced to simpler forms. The moon provides its own light to be photographed by – bouncing the sun's light into the camera to create an image.
A photographic metaphor is present here, as the camera relies on light from an external source for an image to appear. When photographed during the day, the moon is surrounded by the same light it reflects, audaciously visible; unexpected but welcome. This examination of the moon and its environs whilst rising is part of an ongoing exploration of photography fundamentals – composition, lighting and colour.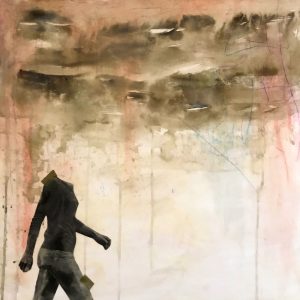 Monica Lacey, walk on through, mixed media and encaustic on wood panel, 2018, photo: Monica Lacey.
A series of new mixed media works by Monica Lacey exploring issues and emotions associated with belonging, or longing to belong: to a family, to a relationship, to a group, to a landscape, to the world we live in.