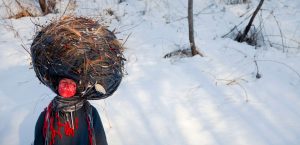 Produced by Carleton University Art Gallery, Ottawa
An individual of mixed Plains Cree and Euro-Canadian heritage, McMaster explores the dimensions of her own sense of identity and the complex history of the photographic representation of Indigenous peoples. Three bodies of work in Confluence comprise arresting self-portraits that counter the stereotypical ways that Indigenous peoples have been, and sometimes still are, represented within a colonial framework, principally as objects rather than as subjects of the gaze.
Image: Meryl McMaster, Dream Catcher, Ink jet print, edition 2 of 2 AP, 2015. Photo credit: Courtesy of the artist, Stephen Bulger Gallery and Pierre-François Ouellette art contemporain.