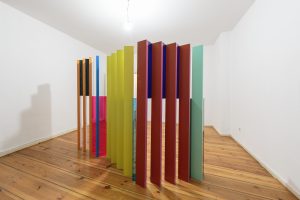 LaTourelle and Witthöft. Installation view (etwas kam auf uns zu) (2019). Mixed media installation. Photo by Aleks Slota.
Built specifically for The Rooms and evolving over the exhibition period, First We Take the Museum reimagines the building's architecture to consider the very nature of 'public' space. It marks a significant example of ongoing investigations by Berlin-based artists Rodney LaTourelle and Louise Witthöft into the relationship between colour, space, and experience. Colour and pattern become tools that alter how a visitor encounters other people, shifting focus from displayed objects (the collection) to the people in the space itself (the collective).
Members of the public are invited to engage the space for impromptu events such as concerts, readings, exercises, and meetings.