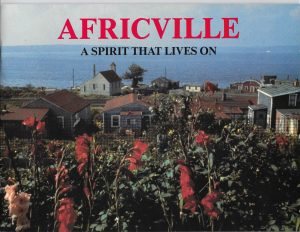 Photo by Ted Grant, courtesy of the National Archives of Canada, exhibition catalogue cover (1989)
In 1989, MSVU Art Gallery, the Black Cultural Centre for Nova Scotia, and the Africville Genealogical Society collaborated on the exhibition Africville: A Spirit that Lives On. The Exhibition, catalogue, and symposium celebrated the legacy and spirit of Africville and set the benchmark for collaborative,community-driven exhibitions. Today, on the 30th anniversary of the exhibition, the collaborators have reunited and are joined by the Africville Museum, to create a project looking back at the original exhibition and take the opportunity to reflect on what has happened since.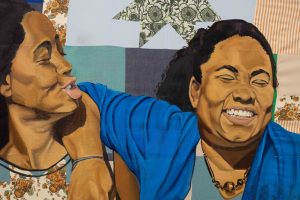 Letitia Fraser, Vanessa & Jillian, Oil on Quilt, 36″ x 48″, 2018 – 2019
This exhibition showcases a selection of works by Halifax painter and recent NSCAD graduate, Letitia Fraser. A proud descendant of North Preston, Letitia weaves faces from her life into textiles, both literal and figurative. Her recent accolades throughout Nova Scotia are many and this project allows a closer look at and meditation on her intimate work.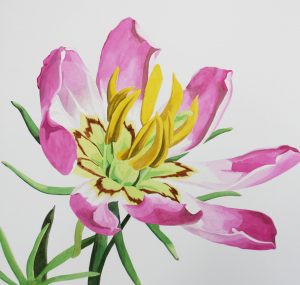 Carrie Allison, Displaced, 2017
clearing brings together Displaced, Carrie Allison's 2017 watercolour and ephemeral ink drawings, and her new work Plot, a series of beaded portraits of grass. Using landscape imagery, botanical studies and the symbolism of institutional collection and preservation, Allison contemplates what is lost and found through the consumption and commodification of land. In conjunction with the exhibition, Allison will host public events and workshops as part of her summer residency at MSVU Art Gallery.