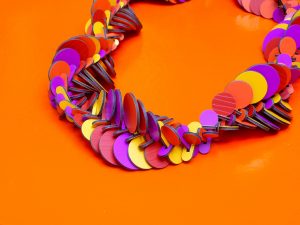 Rebecca Hannon, Wave Neck-piece, Laminate, 2016, image courtesy of the artist
Rebecca Hannon recreates an extraordinary environment of dazzle-camouflage into which she places her vibrant Jewellery. Both structural and fluid Hannon's Jewellery is constructed from numerous interlocking pieces of brightly coloured laser-cut laminate. The flattened "tableaus" of camouflage backdrop reveal new perceptions for this three-dimensional Jewellery made of two-dimensional form. Hannon has worked collaboratively with emerging ceramicist Gillian Maradyn to install ceramic tile arrangements that will further envelope the gallery in an immersive and tactile display.
Susan Avishai, ode to joy, 30"x24" stiffened hand cut men's shirt backs, images courtesy of the artist
Susan Avishai creates sculpture from deconstructed, discarded clothing. Her work evokes awareness of the exploitive nature of garment manufacture and the paradoxically enormous problem of textile waste. Creating tactile installations of layered textiles Avishai abstracts her medium of waste. At the point where she inserts herself, the clothing can be looked at differently, turned around, seen anew. The works speak to our aesthetic sense even though they are made from the stuff we throw away.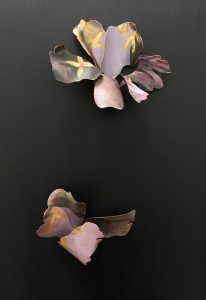 K. Claire MacDonald, Fading Vestiges
The presented ambiguity between Jewellery and object, function and decoration is amplified by the fragmented painted imagery that quietly masks the metal surface of each form. Although the mind may wish to untangle the pieces and restore order, K. Claire Macdonald seeks to embrace the intended state of uncertainty. It is in this ambiguity that traces of different disciplines can cross, tangle and dissolve, and move into a new context with greater clarity.