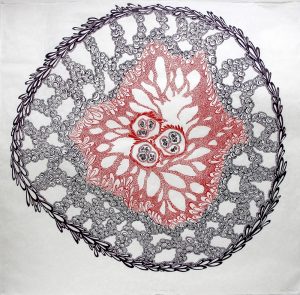 Maria Doering, The Creative Soul, Linocut print, 2016, photo: the artist
Justine MacDonald is an award-winning photographer, writer, and world traveler. She enjoys using these pursuits to explore history, and the world in general, through travel. Her focus is on creating architectural and abstract images.
Maria Doering is a German multidisciplinary artist and printmaker, living and working in Dartmouth, Nova Scotia, since 2012.
James Axon, in each artwork, tries to reduce the image to the core components, creating a highly detailed drawing within a simple composition that captures the movement or tension inherent in the encounter.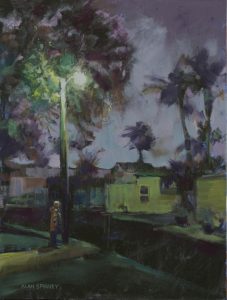 Alan Spinney, Stranger in the Light, Acrylic, 2019, photo: the artist
Passionate. Inventive. Artistic: A few words to describe the complexity of local artist, Franz Fraitzl. Helen Spinney's early years on Sable Island and Cape Breton Island set the tone for her continued love of the ocean, a dominant theme of her works. For Alan Spinney bold colour saturation, strong contrasting shapes and confident compositional elements all come together to inspire his oils.  Monica Wright believes that art has the power to be transformative, to rearrange our vision of the world, to create bridges to connect us, and to lead us to a greater understanding of the world we share and to those we share it with.