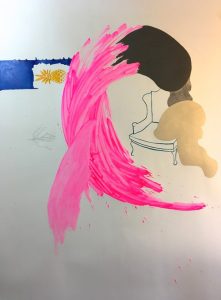 ARTIST-IN-RESIDENCE ANGELA PARSONS PRESENTS A SOLO EXHIBITION OF DRAWING AND SCULPTURE: HEART MATTER(S) CHRONICLING HER EXPERIENCE OF BEING HIT BY A CAR AS A PEDESTRIAN ON THE CORNER OF NORTH AND AGRICOLA STREETS IN HALIFAX IN DECEMBER 2013 AND HER SUBSEQUENT HEALING JOURNEY.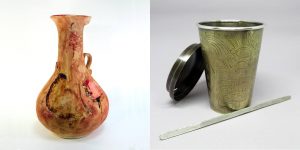 In these paired solo exhibitions, emerging artists Kaashif Ghanie and Nicholas Rosin exhibit new bodies of work created during a nine-month artist residency at the Centre for Craft Nova Scotia. With different approaches both artists address issues affecting their daily lives, materializing their conflicts with a challenging society in vessel forms.
Images left to right: Ointment, Kaas Ghanie, Colored Terra Sigillata, 22″x15″x15″, 2018 photo: Kate Grey. Pick Me Up, Nicholas Rosin, brass, silver, 3 ¼"x3 ¼"x4 3/8", 2018.