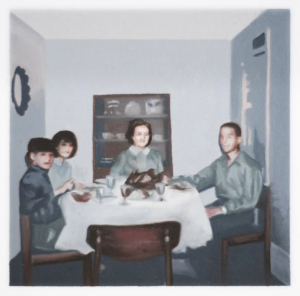 Noémie DesRoches, Le coffret souvenir (detail), 2019, oil and pencil on paper
Opening Friday, August 9th from 5-7pm
As part of the Congrès mondial acadien 2019, the Galerie d'art Louise-et-Reuben-Cohen and the Musée acadien de l'Université de Moncton presents an exhibition titled Instrumental Stories. This exhibition brings togther the work of ten artists and on collective presented in five exhibition spaces in Moncton.
What are the stories on which is based our understanding of the reality that we experience and to which cultures do we feel a sense of belonging? What are the narratives that should be told because they have been silenced for too long? Conversely, what are the myths we perpetuate and which deserve to be challenged because they produce different forms of oppression?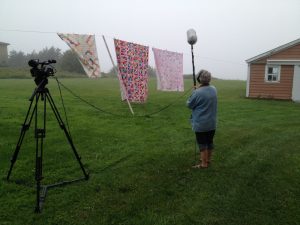 Collectif Acadie art exchange (Ariella Pahlke, Ann Verrall, and Sheila LeBlanc), Les voix de Clare (video still), Video installation, 2014, photo: Video still
This exhibition brings together the works of visual artists who draw on historical events and personal narratives to reveal plural identities. Anchored in various experiences of the world, the works offer other manifestations of memory that take into account its construction by those who write History. The exhibition explores some of today's "necessary stories" that are at the heart of our ways of learning and imagining.
Presented in collaboration with the Musée acadien of l'Université de Moncton as part of the Congrès Mondial acadien 2019.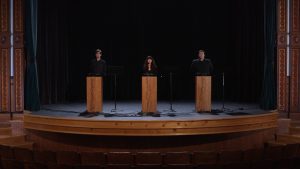 Remi Belliveau, Dissonances rurales, Video (still) installation, 2018, photo: The artist
Through material and sound archives, Dissonances rurales studies the musical divergences and convergences generated by a meeting between rural Acadian culture and Western popular culture in the 20th century. This project superimposes analog recordings of three violin players who performed at Memramcook's Monument Lefebvre, namely Arthur LeBlanc (1945), Yehudi Menuhin (1946), and Eloi LeBlanc (1976), in a video work whose staging is orchestrated and rigid, but whose soundtrack is both dissonant and harmonic.
Anchored by the central video piece, Dissonances rurales unfolds into the space through an installation of archives and an in situ performance. During the opening, three violinists will perform the video's sound component, which amalgamates extracts from the repertoire of each musician during this period.