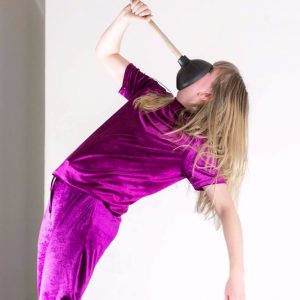 The performance will take place at Halifax Dance, 1505 Barrington St.
A collection of short works by the acclaimed performance artist from 2015 to 2018 that take on multiple forms and shift unpredictably between performative modes, texts, and sounds. Seemingly improvised but in fact carefully scripted, these hybrid works feature bizarre interactions with everyday inanimate objects, abstract body movements, and absurd monologues. Moving between states of criticality, humour, and emotion, the resulting performance is at turns entertaining, sometimes tender and often bewildering.
Bridget Moser is a performance and video artist whose work combines prop comedy, experimental theatre, performance art, absurd monologue, existential anxiety and intuitive dance. She has presented work in venues across Canada, and performed throughout the US and Europe, in spaces such as the Art Gallery of Ontario, Mercer Union, Fondazione Antonio Ratti in Como, Italy, the MSVU Gallery, and Western Front, among others. Towing the line between intellect and instinct, sensory and sensationalism, Moser's work builds quietly and strikes softly, repeatedly. The results are terribly funny; part critical dialogue, part low-brow gag. In 2017, she was shortlisted for the Sobey Art Award.
This is a joint presentation between OBEY Convention and Eyelevel. This event is free, all ages and will have accessible non-gendered washrooms.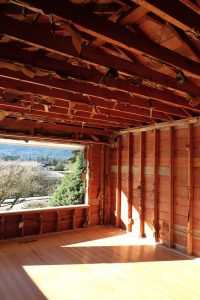 Image courtesy of Eyelevel Artist Run Centre & Bookstore
Artist Talk & House Tour: Sunday, May 26 @ 3PM at 15409 C Cabot Trail
Artist Talk & Reception: Wednesday, May 29 @ 6PM at Eyelevel
Video Documentation: May 30 – June 15, 2019 at Eyelevel
BEFORE DEMOLITION: TIDES invites us to explore the hidden history of an abandoned house in Cheticamp, Nova Scotia. Artist Emily Neufeld creates an installation from the former home of Cheticamp fisherman as part of her growing series BEFORE DEMOLITION. Neufeld investigates the dialogue between the materials she uses and the spaces she creates, uncovering the unintentional domestic archives left in the spaces we live in, and exploring the loss of land, home and belonging. Neufeld's work begs the question: Can a space ever be empty? What fills the spaces between the walls? Where does the content of a house end? At the doorway? In the yard? In the land itself? Do some spaces look in while others look out?