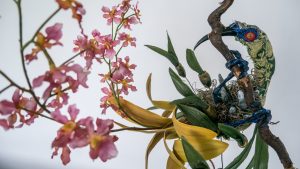 An apologue is a moral fable or allegory, particularly one that uses animals as its primary characters. The Apologues I – X are a series of ten life-sized sculptural works made of textiles, found objects, and secondhand silk flowers and greenery, which depict hybrid creatures assembled from Emily Jan's experiences on a three-week residency in the Peruvian Amazon in 2015.
A kind of ecological antipode to the North, the Amazonian Rainforest represents for me the apogee of biodiversity and complexity. Whereas the web of life in the North is sparse but elegant, at Equatorial latitudes it is rhizomatic and impossibly tangled, an almost overwhelming cacophony of information for the natural historian and artist.
This bestiary of hybrid beings addresses both the ontological blur which exists between plant/animal/fungus and the temporal blur between living/dying/regenerating in such a dizzyingly complex place.The Apologues address that dissolution of boundaries between self and Other by reimagining individual species combining in hallucinatory and oneiric ways, as if they were the shifting thoughts of the rainforest itself.