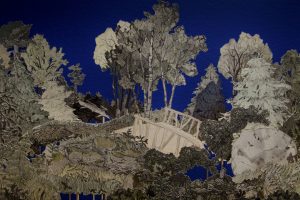 D'Arcy Wilson, Diorama of the Gardens; a reconstruction of Downs' Zoological Gardens, (detail), hand-coloured and cut etchings, coloured pencil drawings, birch base, 2016, photo: Courtesy of the artist
Opening:
11 January 2019 – 14 April 2019
Andrew Downs' Zoological Gardens opened in Halifax, Nova Scotia, in 1847. They stretched over one hundred acres, and for over 20 years, housed regional and exotic animals in sprawling wooded enclosures. "The Memorialist" presents D'Arcy Wilson's ongoing research into the Zoological Gardens which involved site visits to the original zoo grounds, and viewing specimens prepared by Downs in natural history museums including the Smithsonian Institution and the Natural History Museum in London, England. The exhibition features photography, video projections, a 14-ft diorama of the Gardens made out of hand-coloured and cut etchings and drawings, and museum and archival objects.