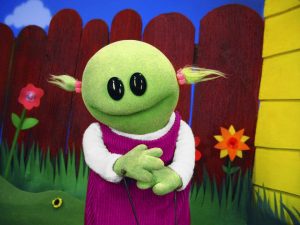 Where do the ideas for puppets, plush and doll designs come from? How do designers, sculptors and puppeteers transform paper, wood, rubber, fabric and other assorted materials into the characters we connect with and love? Stuff takes the gallery visitor on a fascinating journey through the complex and often unexpected art of the sculptor, puppeteer, plush designer and animator. From the random thoughts which sow the seeds of an idea, to the challenges of 'soft engineering' and character design, this exhibition will engage visitors with the fascinating process behind these multilayered forms of artistic expression. Gallery visitors of all ages will delight in the exceptional work of celebrated puppeteers, designers and animators, Jamie Shannon and Jonathan Royce, along with the young, emerging artist, Callum Donovan-Grujicich.
Jamie Shannon, Nanalan', Mixed media ca. 2004
Drummer, composer, multi-instrumentalist and producer, Steve Jansen has held a long-standing interest in photography. Through a Quiet Window presents recent audio work in conjunction with a selection of black and white photographs produced in the late 1970s and early 1980s when Jansen was active with the alternative English band, Japan. The exhibition offers a unique glimpse into the world as seen and heard through the eyes and ears of a critically-acclaimed musician over a career spanning more than four decades.
The Cape Breton University Art Gallery in Sydney, Nova Scotia, is pleased to join with Steve Jansen in presenting these photographs for their first public viewing in Canada. The exhibition will run from May 11 – July 6, 2018. An opening reception will be held at the Gallery on Friday, May 11 from 6 – 8 pm.